Only to Sleep: A Philip Marlowe Novel (Hardcover)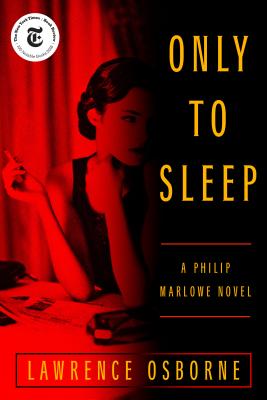 $26.00
Usually Ships in 1-5 Days
Staff Reviews
---
A proven expert on writing suspense and psychological tension, Osborne steps into the shoes of Raymond Chandler and Philip Marlowe in this modern noir thriller. Marlowe is 72 years old, retired, and hasn't worked a case in ten years when he is approached by an insurance company to investigate a case of possible insurance fraud. He limps off to Mexico with his cane where he confronts an alleged widow and figures out at least some of the details of a variety of crimes. But the plot lines are not the most important things here; rather it's the portrait of the hard-boiled but soft-hearted PI, who operates with his own particular code of ethics, that makes this a worthy tribute to Chandler's oeuvre.
— Alice
Description
---
Lawrence Osborne brings one of literature's most enduring detectives back to life—as Private Investigator Philip Marlowe returns for one last adventure.
 
NAMED ONE OF THE BEST BOOKS OF THE YEAR BY THE NEW YORK TIMES BOOK REVIEW AND NPR • NOMINATED FOR THE EDGAR AND SHAMUS AWARDS

The year is 1988. The place, Baja California. And Philip Marlowe—now in his seventy-second year—is living out his retirement in the terrace bar of the La Fonda hotel. Sipping margaritas, playing cards, his silver-tipped cane at the ready. When in saunter two men dressed like undertakers, with a case that has his name written all over it.   

For Marlowe, this is his last roll of the dice, his swan song. His mission is to investigate the death of Donald Zinn—supposedly drowned off his yacht, and leaving behind a much younger and now very rich wife. But is Zinn actually alive? Are the pair living off the spoils? 

Set between the border and badlands of Mexico and California, Lawrence Osborne's resurrection of the iconic Marlowe is an unforgettable addition to the Raymond Chandler canon.
 
Praise for Only to Sleep
 
"A new case for Philip Marlowe and—have a smell from the barrel, all you gunsels and able grables —it crackles."—The New York Times Book Review (Editors' Choice)
 
"Brilliant. Osborne and Chandler are a perfect match."—William Boyd, author of Any Human Heart
 
"A Marlowe we at once know, but have never met before. As much a meditation on aging and memory as it is a crime thriller."—Los Angeles Times
 
"It's the kind of book where, when you read it, it turns the world to black and white for a half-hour afterward. It leaves you with the taste of rum and blood in your mouth. It hangs with you like a scar."—NPR
About the Author
---
LAWRENCE OSBORNE was born in England but has traveled and lived all over the world. He is the author of the critically acclaimed novels The Forgiven, The Ballad of a Small Player, Hunters in the Dark, and Beautiful Animals. He is the third writer, after John Banville (writing as Benjamin Black) and Robert B. Parker, to be asked by the Raymond Chandler Estate to write a new Philip Marlowe novel. In Only to Sleep, Osborne draws from his time working as a reporter on the Mexican border in the early 1990s. He has written for The New York Times Magazine, The New Yorker, Conde Nast Traveler, Forbes, Harper's, and other publications. He lives in Bangkok.
Praise For…
---
*New York Times Book Review, Editor's Choice*
*New York Post's Must-Read Books of the Week*

'Osborne, an accomplished writer of fiction and nonfiction, has been asked to imagine a new case for Philip Marlowe and—have a smell from the barrel, all you gunsels and able grables—it crackles.' — New York Times Book Review

'Only to Sleep admirably sidesteps the pitfalls of Chandler-esque pastiche... in its place, a Marlowe we at once know, but have never met before. As much a meditation on aging and memory as it is a crime thriller.' — LA Times

'Brilliant... Osborne and Chandler are a perfect match.' — William Boyd, author of Any Human Heart and Solo: A James Bond Novel

'Only to Sleep is a story about age and regret and murder. About the American Dream. About The Mexican Dream. It's the kind of book where, when you read it, it turns the world to black and white for a half-hour afterward. It leaves you with the taste of rum and blood in your mouth. It hangs with you like a scar.' — NPR

'Whether you want a believably resurrected Chandler book or simply a good novel, this is for you.'  — Washington Times

'Osborne succeeds brilliantly… [he] captures the dreamlike quality of the original Marlowe novels.'  — Washington Post

'Absorbing...semi-exotic, lushly described... a fine way to leave an old fictional friend, taking at last a well-earned rest in the sun after having given readers decades of pleasure.'  — Wall Street Journal

'Osborne is the third writer to have resurrected Raymond Chandler's Philip Marlowe, and his effort may be the best of the lot.'  — Booklist

'A fresh perspective on one of the classic hard-boiled detective.' — Library Journal

'A joy... If you like noir, pour yourself something cool and enjoy one final dark night of the soul.' — Joseph Knox, author of Sirens 

'Lawrence Osborne is one of the most interesting authors at writing today. He has taken a Chandlerian plot, filtered it through the mind of an autumnal Philip Marlowe, and given us a story that haunts in its details, its corners, its shadows and in its ghosts.' — The Nervous Breakdown