So Much Life Left Over: A Novel (Hardcover)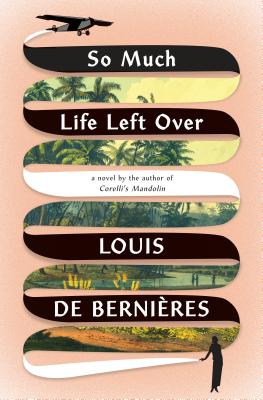 $26.95
Usually Ships in 1-5 Days
Staff Reviews
---
In short chapters written in the words of several alternating narrators, this novel is the story of Daniel Pitt, a French-British fighter pilot in World War I who faces the question: "If you have been embroiled in a war in which you confidently expected to die, what were you supposed to do with so much life unexpectedly left over?" Daniel marries and moves to Ceylon to be run a tea plantation. His wife, Rose, insists that they move back to England, and his marriage begins to crack. Rose's sisters, Daniels brother, and a cast of other related characters take turns writing about events in the following years before a second war rears its ugly head. De Bernieres writes with humor* (one of his characters is named Oily Wragge) and heart-wrenching compassion, giving us characters who are memorable in their credibility. Highly recommended.
— Alice
Description
---
A POWERFULLY EVOCATIVE AND EMOTIONALLY CHARGED NOVEL FROM THE ACCLAIMED AUTHOR OF CORELLI'S MANDOLIN

They were an inseparable tribe of childhood friends. Some were lost to the battles of the First World War, and those who survived have had their lives unimaginably upended. Now, at the dawn of the 1920s, they've scattered: to Ceylon and India, France and Germany, and, inevitably, back to Britain, each of them trying to answer the question that fuels this sweeping novel: If you have been embroiled in a war in which you confidently expected to die, what are you supposed to do with so much life unexpectedly left over? The narrative unfolds in brief, dramatic chapters, and we follow these old friends over the decades as their paths re-cross or their ties fray, as they test loyalties and love, face survivor's grief and guilt, and adjust in profound and quotidian ways to this newest modern world.

At the center are Daniel, an RAF flying ace, and Rosie, a wartime nurse. As their marriage is slowly revealed to be built on lies, Daniel finds solace—and, sometimes, family—with other women, and Rosie draws her religion around herself like a carapace. Here too are Rosie's sisters—a bohemian, a minister's wife, and a spinster, each seeking purpose and happiness in her own unconventional way; Daniel's military brother, unable to find his footing in a peaceful world; and Rosie's "increasingly peculiar" mother and her genial, shockingly secretive father. The tenuous interwar peace begins to shatter, and we watch as war once again reshapes the days and the lives of these beautifully drawn women and men.
About the Author
---
LOUIS DE BERNIÈRES is the author of many award-winning novels, including Birds Without Wings, Corelli's Mandolin, The Dust That Falls from Dreams, Notwithstanding, A Partisan's Daughter, Red Dog, Señor Vivo and the Coca Lord, The Troublesome Offspring of Cardinal Guzman, and The War of Don Emmanuel's Nether Parts. Selected by Granta as one of the twenty Best of Young British Novelists in 1993, de Bernières lives in England.
Praise For…
---
"As with superlative World War I literature from Pat Barker's Regeneration trilogy to Sebastian Faulks's Birdsong to Louisa Young's My Dear I Wanted to Tell You, the horrors are vividly evoked. De Bernières is adept at describing how lives can be devastated in minutes . . . Powerful . . . Delightful . . . [With] plenty of Dickensian social observation."—The Independent

"The author drops us right in the trenches, and he shies away from no gruesome detail. But he does it with a delicate touch, weaving a gently evocative story of the war that didn't end all wars but did wrench open the door to the modern world . . . What makes this a good war novel, though, is not its depictions of conflict but its reckoning with what comes after."—Time

"A fresh extension of de Bernières' long-standing interest in the timeless conflicts of love and loyalty . . . Moving [and] poignant."—The New York Times Book Review

"Had me laughing, cringing, and ultimately feeling a little spark of hope."—Star Tribune (Minneapolis)

"A book in which readers will happily immerse themselves."—The Scotsman

"A feast of a novel."—The Times (London)