Hearts Made for Breaking (Paperback)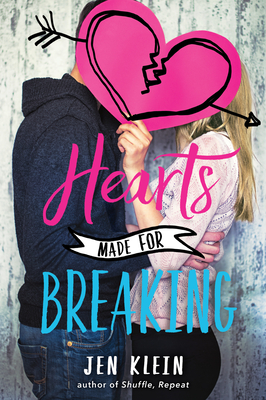 Description
---
Reel him in. Make him love you. Break his heart? Think How to Lose a Guy in 10 Days for contemporary YA romance readers. A sure bet for anyone in search of a heartwarming, laugh-out-loud love story that will charm their socks off.

Lark is the queen of breakups. When she ends things with a boy, there are never any hard feelings. Sometimes he doesn't even realize that she broke up with him. And that's exactly how Lark likes it. What's the point in hurting people? Or getting hurt?

Her best friends, Cooper and Katie, think Lark's dating pattern is tragic. How can she know what love is if she refuses to take risks? They dare her to finally have a bad breakup, one that matters. To appease her friends, Lark selects "Undateable" Ardy Tate as her target. He's a mysterious challenge and completely different from any guy she's ever dated. Can she win him over? Will she break his heart? Or will the Queen of Breakups have her heart broken?

Fall in love with another YA romance from Jen Klein, the author of Shuffle, Repeat, which SLJ praised as "addictive. Fans of Deb Caletti and Sarah Dessen will enjoy this sweet romance."
About the Author
---
JEN KLEIN is the author of Shuffle, Repeat; Summer Unscripted; and Hearts Made for Breaking. When she's not writing YA novels, Jen is an Emmy-nominated television writer. She has written on the series Grey's Anatomy and Star. Jen lives in Los Angeles. Visit her online at jenkleinbooks.com and follow her on Twitter at @jenkleinbooks.
Praise For…
---
"Klein shows how Lark flirts to slide through life without letting anyone get too close, and how Ardy's unconventionality frees Lark to be herself." --Publishers Weekly

"Insights into first-time sex and the unfairness of judging others by their pasts are genuine, giving the story an emotional depth that is more valuable than its lighthearted premise. A surprisingly pleasant read that emphasizes the importance of breaking patterns and making our own choices." --Kirkus Reviews

Praise for Jen Klein:
"Wonderfully readable." --Booklist

"Give this novel to readers who love stories about the bonds of friendship with a side of romance." --VOYA

"A bright and breezy romance." --Publishers Weekly (for Summer Unscripted)

"An entertaining and even touching romance." --Publishers Weekly (for Shuffle, Repeat)

"Addictive. Fans of Deb Caletti and Sarah Dessen will enjoy this sweet romance." --SLJ