Americanah (MP3 CD)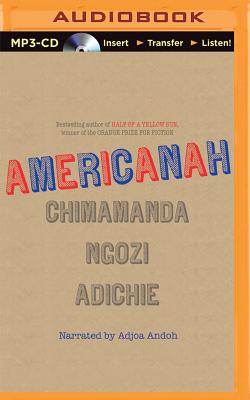 Staff Reviews
---
Ifemelu and Obinze have been inseparable since they were teenagers and assume that they will always be together. But Ifemelu gets a visa to attend college in the U.S., and Obinze doesn't. After she has a traumatic experience, Ifemelu distances herself from Obinze, first dating a wealthy, white man and then an American black college professor. These distinctions are important because Ifem starts a blog from the perspective of a non-American black person. She observes Americans' unspoken caste system of discrimination as well as American blacks' prejudice against others with darker skin.
Eventually feeling a deep homesickness, Ifemelu returns to Nigeria and meets again with Obinze, who is now a wealthy, married man. She also begins to blog about Nigerians, noting the ways they have advanced and the ways they have stayed the same. Adiche has a brilliant eye for truth, whether it is about people's biases and conceits or about the hair treatment alternatives for women with "kinky" hair.
— Cynthia
Description
---
One of The New York Times's Ten Best Books of the Year
Winner of the National Book Critics Circle Award for Fiction
An NPR "Great Reads" Book, a Chicago Tribune Best Book, a Washington Post Notable Book, a Seattle Times Best Book, an Entertainment Weekly Top Fiction Book, a Newsday Top 10 Book, and a Goodreads Best of the Year pick
As teenagers, Ifemelu and Obinze fall in love in a Nigeria under military dictatorship. The self-assured Ifemelu departs for America, where Obinze hopes to join her, but post-9/11 America will not let him in, and he plunges into a dangerous, undocumented life in London. Fifteen years later, after so long apart and so many changes, will they find the courage to meet again, face to face?