Five Days Gone: The Mystery of My Mother's Disappearance as a Child (Hardcover)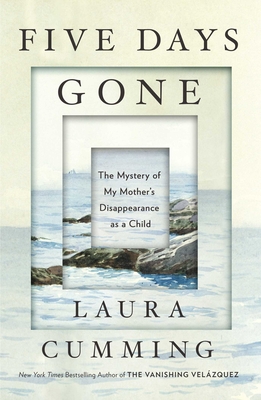 Staff Reviews
---
What are memories? Cumming mines the history of her mother's family which has an abiding mystery at its core. She starts with the story of her mother being kidnapped on the beach at Lincolnshire when she was three. She was missing for five days after which she was returned with new clothing and no memory of the event. What follows is a detailed dive into the family details, the thoughts on photography, and a true masterpiece of love. For fans of Jeanette Walls and Mary Karr.
— Valerie
Description
---
NOMINATED FOR THE 2019 NATIONAL BOOK CRITICS CIRCLE AWARD

ONE OF NPR'S BEST BOOKS OF 2019

INTERNATIONAL BESTSELLER

Acclaimed New York Times bestselling author of The Vanishing Velazquez Laura Cumming shares the riveting story of her mother's mysterious kidnapping as a toddler in a small English coastal village—and how that event reverberated through her own family and her art for decades.

In the fall of 1929, when Laura Cumming's mother was three years old, she was kidnapped from a beach on the Lincolnshire coast of England. There were no screams when she was taken, suggesting the culprit was someone familiar to her, and when she turned up again in a nearby village several days later, she was found in perfect health and happiness. No one was ever accused of a crime. The incident quickly faded from her memory, and her parents never discussed it. To the contrary, they deliberately hid it from her, and she did not learn of it for half a century.

This was not the only secret her parents kept from her. For many years, while raising her in draconian isolation and protectiveness, they also hid the fact that she'd been adopted, and that shortly after the kidnapping, her name was changed from Grace to Betty.

In Five Days Gone, Laura Cumming brilliantly unspools the tale of her mother's life and unravels the multiple mysteries at its core. Using photographs from the time, historical documents, and works of art, Cumming investigates this case of stolen identity with the toolset of a detective and the unique intimacy of a daughter trying to understand her family's past and its legacies. Compulsive, vivid, and profoundly touching, Five Days Gone is a masterful blend of memoir and history, an extraordinary personal narrative unlike any other.
About the Author
---
Laura Cumming has been the art critic of The Observer (London) since 1999. Previously, she was arts editor of the New Statesman magazine, literary editor of the Listener, and deputy editor of Literary Review. She is a former columnist for the Herald and has contributed to the London Evening Standard, The Guardian, L'Express, and Vogue. Her book The Vanishing Velazquez was longlisted for the Bailie Gifford Prize and was a New York Times bestseller.
Praise For…
---
Praise for Five Days Gone

"This is an incredible, and incredibly unusual, book about family, secrets, the ruinous sexual shame and hypocrisy of the first half of the English twentieth century. It's one of the best memoirs I have ever read... There is so much about [Five Days Gone] that moves; there is so much about it that educates. It is, and will remain a favorite, to be re-read one day, to be recommended to anyone who will listen."
— Nick Hornby, The Believer

"One of the most compelling memoirs of recent years, a book with as many twists and turns as any mystery, a family history of great emotional resonance… It's an extraordinary story, and an even better book."
— The Los Angeles times

"Laura Cumming's tale of pictures, secrets and the strange disappearance of her mother is an outstanding achievement... Enthralling... Much more than a search for truth. It is a moving, many-sided human story of great depth and tenderness, and a revelation of how art enriches life. In short, a masterpiece."
— Sunday Times (UK)

"A story told with such depth of feeling and observation and such lyrical writing that I have been unable to put it down... Cumming is an art critic, and in this book she has created a great mural of words, filled with people so tangible you almost expect them to swivel on the page and look at you. And the great mystery turns out to be, not what happened on that beach to one little girl, but how all of us sometimes stumble, sometimes soar, through courage, strength and love."
— Anna Quindlen

"A literary whodunit that is both page-turning and richly absorbing… Her story is a triumph of the human spirit, and Cumming tells it with a researcher's meticulous care and a novelist's keen sense of character."
— The Providence Journal

"Illuminating and deeply touching... a mystery solved through empathy and interpretation. It feels as if this is the book Cumming has been working towards, a deeply personal story but one that also draws on practised skills as a critic and a writer. It is perfectly balanced between the requirements of its narrative and the expression of its author's passions. It is a moving tribute from a daughter to her parents and grandparents. It is beautifully written. And at its heart is Cumming's belief in interpretation as a process of understanding, not just of art but of our lives and actions."
— The Spectator (UK)

"Brilliant... Cumming is adept in knowing how much to disclose and when to hold back... The book is a love letter to her mother, whose warmth, articulacy and survival instincts shine through."
— The Guardian

"Reads like a thriller…Questions and lies abound in this touching book about a daughter's quest to help her aging mother uncover her true identity."
— Publishers Weekly

"A satisfying mystery that could have been grist for Agatha Christie's mill. [Cumming's] nuanced, pensive account restores reality and vitality to figures from out of the past, making them meaningful while uncovering their secrets."
— Kirkus

"Vivid."
— The New Yorker

"By turns beautiful, wistful, and ominous... Every bit as complex as any served up by fiction, and, oddly enough, the dénouement – or succession of dénouements – is just as satisfying, perhaps more so... so familiar as to be universal."
— Daily Mail

Praise for The Vanishing Velazquez

"A sumptuous, impressively erudite effort by Laura Cumming... a gleaming work of someone at the peak of her craft."
— Jennifer Senior, The New York Times

"As compelling and entertaining as a detective novel, this is an engaging book... Ms Cumming paints a beguiling picture of lives lived for art.
— The Economist

"A brilliant tribute... Cumming's pages pulse with the power of art to change lives."
— The Atlantic

"Enchanting."
— Boston Globe

"Laura Cumming, art critic for the Observer, elegantly weaves a narrative that is equal parts criticism, detective story and pure enchantment. With 'The Vanishing Velázquez,' Laura Cumming spins a layered, irresistible tale, one that resonates today."
— Hamilton Cain, Minneapolis Star Tribune

"In this captivating double portrait, Cumming exhumes the little that is known of the Spanish artist and courtier through the peculiar tale of one of his most passionate devotees. Cumming intersperses this story with illuminating discussions of Velázquez's radical candor and originality as a painter."
— The New Yorker