Three Things About Elsie: A Novel (Hardcover)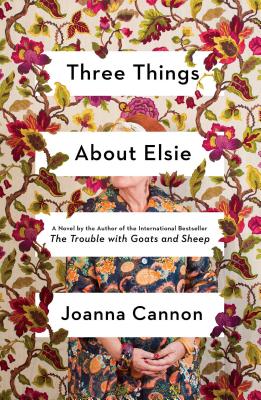 $26.00
Usually Ships in 1-5 Days
Staff Reviews
---
The central character in Cannon's latest novel is Florence, an 84-year old resident of Cherry Tree Home for the Elderly, who, as the novel opens, has fallen in her apartment. As she lies on the floor, unable to get up, she relives in her mind events from her youth as well as those from her recent past. Florence is slipping into dementia, and she can't remember all the details of a terrible secret that she shares with Elsie, her best friend from girlhood. The secret has resurfaced, triggered by the appearance of a new resident at Cherry Tree, a man Florence thought had drowned sixty years earlier. On "probation" for her sometimes erratic behavior, Flo solicits the help of another resident to try to fit the pieces together before she is sent off to a nursing home for dementia patients. The author, a psychiatrist, has clearly drawn on her experiences with dementia patients to describe what it must be like to be slipping down that particular slope. It makes for a somewhat different kind of unreliable narrator. Flo always has Elsie nearby -- Elsie, who 1) is Flo's best friend, 2) always knows what to say to make Flo feel better, and 3)...Flo can't quite remember the third thing, but it gradually becomes clear as the novel progresses. It's a warm-hearted and poignant story about human relationships, written with compassion and some clever twists.
— Alice
Description
---
The bestselling author of The Trouble with Goats and Sheep delivers a suspenseful and emotionally satisfying novel "infused with warmth and humor" (People) about a lifelong friendship, a devastating secret, and the small acts of kindness that bring people together.

There are three things you should know about Elsie. The first thing is that she's my best friend. The second is that she always knows what to say to make me feel better. And the third thing…might take a bit more explaining.

Eighty-four-year-old Florence has fallen in her flat at Cherry Tree Home for the Elderly. As she waits to be rescued, she thinks about her friend Elsie and wonders if a terrible secret from their past is about to come to light. If the charming new resident is who he claims to be, why does he look exactly like a man who died sixty years ago?

From the acclaimed, bestselling author of The Trouble with Goats and Sheep, Three Things About Elsie "breathes with suspense, providing along the way piercing, poetic descriptions, countless tiny mysteries, and breathtaking little reveals…a rich portrait of old age and friendship stretched over a fascinating frame" (Kirkus Reviews, starred review). This is an "amusing and heartbreaking" (Publishers Weekly) story about forever friends on the twisting path of life who come to understand how the fine threads of humanity connect us all.
About the Author
---
Joanna Cannon is a psychiatrist with a degree from Leicester Medical School. She lives in England's Peak District with her family and her dog. She is the author of Three Things About Elsie and The Trouble with Goats and Sheep, a top ten bestseller in the UK.
Praise For…
---
"Breathes with suspense, providing along the way piercing, poetic descriptions, countless tiny mysteries, and breathtaking little reveals… a rich portrait of old age and friendship stretched over a fascinating frame."
—Kirkus (starred review)

"A tender and charismatic look into life in a nursing home. Cannon effortlessly captures the home's slow routines, along with the ways that staff and residents coexist but often know little about each other . . . This heartfelt tale of friendship and aging explores letting go of the past in order to live fully in the present."
—Booklist

"Amusing and heartbreaking."
—Publishers Weekly

"A heartwarming meditation on friendship and the way people we love shape us for the rest of our days."
—Bookpage

"A wonderful and entertaining feel-good story."
—HelloGiggles

"Cannon's tale is infused with warmth and humor."
—People Magazine

"Florence attempts to unravel a mystery in this blend of crime thriller, character study, and treatise on the nature of memory."
—Harper's Bazaar

"Older characters are beginning to get their own literature, and Cannon's title is a positive addition [with its] little gems of wisdom."
—Library Journal

"Irresistibly good-hearted . . . captivating."
—The Daily Telegraph

"Powerful and profound."
—The Guardian

"Funny, melancholy, acutely observant . . . your heart will finally crack in two on the last page."
—Sunday Express

Praise for The Trouble with Goats and Sheep:

"A delight from start to finish."
—Paula Hawkins, author of #1 New York Times bestseller The Girl on the Train

"Cannon's intense specificiy captures a world in amber . . . a microcosm rife with tiny extraordinaries."
—Samantha Hunt, The New York Times Book Review

"A unique and unforgettable debut."
—Tom Nolan, The Wall Street Journal