Heartland: A Memoir of Working Hard and Being Broke in the Richest Country on Earth (Hardcover)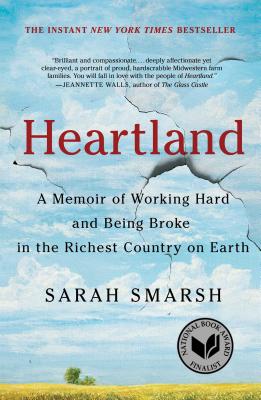 Staff Reviews
---
Written as a letter to an unborn child, Smarsh dives deeply into the rural poverty that her family has been a part of for generations. Strong women facing difficult odds raise Sarah. It's part memoir and part commentary on the cultural and monetary divide in middle America. She lays out succinctly how it is nearly impossible for people to "pull themselves up from their bootstraps" and how invisible they are to the privileged class.
It's a must read.
— Valerie
Description
---
Longlisted for the National Book Award for Nonfiction

An eye-opening memoir of working-class poverty in the American Midwest.

During Sarah Smarsh's turbulent childhood in Kansas in the 1980s and 1990s, the forces of cyclical poverty and the country's changing economic policies solidified her family's place among the working poor. By telling the story of her life and the lives of the people she loves, Smarsh challenges us to look more closely at the class divide in our country and examine the myths about people thought to be less because they earn less. Her personal history affirms the corrosive impact intergenerational poverty can have on individuals, families, and communities, and she explores this idea as lived experience, metaphor, and level of consciousness.

Smarsh was born a fifth generation Kansas wheat farmer on her paternal side and the product of generations of teen mothers on her maternal side. Through her experiences growing up as the daughter of a dissatisfied young mother and raised predominantly by her grandmother on a farm thirty miles west of Wichita, we are given a unique and essential look into the lives of poor and working class Americans living in the heartland. Combining memoir with powerful analysis and cultural commentary, Heartland is an uncompromising look at class, identity, and the particular perils of having less in a country known for its excess.

"Sarah Smarsh—tough-minded and rough-hewn—draws us into the real lives of her family, barely making it out there on the American plains. There's not a false note. Smarsh, as a writer, is Authentic with a capital A…This is just what the world needs to hear" (George Hodgman, author of Bettyville).
About the Author
---
Sarah Smarsh has covered socioeconomic class, politics, and public policy for The Guardian, VQR, NewYorker.com, Harpers.org, The Texas Observer, and many others. She is currently a Joan Shorenstein Fellow at Harvard University's Kennedy School of Government. A former professor of nonfiction writing, Smarsh is a frequent speaker on economic inequality and related media narratives. She lives in Kansas. Heartland is her first book.
Praise For…
---
"A deeply humane memoir that crackles with clarifying insight, Heartland is one of a growing number of important works – including Matthew Desmond's Evicted and Amy Goldstein's Janesville – that together merit their own section in nonfiction aisles across the country: America's postindustrial decline. . . . With deft primers on the Homestead Act, the farming crisis of the '80s, and Reaganomics, Smarsh shows how the false promise of the 'American dream' was used to subjugate the poor. It's a powerful mantra."
—New York Times Book Review

"In her sharply-observed, big-hearted memoir, Heartland, Smarsh chronicles the human toll of inequality, her own childhood a case study ... what this book offers is a tour through the messy and changed reality of the American dream, and a love letter to the unruly but still beautiful place she called home.
—Boston Globe

"Sarah Smarsh's intelligent, affecting memoir ... [asks]: What's the matter with the American dream? ... Understanding widening wealth inequality in our nation is a project with which anyone who has a conscience should be concerned — a robust, expansive middle class is vital to democracy, and arguably to the functioning of our particular Constitution. Smarsh's Heartland is a book we need: an observant, affectionate portrait of working-class America that possesses the power to resonate with readers of all classes."
—San Francisco Chronicle

"Smarsh's book, a soul-baring meditation on poverty and class in America, tells the stories of her family's wounded women, their farming men and her own wrenching choice to snap the three-generation cycle of teenage motherhood into which she was born ... Her moving memoir can be seen as the female, Great Plains flip side to 2016's best-selling Hillbilly Elegy by J.D. Vance: a loving yet unflinching look at the marginalized people who grow America's food, build its houses and airplanes but never seem to share fully in its prosperity."
—New York Post

"Smarsh seamlessly interweaves [her family's] tales with her own experiences and the political happenings of the day to tell a story that feels complete, honest and often poetic ... Heartland shines brightest in moments like these, when colorful anecdotes bring childhood memories vividly to life. Beyond their entertainment value, these stories flesh out nuanced characters in complex situations, dispelling stereotypes about the working class. Smarsh bookends these engaging tales with social commentary and historical information ... Heartland draws its strength from its storytelling and authority from its context and commentary."
—Texas Observer

"Part memories, part economic analysis, part sociological treatise, "Heartland" ties together various threads of American society of the last 40 years ... Smarsh's book is persuasive not only for the facts she marshals, but also because of the way she expresses [them]. "
—St. Louis Post-Dispatch

"A poignant look at growing up in a town 30 miles from the nearest city; learning the value and satisfaction of hard, blue-collar work, and then learning that the rest of the country see that work as something to be pitied; watching her young mother's frustration with living at the "dangerous crossroads of gender and poverty" and understanding that such a fate might be hers, too. This idea is the thread that Smarsh so gracefully weaves throughout the narrative; she addresses the hypothetical child she might or might not eventually have and in doing so addresses all that the next generation Middle Americans living in poverty will face."
—Buzzfeed

"The difficulty of transcending poverty is the message behind this personal history of growing up in the dusty farmlands of Kansas, where "nothing was more painful ... than true things being denied" ... The takeaway? The working poor don't need our pity; they need to be heard above the din of cliché and without so-called expert interpretation. Smarsh's family are expert enough to correct any misunderstandings about their lives."
—Oprah.com

"Startlingly vivid ... an absorbing, important work in a country that needs to know more about itself."
—Christian Science Monitor

"Smarsh's family history, tracing generations of teen mothers and Kansas farmer-laborers, forsakes detailed analysis of Trumpland poverty in favor of a first-person perspective colored by a sophisticated (if general) understanding of structural inequality. But most importantly, her project is shot through with compassion and pride for the screwed-over working class, even while narrating her emergence from it, diving into college instead of motherhood."
—Vulture

"Sarah Smarsh looks at class divides in the United States while sharing her own story of growing up in poverty before ultimately becoming a fellow at Harvard's Kennedy School of Government. Her memoir doesn't just focus on her own story; it also examines how multiple generations of her family were affected by economic policies and systems."
—Bustle

"If you're working towards a deeper understanding of our ruptured country, then Sarah Smarsh's memoir and examination of poverty in the American heartland is an essential read. Smarsh chronicles her childhood on the poverty line in Kansas in the '80s and '90s, and the marginalization of people based on their income. When did earning less mean a person was worth less?"
—Refinery29

"Blending memoir and reportage, a devastating and smart examination of class and the working poor in America, particularly the rural working poor. An excellent portrait of an often overlooked group."
—BookRiot.com

"Candid and courageous ... Smarsh's raw and intimate narrative exposes a country of economic inequality that has 'failed its children.'"
—Publishers Weekly, starred review

"[A] powerful message of class bias ... A potent social and economic message [is] embedded within an affecting memoir."
—Kirkus, starred review

""By interweaving memoir, history, and social commentary, this book serves as a countervailing voice to J.D. Vance's Hillbilly Elegy, which blamed individual choices, rather than sociological circumstances, for any one person ending up in poverty. Smarsh believes the American Dream is a myth, noting that success is more dependent on where you were born and to whom ... Will appeal to readers who enjoy memoirs and to sociologists. While Smarsh ends on a hopeful note, she offers a searing indictment of how the poor are viewed and treated in this country."
—Library Journal

"You might think that a book about growing up on a poor Kansas farm would qualify as 'sociology,' and Heartland certainly does.… But this book is so much more than even the best sociology. It is poetry—of the wind and snow, the two-lane roads running through the wheat, the summer nights when work-drained families drink and dance under the prairie sky."
—Barbara Ehrenreich, author of Nickel and Dimed

"Sarah Smarsh—tough-minded and rough-hewn—draws us into the real lives of her family, barely making it out there on the American plains. There's not a false note. Smarsh, as a writer, is Authentic with a capital A .… This is just what the world needs to hear."
—George Hodgman, author of Bettyville

"Sarah Smarsh is one of America's foremost writers on class. Heartland is about an impossible dream for anyone born into poverty—a leap up in class, doubly hard for a woman. Smarsh's journey from a little girl into adulthood in Kansas speaks to tens of thousands of girls now growing up poor in what so many dismiss as 'flyover country.' Heartland offers a fresh and riveting perspective on the middle of the nation all too often told through the prism of men."
—Dale Maharidge, author of Pulitzer Prize-winning And Their Children After Them
Coverage from NPR