Heartland: A Memoir of Working Hard and Being Broke in the Richest Country on Earth (Hardcover)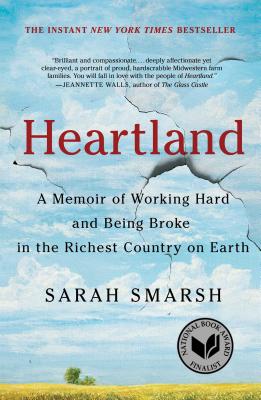 Staff Reviews
---
Written as a letter to an unborn child, Smarsh dives deeply into the rural poverty that her family has been a part of for generations. Strong women facing difficult odds raise Sarah. It's part memoir and part commentary on the cultural and monetary divide in middle America. She lays out succinctly how it is nearly impossible for people to "pull themselves up from their bootstraps" and how invisible they are to the privileged class.
It's a must read.
— Valerie
October 2018 Indie Next List
---
"A classic is born! Sarah Smarsh takes us on a five-generation trek through the hardscrabble life of her Kansas childhood in the '80s and '90s. Just as J.D. Vance's Hillbilly Elegy and Barbara Ehrenreich's Nickel and Dimed addressed the uncomfortable topic of poverty in this country, Heartland successfully gives the reader an in-depth look at impoverishment in the bread basket of America. She writes with a crystal-clear and objective voice, never giving in to self-pity or malevolence. Indeed, tongue-in-cheek humor and tenderness often shine through. This book is a must-read, a milestone in the life of our country."
— Nancy Simpson-Brice, Book Vault, Oskaloosa, IA
Description
---
*Finalist for the National Book Award and the Kirkus Prize*
*Instant New York Times Bestseller*
*Named a Best Book of 2018 by NPR, The New York Post, BuzzFeed, Shelf Awareness, Bustle, and Publishers Weekly*

An essential read for our times: an eye-opening memoir of working-class poverty in America that will deepen our understanding of the ways in which class shapes our country.

Sarah Smarsh was born a fifth generation Kansas wheat farmer on her paternal side, and the product of generations of teen mothers on her maternal side. Through her experiences growing up on a farm thirty miles west of Wichita, we are given a unique and essential look into the lives of poor and working class Americans living in the heartland.

During Sarah's turbulent childhood in Kansas in the 1980s and 1990s, she enjoyed the freedom of a country childhood, but observed the painful challenges of the poverty around her; untreated medical conditions for lack of insurance or consistent care, unsafe job conditions, abusive relationships, and limited resources and information that would provide for the upward mobility that is the American Dream. By telling the story of her life and the lives of the people she loves with clarity and precision but without judgement, Smarsh challenges us to look more closely at the class divide in our country.

A beautifully written memoir that combines personal narrative with powerful analysis and cultural commentary, Heartland examines the myths about people thought to be less because they earn less.

"A deeply humane memoir that crackles with clarifying insight, Heartland is one of a growing number of important works—including Matthew Desmond's Evicted and Amy Goldstein's Janesville—that together merit their own section in nonfiction aisles across the country: America's postindustrial decline...Smarsh shows how the false promise of the 'American dream' was used to subjugate the poor. It's a powerful mantra" (The New York Times Book Review).
About the Author
---
Sarah Smarsh is a journalist who has reported for The New York Times, The Guardian, and many other publications. Her first book, Heartland: A Memoir of Working Hard and Being Broke in the Richest Country on Earth, was a finalist for the National Book Award. A 2018 research fellow at Harvard University's Shorenstein Center on Media, Politics and Public Policy, Smarsh is a frequent speaker and commentator on economic inequality. She lives in Kansas.
Praise For…
---
One of Barack Obama's Favorite Books of 2019

"A deeply humane memoir that crackles with clarifying insight, Heartland is one of a growing number of important works – including Matthew Desmond's Evicted and Amy Goldstein's Janesville – that together merit their own section in nonfiction aisles across the country: America's postindustrial decline. . . . With deft primers on the Homestead Act, the farming crisis of the '80s, and Reaganomics, Smarsh shows how the false promise of the 'American dream' was used to subjugate the poor. It's a powerful mantra."
—New York Times Book Review

"Heartland is [Smarsh's] map of home, drawn with loving hands and tender words. This is the nation's class divide brought into sharp relief through personal history ... Heartland is a thoughtful, big-hearted tale ... Heartland is a welcome interruption in the national silence that hangs over the lives of the poor and a repudiation of the culture of shame that swamps people who deserve better."
—Washington Post

"Something about Sarah Smarsh's writing makes you light up inside. You feel her joy and grief, fury and hope ... That is how I felt reading Smarsh's book: as if the world could wait until I got to the end. Smarsh's book belongs with Ta-Nehisi Coates' Between the World and Me and J.D. Vance's Hillbilly Elegy as a volume with a transformative vision—a message for a blind and uncaring America, which needs to wake up. Hopefully we will not just open our eyes. Hopefully we will also change.
—The American Conservative

"Smart, nuanced and atmospheric ... Heartland deepens our understanding of the crushing ways in which class shapes possibility in this country. It's an unsentimental tribute to the working-class people Smarsh knows — the farmers, office clerks, trash collectors, waitresses — whose labor is often invisible or disdained."
—NPR Books

"In her sharply-observed, big-hearted memoir, Heartland, Smarsh chronicles the human toll of inequality, her own childhood a case study ... what this book offers is a tour through the messy and changed reality of the American dream, and a love letter to the unruly but still beautiful place she called home."
—Boston Globe

"Sarah Smarsh's intelligent, affecting memoir ... [asks]: What's the matter with the American dream? ... Understanding widening wealth inequality in our nation is a project with which anyone who has a conscience should be concerned — a robust, expansive middle class is vital to democracy, and arguably to the functioning of our particular Constitution. Smarsh's Heartland is a book we need: an observant, affectionate portrait of working-class America that possesses the power to resonate with readers of all classes."
—San Francisco Chronicle

"Combining heartfelt memoir with eye-opening social commentary, Smarsh braids together the stories of four generations of her rural red-state family."
—People

"In a memoir written with loving candor, the daughter of generations of serially impoverished Kansas wheat farmers and working-poor single mothers chronicles a family's unshakeable belief in the American dream and explains why it couldn't help but fail them."
—Ms. Magazine

"Heartland recounts five generations of Smarsh exploits in the farmlands of Kansas, from pioneer days to the Obama era, when the author finally breaks into the middle class. The book is a personal, decades-long story of America's coordinated assault on its underclass ... There is rich soil in America's flyover states, and if we follow Smarsh's path, we will find families like mine and the author's, full of sensible, resilient women who may be disenfranchised, but who are also uniquely poised and equipped to aid in the revolution, and in our collective liberation."
—L.A. Times

"Smarsh's book, a soul-baring meditation on poverty and class in America, tells the stories of her family's wounded women, their farming men and her own wrenching choice to snap the three-generation cycle of teenage motherhood into which she was born ... Her moving memoir can be seen as the female, Great Plains flip side to 2016's best-selling Hillbilly Elegy by J.D. Vance: a loving yet unflinching look at the marginalized people who grow America's food, build its houses and airplanes but never seem to share fully in its prosperity."
—New York Post, Best of 2018

"The subtitle of Sarah Smarsh's "Heartland" is "A Memoir of Working Hard and Being Broke in the Richest Country on Earth." Her timing is impeccable, given the country's growing divide around class. Her goal is nothing less than disputing the belief that some people — specifically "white trash" — are just meant to be, that the bad choices they make regarding sex or alcohol or jobs or education are, well, practically in their DNA and not the result of cultural forces ... This is a provocative, well-researched book for our times."
—Minneapolis Star-Tribune

"Smarsh seamlessly interweaves [her family's] tales with her own experiences and the political happenings of the day to tell a story that feels complete, honest and often poetic ... Heartland shines brightest in moments like these, when colorful anecdotes bring childhood memories vividly to life. Beyond their entertainment value, these stories flesh out nuanced characters in complex situations, dispelling stereotypes about the working class. Smarsh bookends these engaging tales with social commentary and historical information ... Heartland draws its strength from its storytelling and authority from its context and commentary."
—Texas Observer

"Part memories, part economic analysis, part sociological treatise, "Heartland" ties together various threads of American society of the last 40 years ... Smarsh's book is persuasive not only for the facts she marshals, but also because of the way she expresses [them]. "
—St. Louis Post-Dispatch

"An important, timely work that details a family, a landscape, and a country that has changed dramatically since Smarsh's birth in 1980. Heartland puts a very human face on the issue of economic inequality while also serving as an outstretched hand of sorts across the economic divide, seeking to connect readers from all economic backgrounds through a shared American story."
—Iowa City Gazette

"Reflects on epic issues and injustices of class, poverty, work, and coming-of-age ... Smarsh expands the conversation into the intimate territory of women's lives, examining the tribe of struggling, wounded, defiant, and strong Kansans into which she was born."
—Women's Review of Books

"Heartland is an important book for this moment ... Smarsh emerges as a writer, most potently, in her vivid encounters with the ironies of working-class life — her reflections on what it means to live poor can turn startlingly poetic."
—EntertainmentWeekly.com

"A poignant look at growing up in a town 30 miles from the nearest city; learning the value and satisfaction of hard, blue-collar work, and then learning that the rest of the country see that work as something to be pitied; watching her young mother's frustration with living at the "dangerous crossroads of gender and poverty" and understanding that such a fate might be hers, too. This idea is the thread that Smarsh so gracefully weaves throughout the narrative; she addresses the hypothetical child she might or might not eventually have and in doing so addresses all that the next generation Middle Americans living in poverty will face."
—Buzzfeed

"You might have read Sarah Smarsh's viral New York Times op-ed, which deconstructed the myth of the "aggrieved laborer: male, Caucasian, conservative, racist, sexist" with reference to the experiences and opinions of her working-class father. In this memoir, she fully explores the impact of poverty on her family."
—Elle.com

"The difficulty of transcending poverty is the message behind this personal history of growing up in the dusty farmlands of Kansas, where "nothing was more painful ... than true things being denied" ... The takeaway? The working poor don't need our pity; they need to be heard above the din of cliché and without so-called expert interpretation. Smarsh's family are expert enough to correct any misunderstandings about their lives."
—Oprah.com

"Startlingly vivid ... an absorbing, important work in a country that needs to know more about itself."
—Christian Science Monitor

"Brave and heart-wrenching, this book gives a voice to a group of people too easy to ignore."
—Columbus Dispatch

"Smarsh's family history, tracing generations of teen mothers and Kansas farmer-laborers, forsakes detailed analysis of Trumpland poverty in favor of a first-person perspective colored by a sophisticated (if general) understanding of structural inequality. But most importantly, her project is shot through with compassion and pride for the screwed-over working class, even while narrating her emergence from it, diving into college instead of motherhood."
—Vulture

"Sarah Smarsh looks at class divides in the United States while sharing her own story of growing up in poverty before ultimately becoming a fellow at Harvard's Kennedy School of Government. Her memoir doesn't just focus on her own story; it also examines how multiple generations of her family were affected by economic policies and systems."
—Bustle

"In her memoir, journalist Sarah Smarsh offers a stark and timely look at the lives of the working poor ... Smarsh holds the deeply personal stories from her life growing up in rural Kingman County against the lens of Reaganomics. She maps her family's lives alongside the demise of the family farm, defunded schools, and stagnant wages of the 1980s and 1990s."
—The Hutchinson News

"If you're working towards a deeper understanding of our ruptured country, then Sarah Smarsh's memoir and examination of poverty in the American heartland is an essential read. Smarsh chronicles her childhood on the poverty line in Kansas in the '80s and '90s, and the marginalization of people based on their income. When did earning less mean a person was worth less?"
—Refinery29

"Searing, timely and blazingly eloquent, Heartland challenges readers to look beyond tired stereotypes of the rural Midwest and is a testament to the value (on many levels) of "flyover country.""
—Shelf Awareness

"Blending memoir and reportage, a devastating and smart examination of class and the working poor in America, particularly the rural working poor. An excellent portrait of an often overlooked group."
—BookRiot.com

"Candid and courageous ... Smarsh's raw and intimate narrative exposes a country of economic inequality that has 'failed its children.'"
—Publishers Weekly, starred review

"[A] powerful message of class bias ... A potent social and economic message [is] embedded within an affecting memoir."
—Kirkus, starred review

""By interweaving memoir, history, and social commentary, this book serves as a countervailing voice to J.D. Vance's Hillbilly Elegy, which blamed individual choices, rather than sociological circumstances, for any one person ending up in poverty. Smarsh believes the American Dream is a myth, noting that success is more dependent on where you were born and to whom ... Will appeal to readers who enjoy memoirs and to sociologists. While Smarsh ends on a hopeful note, she offers a searing indictment of how the poor are viewed and treated in this country."
—Library Journal

"You might think that a book about growing up on a poor Kansas farm would qualify as 'sociology,' and Heartland certainly does.… But this book is so much more than even the best sociology. It is poetry—of the wind and snow, the two-lane roads running through the wheat, the summer nights when work-drained families drink and dance under the prairie sky."
—Barbara Ehrenreich, author of Nickel and Dimed

"Sarah Smarsh—tough-minded and rough-hewn—draws us into the real lives of her family, barely making it out there on the American plains. There's not a false note. Smarsh, as a writer, is Authentic with a capital A .… This is just what the world needs to hear."
—George Hodgman, author of Bettyville

"Sarah Smarsh is one of America's foremost writers on class. Heartland is about an impossible dream for anyone born into poverty—a leap up in class, doubly hard for a woman. Smarsh's journey from a little girl into adulthood in Kansas speaks to tens of thousands of girls now growing up poor in what so many dismiss as 'flyover country.' Heartland offers a fresh and riveting perspective on the middle of the nation all too often told through the prism of men."
—Dale Maharidge, author of Pulitzer Prize-winning And Their Children After Them
Coverage from NPR