The Vineyard (Hardcover)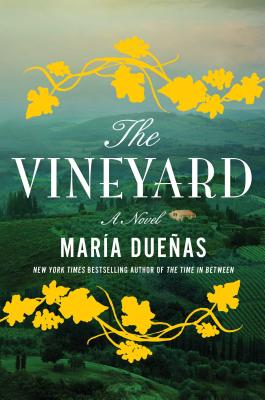 $26.00
Usually Ships in 1-5 Days
Staff Reviews
---
Mauro Laurrea has pulled himself up in the world, from a worker in the mines to a man of substance and prominence in Mexico City. But then a risky venture goes bust. Looking for a quick financial turnaround, he goes to Havana and passes himself off as a Mexican aristocrat. Quietly bordering on bankruptcy, Mauro makes one more crazy bet, and before he knows it, he's the owner of a crumbling family home and neglected vineyard in his home country of Spain. He meets Soledad Clayton, also originally from Spain but recently from London, and she is guarded but gracious about his takeover of her grandfather's estate.
Unsurprisingly, there's an attraction between Mauro and "Sol" in spite of her husband and his questionable dealings. And of course there are many family secrets to be uncovered! Author Maria Duenas provides a vivid picture of Mexico, Cuba, and Spain during the time of the U.S. Civil War. A sprawling saga that fans of Kate Morton will enjoy.
— Cynthia
Description
---
New York Times bestselling author Maria Due as returns with The Vineyard, a magnificent story of ambition, heartbreak, and desire set in the 1860s Mexico, Cuba, and Spain--perfect for fans of Kate Morton and Kristin Hannah. Mauro Larrea's fortune, the result of years of hardship and toil, comes crashing down on the heels of a calamitous event. Swamped by debt and uncertainty, he gambles the last of his money in a daring play that wins him an abandoned house and a vineyard an ocean away. Mauro travels to Andalusia de Jerez in Spain with every intention of selling the property and returning to Mexico. That is, until he meets the unsettling Soledad Montalvo, the wife of a London wine merchant, who bursts into his life unannounced, determined to protect her family's legacy. Before long, Larrea finds himself immersed in the rich culture of the sherry trade. As his feelings for Soledad ripen into a consuming passion, he seeks to restore the vineyard to its former glory. From the turbulent young Mexican republic to flourishing Havana, and onward to the fertile vineyards of Jerez in the second half of the nineteenth century, Mar a Due as's new novel takes place on both sides of the Atlantic, the New World and the Old. This story of family intrigue vividly conjures the noise and grit of silver mines, and the earthier lure of ancient vineyards and magnificent cities whose splendor has faded. Here is a story of courage in the face of adversity and of a destiny forever altered by the force of passion.