In the Time of Our History: A Novel of Riveting and Evocative Fiction (Paperback)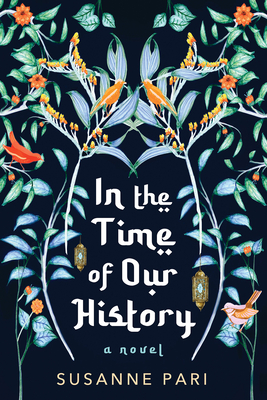 $16.99

Usually Ships in 4-7 Days
Staff Reviews
---
A year after her sister's death, Mitra must travel back to her Iranian family home in New Jersey from the life she has carved for herself in California. The opposite of her late, obedient sister, Anahita, Mitra struggles to find her footing whenever she's around her strongly traditional father and the large extended Jahari family. Exiled from their homeland in the late 1970's because of the Iranian Revolution, her parents clung to their strict roles while raising their daughters. Mitra and Anahita assimilated differently. Anahita's choices are celebrated while Mitra experiences her own type of exile... especially from her father. Mitra and her mom, Shireen, try to connect, but like difficult puzzle pieces they take a great deal of maneuvering to figure out how to fit together. Shireen grapples not only with the loss of one of her daughters but also with her place in the family and the distance from a dear friend Olga, who was banished back to Iran by her overbearing husband. As this beautifully detailed family saga unravels, layers upon layers of untold bits are lifted off to show what molded each woman. Absolutely a must read!
— Liz
January 2023 Indie Next List
---
"A poignant exploration of family, migration, cultural revolution, and community ties. Pari crafts nuanced characters woven together and torn apart by the same events; the journeys they each travel are momentous. This is a must-read."
— Ashleigh Howland, Wellesley Books, Wellesley, MA
Description
---
"Beautifully written. . . . I'm still thinking about the women who inhabited these pages, the choices they made, and the love between them." –Lisa See, New York Times bestselling author of The Island of Sea Women

"I fell in love with this jewel of a novel from the first page." –Amy Tan, New York Times bestselling author of The Joy Luck Club

Indie Next List Pick | Target Book Club Pick|Publisher's Marketplace Buzz Books Selection | San Francisco Bay Time Top of Your Stack Selection | Booklist Queen Most Popular Book Releases | Bar/Heart Substack 18 New Books to Read | Literally by Scribd Best New Books and Audiobooks

Inspired by her own Iranian-American heritage, the acclaimed author weaves a beautifully crafted story of mothers and daughters, secrets and lies, and defying expectations—even when those choices come with an irrevocable cost.

Twelve months after her younger sister Anahita's death, Mitra Jahani reluctantly returns to her parents' home in suburban New Jersey to observe the Iranian custom of "The One Year." Ana is always in Mitra's heart, though they chose very different paths. While Ana, sweet and dutiful, bowed to their domineering father's demands and married, Mitra rebelled, and was banished.

Caught in the middle is their mother, Shireen, torn between her fierce love for her surviving daughter and her loyalty to her husband. Yet his callousness even amid shattering loss has compelled her to rethink her own decades of submission. And when Mitra is suddenly forced to confront hard truths about her sister's life, and the secrets each of them hid to protect others, mother and daughter reach a new understanding—and forge an unexpected path forward.

Alive with the tensions, sacrifices, and joys that thrum within the heart of every family, In the Time of Our History is also laced with the richness of ancient and modern Persian culture and politics, in a tale that is both timeless and profoundly relevant.

"Luminous." – Publishers Weekly

"A sprawling story of loss and healing in the immigrant experiences of an Iranian American family… This vibrant story is told in intricate, heartfelt detail." – Foreword Reviews

"[An] immersive tale of a first-generation immigrant determined to blaze her own path." – Booklist
About the Author
---
Susanne Pari is an Iranian-American novelist, journalist, essayist, and book reviewer. Born in New Jersey to an Iranian father and an American mother, she grew up both in the United States and Iran until the 1979 Islamic Revolution forced her family into permanent exile. Since then, her writing has focused on stories of displacement and belonging, of identity and assimilation, of trauma and resilience. Her first novel, The Fortune Catcher has been translated into six languages and her non-fiction writing has appeared in The New York Times Sunday Magazine, The Christian Science Monitor, The Boston Globe, The San Francisco Chronicle, National Public Radio, and Medium. A former Program Director for Book Expo, she is a member of the National Book Critics Circle, the Author's Guild, the San Francisco Writers' Grotto, and the Castro Writers' Cooperative, she serves on the board of the Lakota Children's Enrichment Writing Project and is an alumna of the Hedgebrook Writing Residency. She blogs occasionally for the Center for Iranian Diaspora Studies and divides her time between Northern California and New York. Visit her online at SusannePari.com.
Praise For…
---
Praise for In the Time of Our History:

"This jewel of a novel is a universal tale that naturally leads to self-reflection and conversations about the changing relationship between mothers and daughters, and the choices we make, good and bad, early in life and late, which determine our identity." —Amy Tan, New York Times bestselling author of The Joy Luck Club
 
"There is so much wisdom and love in this irresistible and assured novel. Susanne Pari understands the complex and flawed thing that is family, and carves right into the center of the human heart." —Meg Waite Clayton, New York Times bestselling author of The Postmistress of Paris
 
"Every family has secrets. Try as we might to keep them hidden, secrets have a way of being revealed—sometimes resulting in utter devastation, sometimes in forgiveness and understanding. Susanne Pari took me deep into these conflicts in her beautifully written novel, In the Time of Our History.  Days later, I'm still thinking about the women—mothers and daughters, sisters, aunts and nieces—who inhabited these pages, the choices they made, and the love between them." —Lisa See, New York Times bestselling author of The Island of Sea Women

"Susanne Pari's In the Time of Our History is full of wonder. It manages to be both an expansive generational tapestry and an intimate portrait of family shot through with loss, humor, and hope. The novel reminds us, as all great fiction does, about the dangers of secrets left unspoken and those that simply must be said. —Lee Kravetz, author of The Last Confessions of Sylvia P.

"In the Time of Our History provides a kaleidoscopic look at what it means to be an Iranian-American, what it means to be an American—what it means to be human. Susanne Pari has written a wonderful story that is both unique and universal, a must-read tile in the new mosaic of American novels." —Rabih Alameddine, National Book Award and the National Book Critics' Circle Award finalist for An Unnecessary Woman
 
"For years, I've been waiting to read a novel that captures Iranian Americans in all their complexity. Susanne Pari's In the Time of Our History is that masterful gem. More than that, it is a beautifully refined tale of the conflicts, secrets, tragedies, and revelations that many immigrants and their American-born children must live through in order to preserve the fragile fabric of family in the diaspora." —Anita Amirrezvani, author of The Blood of Flowers and Equal of the Sun
 
"A bold Iranian-American woman fights the patriarchy in a most unusual way in this beautifully written novel about family conflict and healing." —Joan Steinau Lester, author of Loving Before Loving: A Marriage in Black and White
 
"Susanne Pari has eloquently captured the complexity of family in this Iranian-American story - defiance in the face of patriarchy, sacrifice, the corrosive nature of secrets, and the satisfaction of finding one's own path. After closing the last page, I'm still thinking about how well we really know those closest to us." —Lalita Tademy, New York Times bestselling author of Cane River, Red River, and Citizens Creek
 
"An enthralling, polyphonic novel of the Iranian diaspora. In the aftermath of tragedy, as secrets unfold, the Jahanis struggle and strive. By turns witty and poignant, this novel lingers in your thoughts long after the last page." —Vanessa Hua, bestselling author of A River of Stars

"In this luminous multigenerational tale, Pari examines the complicated ties among an Iranian American family…This expertly paced story easily navigates the cultural differences between newer Americans and older immigrants and provides a frank look at fraught family dynamics. For fans of sweeping family sagas, this is like catnip." —Publishers Weekly

"Pari's debut is a 1990s-set family saga about the tension between tradition and assimilation, featuring strong female characters whose deep ties to their homeland and culture are at odds with their desire for independence from patriarchal expectations. Although the story centers on Mitra, Pari includes a variety of narrators from the Jahani family, turning the story into a chorus of voices that blend together into a harmonious whole. Readers who enjoy Thrity Umrigar will be drawn into this immersive tale of a first-generation immigrant determined to blaze her own path." —Booklist
 
"Susanne Pari's In the Time of Our History is a sprawling story of loss and healing in the immigrant experiences of an Iranian American family… This vibrant story is told in intricate, heartfelt detail." —Foreword Reviews