Miles Morales: Spider-Man (Marvel YA Novel) (Hardcover)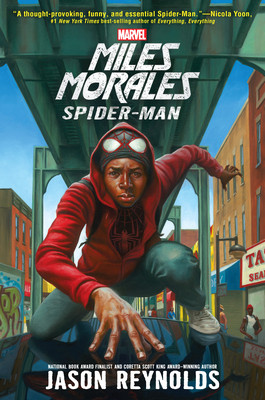 Staff Reviews
---
Miles Morales is a pretty typical teen who lives in Brooklyn and goes to the elite Brooklyn Visions Academy on scholarship. Oh, and he's the new Spider-Man. But things have not been going so well for Miles of late--his history teacher seems to be out to get him and he's got a crush on a classmate, but he can't seem to make a move on her. With his spidey-sense going haywire and his scholarship on the line due to some troubles at school, he's got to figure out his next move. Meet the latest teen superhero as only Jason Reynolds could write him.
— Lisa
Miles Morales is a boy whose father's past keeps creeping into his life in strange and unexpected ways. He has a strange, mysterious history teacher who he is constantly getting in trouble with. He and his best friend, Ganke, live in a dorm together and do normal school things. For Ganke, that means writing poetry and playing Super Mario Bros. For Miles, that means crushing on Alicia and saving people as Spider Man... Jason Reynold's eye for detail is superb in all aspects of his novel, and his writing style really puts the reader in Miles' shoes. Whether stopping thieves or saving lives, Reynold's character is beautifully described. I would highly recommend this book to any Marvel fan, action lover, or anyone out there just looking for an amazing read. I recommend this book for middle schoolers and older.
— Robert
Description
---
"Everyone gets mad at hustlers, especially if you're on the victim side of the hustle. And Miles knew hustling was in his veins."

Miles Morales is just your average teenager. Dinner every Sunday with his parents, chilling out playing old-school video games with his best friend, Ganke, crushing on brainy, beautiful poet Alicia. He's even got a scholarship spot at the prestigious Brooklyn Visions Academy. Oh yeah, and he's Spider Man. But lately, Miles's spidey-sense has been on the fritz. When a misunderstanding leads to his suspension from school, Miles begins to question his abilities. After all, his dad and uncle were Brooklyn jack-boys with criminal records. Maybe kids like Miles aren't meant to be superheroes. Maybe Miles should take his dad's advice and focus on saving himself. As Miles tries to get his school life back on track, he can't shake the vivid nightmares that continue to haunt him. Nor can he avoid the relentless buzz of his spidey-sense every day in history class, amidst his teacher's lectures on the historical "benefits" of slavery and the modern-day prison system. But after his scholarship is threatened, Miles uncovers a chilling plot, one that puts his friends, his neighborhood, and himself at risk. It's time for Miles to suit up.
About the Author
---
JASON REYNOLDS is the author of the critically acclaimed When I Was the Greatest, for which he was the recipient of the Coretta Scott King / John Steptoe Award for New Talent; the Coretta Scott King Honor books The Boy in the Black Suit and All American Boys (cowritten with Brendan Kiely); As Brave As You, his middle grade debut; and National Book Award finalist Ghost, the first in a four-book series about kids on an elite track team. Jason recently moved to Washington, DC, but before that spent many years in Miles Morales's very own Brooklyn, New York.