The Dreadful Tale of Prosper Redding (A Prosper Redding Book, Book 1) (Hardcover)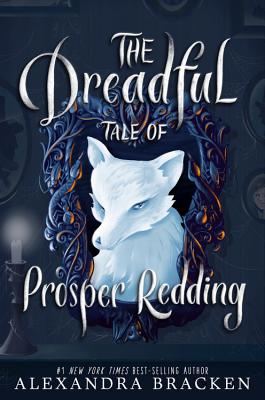 $16.99
Email or call for price
Other Books in Series
This is book number 1 in the Prosper Redding series.
Staff Reviews
---
Hundreds of years ago, an ancestor of twelve-year-old Prosper Redding made a deal with the demon Alastor, guaranteeing the family everlasting good fortune, prestige, and wealth in return for eternal servitude. That same ancestor reneged on the contract, and Alastor has been trapped in young Prosper, biding time and gathering strength until he can exact revenge on the Redding family. With no idea whom he can trust, Prosper has less than two weeks to break the family curse.  Betrayals, twists, and turns combine with historical elements and humor to make a deliciously smart read. Best for readers 12 and older.
— Jennifer
Description
---
The first in a "devious and delightful" new series by Alexandra Bracken, #1 New York Times best-selling author of The Darkest Minds, soon to be a major motion picture.
*"An infectious, entertaining series starter. Clever, occasionally frightening, and always fun, this will hook plenty." —Booklist, starred review
*"Bracken's cast is drawn in loving detail, and her twisty plot will keep readers guessing." —Publishers Weekly, starred review
"I would say it's a pleasure to meet thee, Prosperity Oceanus Redding, but truly, I only anticipate the delights of destroying thy happiness…."
Prosper is the only unexceptional Redding in his old and storied family history—that is, until he discovers the demon living inside him. Turns out Prosper's great-great-great-great-great-something grandfather made—and then broke—a contract with a malefactor, a demon who exchanges fortune for eternal servitude. And, weirdly enough, eight-hundred-year-old Alastor isn't exactly the forgiving type. The fiend has reawakened with one purpose--to destroy the family whose success he ensured and who then betrayed him. With only days to break the curse and banish Alastor back to the demon realm, Prosper is playing unwilling host to the fiend, who delights in tormenting him with nasty insults and constant attempts to trick him into a contract. Yeah, Prosper will take his afterlife without a side of eternal servitude, thanks. But with the help of his long-lost uncle, Barnabas, and his daughter, Nell, a witch-in-training, it seems like Prosper has at least a fighting chance of ridding himself of Alastor before the demon escapes and wreaks havoc on his family.
Little does Prosper know, the malefactor's control over his body grows stronger with each passing night and there's a lot Alastor isn't telling his dim-witted (but admittedly strong-willed) human host…
From #1 New York Times best-selling author Alexandra Bracken comes a tale of betrayal and revenge, of old hurts passed down from generation to generation. Can you ever fully right a wrong, ever truly escape your history? Or will Prosper and Alastor be doomed to repeat it?
About the Author
---
Alexandra Bracken is the #1 New York Times bestselling author of The Darkest Minds series. Born and raised in Arizona, she moved East to study history and English at the College of William & Mary in Virginia. After working in publishing for several years, Alex now writes full-time and can be found hard at work on her next novel in a charming little apartment that's perpetually overflowing with books. Visit her online at www.alexandrabracken.com and on Twitter @alexbracken.
Praise For…
---
"Bracken delivers a funny, thrilling, and unexpected tale."—Robert Beatty, #1 New York Times bestselling author of the Serafina series

"Imaginative, exhilarating and outstandingly funny, Alexandra Bracken's newest work is devious and delightful."—Shelf Awareness

"There's a wealth of humor here, especially in Prosper and Alastor's back-and-forth sardonic banter, and Prosper himself makes a wittily sarcastic, clever narrator."—The Bulletin of the Center for Children's Books

"Unique and humorous...The main characters, including the villain, are likable and flawed. The author's smooth transitions and delightful writing style will draw readers into the story with ease. This is a must-read for fans of Bracken and paranormal mysteries."—School Library Journal

*"An infectious, entertaining series starter. Hapless, dry Prosper is at hilarious odds with his demanding, old-fashioned demon companion, and the thrilling plot twists will keep even the most savvy readers guessing. Clever, occasionally frightening, and always fun, this will hook plenty."—Booklist, starred review

*"The story's mysteries, which involve the fates of multiple dimensions of reality, unfold slowly enough to build anticipation but quickly enough to keep readers furiously flipping pages... Bracken's cast is drawn in loving detail, and her twisty plot will keep readers guessing."—Publishers Weekly, starred review

Optioned for film by Wigram Productions/Warner Bros.Geek Dad: Stack Overflow, 54 Book Recommendations for Middle Schoolers, selection

PRAISE FOR PASSENGER

"This time-traveling adventure is rich in detail, the slowburning relationship between Etta and Nicholas will leave many readers breathless, and the startling cliffhanger will reel them back for the next installment."—<em>Booklist</em>

PRAISE FOR THE DARKEST MINDS SERIES

"Ruby is a wonderfully flawed heroine: fiercely loyal to the ones she loves and refreshingly conflicted about the enormous power she possesses ... [A]fter reading the first two books, readers will be left clamoring for the third."—<em>Kirkus Reviews</em>

PRAISE FOR THE DARKEST MINDS SERIES

"Heart-wrenching but completely riveting, the novel pulls no punches."—BCCB