The Happiest Book Ever (Hardcover)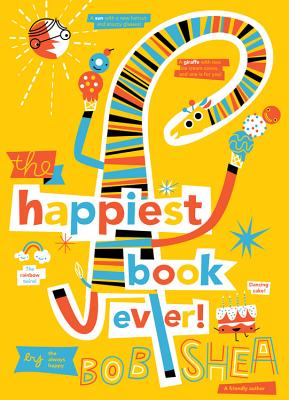 $16.99

Usually Ships in 4-7 Days
Description
---
This highly interactive read-aloud for fans of The Book with No Pictures and other books that break the fourth wall is "wacky, zany, and downright fun." -- Kirkus Reviews

What could be happier than a book with a dancing cake, a candy parade, and a hug monster? A book with all those things (and more) plus YOU! Your happy, happy thoughts will make this book super happy happy! But something seems off. Could it be that frowny frog? Perhaps we could shake some sense into him, or slap a Post-it over his face. No? Well then, maybe its time for that frog to SCRAM! Hooray! He's gone! Time for a happy dance! Wait, what's wrong? Now NO ONE seems happy! Let's see if we can't do something to truly make this the happiest book ever. In his most interactive book yet, Bob Shea proves that happiness is more than just a piece of chocolate cake. (Though that comes pretty close!)

Don't miss The Scariest Book Ever, also by Bob Shea!
About the Author
---
Bob Shea has created many hilarious books for young people, including Crash, Splash or Moo!, the popular Dinosaur Vs. series, Unicorn Thinks He's Pretty Great, Unicorn is Maybe Not so Great After All, and the early readers featuring Ballet Cat. He has also written stories such as Who Wet My Pants?, illustrated by Zachariah OHora. He lives in Madison, Connecticut and invites you to visit him at bobshea.com.
Praise For…
---
PRAISE FOR DINOSAUR VS. SCHOOL

* "School is no match for Shea's rambunctious, ever-confident red dino, starring in his fifth picture book. Shea's illustrations are as unruly and imaginative as ever in this pitch-perfect, egocentric take on living (school) life to the max."—Publishers Weekly (starred review)

PRAISE FOR BALLET CAT: THE TOTALLY SECRET SECRET

*". . .Shea mines Ballet Cat's dialed-up enthusiasm and Sparkles's hangdog expressions for everything they are worth. Boldly contrasting backgrounds heighten the strong emotions at play. . ."—Publishers Weekly (starred review)

PRAISE FOR BALLET CAT: THE TOTALLY SECRET SECRET

*"This early reader has simple, vivacious cartoon artwork done in inks with digital enhancements. Shea's signature style and bright bold colors add to the fun. . .the humor and theme of friendship and sharing will have broad appeal beyond the beginning reader set."—School Library Journal (starred review)

PRAISE FOR DINOSAUR VS. MOMMY

*"Shea's buoyant, emotive artwork and sharp comic timing make Dinosaur's [sixth] story feel as fresh and funny as his first one."—Publishers Weekly (starred review)