The Belles (Hardcover)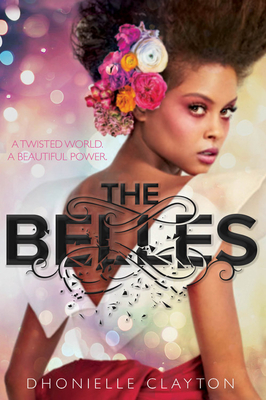 $17.99
Usually Ships in 1-5 Days
Staff Reviews
---
Camellia (Camille) Beauregard is a Belle, one of the only beautifully-born people in Orleans, a fantastical kingdom whose subjects are born with grey skin, red eyes, and straw-like hair. Orleans revolves around moment-to-moment style, gossip, and constant competition to be the most stunning—and they need the Belles' unique powers to alter their features and make them beautiful. When Camellia and her sisters part ways to manage the "teahouses" that the rich frequent to maintain their beauty regimen, the dark underbelly of Orleans begins to show through the powders and perfumes of the courtiers. Camille must act fast to save the kingdom from a crazed queen-to-be—but what will it cost?
Dhonielle Clayton has penned a fantastical world of maniacal obsession, built on ruffly adjectives, bonbons, and drama. Inspired by Clayton's struggles as a teenager navigating—and obsessing over—the pressures relentlessly heaped upon girls to conform to a single body type and look, this book is a great recommendation for socially-conscious readers who love spectacle.
— Mary Cate
Spring 2018 Kids' Indie Next List
---
"In a world where people are born gray and sallow, only a Belle and her powers can bring forth beauty. But being a Belle may prove dangerous for Camellia Beauregard, as she discovers in the royal court of Orleans, where secrets and danger lurk behind every sparkling facade. The Belles is a rich, opulent, intoxicating book - reading it feels like eating the most decadent cupcake you've ever tasted in your life. The atmosphere Clayton creates is sumptuous, and her characters are compelling, ambitious, and beautiful, though some only on the outside. I was blown away by this novel and can't wait for the author's next gorgeous book."
— Emily Hall, Main Street Books, St.Charles, MO
Description
---
Camellia Beauregard is a Belle. In the opulent world of Orleans, Belles are revered, for they control Beauty, and Beauty is a commodity coveted above all else. In Orleans, the people are born gray, they are born damned, and only with the help of a Belle and her talents can they transform and be made beautiful.

But it's not enough for Camellia to be just a Belle. She wants to be the favorite, the Belle chosen by the Queen of Orleans to live in the royal palace, to tend to the royal family and their court, to be recognized as the most talented Belle in the land.
But once Camellia and her Belle sisters arrive at court, it becomes clear that being the favorite is not everything she always dreamed it would be. Behind the gilded palace walls live dark secrets, and Camellia soon learns that the very essence of her existence is a lie, that her powers are far greater, and could be more dangerous, than she ever imagined. And when the queen asks Camellia to risk her own life and help the ailing princess by using Belle powers in unintended ways, Camellia now faces an impossible decision.

With the future of Orleans and its people at stake, Camellia must decide: save herself and her sisters and the way of the Belles, or resuscitate the princess, risk her own life, and change the ways of her world forever.


About the Author
---
Dhonielle Clayton is the coauthor of the Tiny Pretty Things series. She grew up in the Washington, DC, suburbs on the Maryland side and spent most of her time under her grandmother's table with a stack of books. A former teacher and middle school librarian, Dhonielle is cofounder of CAKE Literary, a creative development company whipping up decidedly diverse books for a wide array of readers, and COO of the non-profit, We Need Diverse Books. She's got a serious travel bug and loves spending time outside of the USA but makes her home in New York City, where she can most likely be found hunting for the best slice of pizza. You can also find her online at www.dhonielleclayton.com or follow her @brownbookworm.
Praise For…
---
"The tension and danger mounts quickly... The lore is interesting and unique... Fans of fantasy who enjoy royal intrigue, where the weak and powerless are trying to break the oppression of the powerful, will find it easy to root for the characters in this book."—
School Library Connection
*"Clayton impressively offers up a series starter that, despite its broad commercial appeal, doesn't shy away from facing uncomfortable truths in our own society. The dual natures of ugliness and shame, the commodification of beauty and of women, the drive for perfection at any cost, the widening of one girl's moral landscape--all of it comes into play here. But even as it does, the action never slows, and the rich, rotting world never wavers. Readers may be almost grateful for that cliff-hanger ending--it means there's more to come."—
Booklist, starred review
*"With wonderfully descriptive language, Clayton builds a grand and lavish world, carefully chipping away at the veneer to reveal its dark, sinister interior... A refreshingly original concept, this substantial fantasy, the first in a duology, is an undeniable page-turner."—
Kirkus Reviews, starred review
"Clayton... creates a vivid island world in this enticing series opener, saturating the narration with lush descriptions... that reflect the culture's obsession with elegance, appearance, and luxury. Readers will be left with much to consider about morality, individuality, and the malleability and artificiality of beauty."—
Publishers Weekly
"Clayton dances between the fine lines of glittering, glamorous and gruesome.
The Belles
is a dazzling exploration of body power and identity, and a must-read for anyone looking for a lot more bite when it comes to beauty." —
Roshani Chokshi, New York Times best-selling author of The Star Touched Queen and A Crown of Wishes
"
The Belles
is absolutely enthralling. Rich with detail and fascinating characters, this book shows us a masterfully crafted world that is both desirable and frightening. I flew through the pages and loved everything they had to offer: an intelligent and talented heroine, mysterious romance, and enduring friendships."—
Marie Rutkoski, New York Times best-selling author of The Winner's Trilogy
"Clayton conjures a world both breathtakingly beautiful and deeply unsettling, populated by characters full of strengths and complexities. This is a thought-provoking story that lingers." —
Marie Lu, #1 New York Times best-selling author of The Young Elites
"From the first page, this book completely mesmerized me. Dhonielle Clayton has written a lush, immersive tale about a world where nothing is as it seems. Where beauty and the magic behind it are painted in sinisterly sexy tones. Her characters are complex, yet relatable. This is a book where you will savor every word."—
Renee Ahdieh, author of The Wrath and the Dawn, The Rose and the Dagger, and the forthcoming The Flame in the Mist
"The Belles
is a powerful discussion about the cost of beauty and what we are willing to do for it. Dhonielle Clayton creates a world both lush and dark, with prose so delectable you will savor every word."—
Zoraida Cordova, author of Labyrinth Lost, The Circle Unbroken, and The Vicious Deep series
"The fast clip of the pace and the increasing suspense makes the hefty page count well worth it."—
BCCB
"Told in gorgeous prose, Dhonielle Clayton's novel sweeps readers away into an alluring and dangerous fantasy world that shrewdly examines our obsession with beauty... Don't miss out."—
Bookish.com
"Clayton has created a world of lush colors, beautiful people, and delicious desserts. Strong themes are interwoven in this fantasy, including choice and envy... Through the actions of the characters, teens will understand what a beauty-obsessed world really looks like and that possessing conviction and selflessness is just as beautiful as outward appearances."—
School Library Journal
"
The Belles
is full of political drama, palace intrigue, complex and corrupt characters, and deadly betrayals--what better tale for our modern day? Get wrapped up and swept away in this wild and unpredictable new world of fashion, magic, and murder." —
Daniel Jose Older, New York Times best-selling author of Salsa Nocturna
"
The Belles
is a voluptuous, dazzling fairy tale of desire, ambition and unrelenting beauty."—
Holly Black, cocreator of New York Times best-selling series The Spiderwick Chronicles and author of Newbery Honor winner Doll Bones
"I fell head-over-heels with the darkly lush world of
The Belles
. A book to read when you want to be transported somewhere dangerous and beautiful, where nothing is as it seems, and secrets abound."—
Megan Shepherd, New York Times bestselling author of The Madman's Daughter series, The Cage series, and the forthcoming Grim Lovelies
"A lush and intoxicating world where beauty equals power and darkness lurks in every glittering shadow."—
Kami Garcia, #1 New York Times bestselling author of Beautiful Creatures & author of The Lovely Reckless Accolades

YALSA Best Fiction for Young Adults List
2018-2019 Florida Teens Read Award, finalist
Kirkus Reviews' Best Books of 2018, selection
2018 Goodreads Choice Awards: Young Adult, Nominee
Booklist 2018 Editors' Choice
Seventeen.com: The 20 Best YA Books of 2018, selection
2019 Carnegie Medal, Nominee
Bank Street Children's Book Committee Best Children's Books of the Year 2019 list
2018 Cybils Award, Young Adult Speculative Fiction Nominee
2019 Tayshas List, selection
Chicago Public Library: Best Books of 2018, selection
B&NTeen: Favorite YA Books of 2018, selection
The Boston Globe: The Best Children's Books of 2018, selection
Indigo: Best Diverse Teen Books of 2018, selection
Nerdy Book Club: 2018 Nerdy Award winner
EpicReads: Best Young Adult Books of 2018, selection
Buzzfeed: Best YA of 2018, selection
Brightly Teen: 18 of the Most Exciting YA Books to Read in 2018
Booklist: Editor's Choice Best Books for Youth 2018
Paste Magazine: 30 Best YA Novels of 2018
Den of Geek!: Most Anticipated Young Adult Sci-Fi and Fantasy Books of 2018, selection

Bustle: The 17 Best YA Books Coming in February 2018 That Make the Perfect Valentine's Day Dates, selection
TeenVogue: 10 Books to Help Young Readers Better Understand and Fight Injustice, selection (2018)
The New York Times Book Review: New Y.A. Books by Women of Color Rewrite Old Cultural Scripts, selection (2018)
BookRiot: Best Books of 2018 So Far, selection
Refinery29: The Ultimate YA Beach Reads of 2018, selection
BNTeen: 35 Summer Reads for Reluctant Readers (2018), selection
PennGSE Newsroom: The Best Books of 2018 for Young Readers, selection
Teenreads: Teen Choice Book Award 2019, Nominee
EpicReads: 22 YA Romance Books for the Perfect New Year's Eve, selection (2018)
BNTeen: 6 More Feminist Fantasy Epics for Fans of Priory of the Orange Tree, selection (2019)
BookBub: The Best Book Series for Teens: An Ultimate List, selection (2019)