The Totally Secret Secret (Ballet Cat #1) (Hardcover)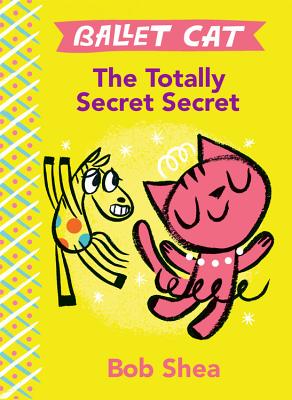 Other Books in Series
This is book number 1 in the Ballet Cat series.
Description
---
"Move over, Elephant and Piggie!" commands School Library Journal—the first book starring the vivacious Ballet Cat marks the launch of a new favorite friendship series for early readers.

Ballet Cat and Sparkles the Pony are trying to decide what to play today. Nothing that Sparkles suggests—making crafts, playing checkers, and selling lemonade—goes well with the leaping, spinning, and twirling that Ballet Cat likes to do. When Sparkles's leaps, spins, and twirls seem halfhearted, Ballet Cat asks him what's wrong. Sparkles doesn't want to say. He has a secret that Ballet Cat won't want to hear. What Sparkles doesn't know is that Ballet Cat has a secret of her own, a totally secret secret. Once their secrets are shared, will their friendship end, or be stronger than ever?

Don't miss the other Ballet Cat books:
Ballet Cat: Dance Dance Underpants
Ballet Cat: What's Your Favorite Favorite?
About the Author
---
Bob Shea has created many hilarious books for young people, including Crash, Splash or Moo!, the popular Dinosaur Vs. series, Unicorn Thinks He's Pretty Great, Unicorn is Maybe Not so Great After All, and the early readers featuring Ballet Cat. He has also written stories such as Who Wet My Pants?, illustrated by Zachariah OHora. He lives in Madison, Connecticut and invites you to visit him at bobshea.com.
Praise For…
---
PRAISE FOR DINOSAUR VS. SANTA
"Energetic, retro mixed-media illustrations depict Dinosaur in a series of fabulous Christmas sweaters, smothering the bottom third of the tree in ornaments and lights, and roaring his way through the best Christmas ever. A must for most collections."
—
School Library JournalPRAISE FOR DINOSAUR VS. SCHOOL
". . .Shea's concept of "winning" at school clearly has to do with self-confidence, determination and, sometimes, teamwork-a winning idea indeed."—
Kirkus ReviewsPRAISE FOR DINOSAUR VS. THE LIBRARY
"Story time may have conquered Dinosaur, but with boisterous noise and boundless energy, Shea's Dinosaur titles will never fail to be read-aloud hits. Dinosaur wins again!"
—
Kirkus ReviewsPRAISE FOR DINOSAUR VS. THE POTTY
*"Shea's bold collages are as in-your-face charming as his energetic hero, whose exuberance and stubborn avoidance of the potty will elicit both empathy and laughter."—
Publishers Weekly (starred review)PRAISE FOR UNICORN THINKS HE'S PRETTY GREAT
*"Shea's cleverly written tale makes this a standout, but there's substance here, too. The grass may always seem greener, but the message comes across that everybody has special strengths, and togetherness can often maximize them. This tale of discovered friendship will delight unicorn fans and perhaps create new fans for goats."
—
Booklist (starred review)PRAISE FOR BUDDY AND THE BUNNIES IN: DON'T PLAY WITH YOUR FOOD
". . .Shea's digital art and one-joke narratives have blossomed. While this romp predictably favors the underdogs, Shea's energized colors, subtle background textures, and manic visuals keep the eye moving, while the shouty dialogue, hapless monster, and sneaky rabbits amplify the silly suspense."—
Publishers Weekly