What Do You Do with a Voice Like That?: The Story of Extraordinary Congresswoman Barbara Jordan (Hardcover)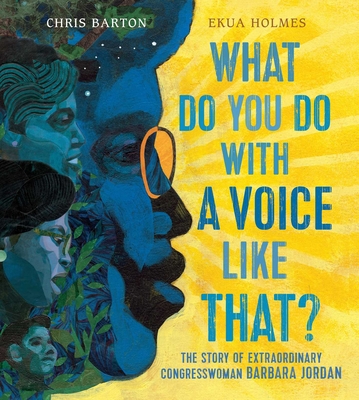 Staff Reviews
---
Chris Barton tells the remarkable story of Congresswoman Barbara Jordan, from her childhood in Houston through her time in politics to her teaching career at the University of Texas. He frames the story around her distinctive, powerful voice and reminds the reader of the difference Jordan made in the country. Gorgeous illustrations highlight the story of this outstanding public servant. For every school and library in Texas, as well as family bookshelves. 
— Cathy
Description
---
"When Barbara Jordan talked, we listened." —Former President of the United States, Bill Clinton

Congresswoman Barbara Jordan had a big, bold, confident voice—and she knew how to use it! Learn all about her amazing career in this illuminating and inspiring picture book biography of the lawyer, educator, politician, and civil rights leader.

Even as a child growing up in the Fifth Ward of Houston, Texas, Barbara Jordan stood out for her big, bold, booming, crisp, clear, confident voice. It was a voice that made people sit up, stand up, and take notice.

So what do you do with a voice like that?

Barbara took her voice to places few African American women had been in the 1960s: first law school, then the Texas state senate, then up to the United States congress. Throughout her career, she persevered through adversity to give voice to the voiceless and to fight for civil rights, equality, and justice.

New York Times bestselling author Chris Barton and Caldecott Honoree Ekua Holmes deliver a remarkable picture book biography about a woman whose struggles and mission continue to inspire today.
About the Author
---
Chris Barton is the author of many picture books including the award-winning What Do You Do with a Voice Like That?: The Story of Extraordinary Congresswoman Barbara Jordan, New York Times bestseller Shark vs. Train, Sibert Honor–winning The Day-Glo Brothers, and Texas Bluebonnet Award Master List books The Amazing Age of John Roy Lynch and Whoosh!. He visits schools by the score and also loves speaking to professional gatherings of librarians, educators, and his fellow writers. Chris and his wife, novelist Jennifer Ziegler, live in Austin, Texas, with their family. For more information about Chris, please visit ChrisBarton.info.

Ekua Holmes is a fine artist whose work explores themes of family, relationships, hope, and faith. The first children's book she illustrated was Carole Boston Weatherford's Voice of Freedom: Fannie Lou Hamer, which was a Caldecott Honor Book and a Robert F. Sibert Honor Book and for which Ekua won the John Steptoe New Talent Illustrator Award. Ekua Holmes lives in Boston.
Praise For…
---
Barton presents a timely, lyrical celebration of Congress- woman Barbara Jordan. As a child growing up in the Fifth Ward in Houston, she commanded attention through her powerful voice ("What's the next thing you do with a voice like that?"). Jordan's intellectual curiosity and desire to be civically engaged led her to become a lawyer, then a politician, "to make change from within." Holmes's dramatic compositions blend painterly forms with layered, cut-paper collage work, displaying brilliant jewel tones and eye-catching patterns. Lewis is pictured speaking on the Senate floor and, as a congresswoman, on television. Jordan's multiple sclerosis, Barton explains, eventually led her to step away from public life and into education, but her voice, Barton concludes, is honored "by making our own voices heard."
— Publishers Weekly

Barton introduces Congresswoman Barbara Jordan to children in this artful picture book illustrated by Holmes. Jordan grew up in Houston, Texas, and "stood out" because of "that voice of hers. / That big, bold, booming, crisp, clear, confident voice. It caused folks to sit right up, stand up straight, and take notice."....Striking mixed-media illustrations capture the relationships between people and the influence of place. Barton's narration is colloquial, appropriately relying on rhetorical devices such as repetition and onomatopoeia to tell his tale. A moving portrait of a true patriot who found ways to use her gift to work for change.
— Kirkus Reviews, Starred Review

This oversize picture-book biography of Barbara Jordan, the charismatic congresswoman from Texas, takes a chronological approach, beginning with her childhood and college days. It then continues on through her political career, paying special attention to the role she played as a member of the 1974 U.S. House Judiciary Committee and the stirring televised speech she made to a national audience regarding the committee's recommendation to impeach President Nixon....The text features lyrical, inspiring language that will be easily accessible for young audiences, and a concluding time line fills in details (a bibliography is also included). The vibrant multimedia illustrations spill across pages, incorporating collage and multiple overlay techniques. When shared with groups, the bright, bold images will be able to be seen by all audience members, even those way in the back. The overall theme is that Ms. Jordan had a strong, compelling voice. Whether expressing her own beliefs or speaking out on behalf of others, she made sure that she was heard—and young readers are encouraged to do the same.
— Booklist, Starred Review

In a timely yet subtle call-to-action, Barton exemplifies the importance and power of using one's innate gifts and interests to affect positive change. Throughout this supremely accessible picture book biography, readers are asked to consider: "What do you do with a voice like that?" A voice that causes "folks to sit right up, stand up straight, and take notice." Well, if you're Barbara Jordan, you put it to good use. And if you're Barton and Holmes, you create an extraordinary book to ensure that her voice is not forgotten. Everything succeeds in this collaborative effort to accurately reflect the power of Jordan's voice and the impact she made on those she worked with and for, from the oversize trim to the large, succinct text punctuated with complimentary colors, to the hefty paper weight and extended length. Without compromising coherence, Barton keeps the narrative closely aligned with his theme and provides a detailed time line at the end for those who desire more information about Jordan's personal and professional life. Holmes's mixed media collage illustrations will make readers sit up and take notice, too. With her signature use of bold colors and rich textures, Holmes brings Jordan and her remarkable story to life through portrait-style images that reflect the significance of her leadership and honor the integrity that characterizes her legacy. VERDICT An essential purchase for nonfiction collections.–Lynn Van Auken, Oak Bluffs School, MA

— School Library Journal, Starred Review