The Storyspinner (The Keepers' Chronicles) (Paperback)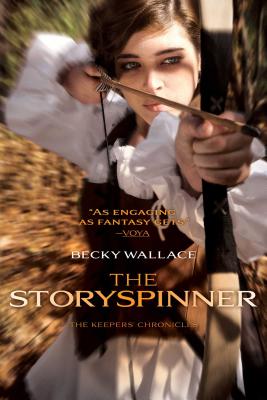 $10.99
Email or call for price
Description
---
Drama and danger abound in this "intricately woven" (Shannon Messenger, author of the Sky Fall series) fantasy realm where dukes play a game for the throne, magical warriors race to find the missing heir, and romance blossoms where it is least expected.

In a world where dukes plot their way to the throne, a Performer's life can get tricky. And in Johanna Von Arlo's case, it can be fatal. Expelled from her troupe after her father's death, Johanna is forced to work for the handsome Lord Rafael DeSilva. Too bad they don't get along. But while Johanna's father's death was deemed an accident, the Keepers aren't so sure.

The Keepers, a race of people with magical abilities, are on a quest to find the princess—the same princess who is supposed to be dead and whose throne the dukes are fighting over. But they aren't the only ones looking for her. And in the wake of their search, murdered girls keep turning up—girls who look exactly like the princess, and exactly like Johanna.

With dukes, Keepers, and a killer all after the princess, Johanna finds herself caught up in political machinations for the throne, threats on her life, and an unexpected romance that could change everything.
About the Author
---
Becky Wallace grew up in house full of stories with people who loved them. Her parents, both school teachers, only took her books away when it was very late at night—and usually pretended not to notice when she read by flashlight. She wrote and directed her first princess-related play in sixth grade, started her first "romance" novel in seventh, and penned a binder full of bad poetry in high school. She's very grateful all those manuscripts have been lost. She graduated from Brigham Young University with a degree in Public Relations and worked in minor league baseball as a journalist and in sports marketing. She was lucky enough to find and marry a real-life prince charming. They have four little munchkins and are living out their own happily-ever-after in Houston, Texas.
Praise For…
---
"An intricately woven, beautifully told tale, laced with heart, wit, and edge-of-your-seat suspense--plus the perfect amount of delicious swoon, Bravo! And encore!"
— Shannon Messenger, author of the Sky Fall series.

"Becky Wallace couples a classic romance with cut-throat political intrigue and wraps it in a detailed and enthralling magical world. I can't wait for the sequel."
— Cinda Williams Chima, author of the Heir Chronicles

"This tale of murder, kidnapping, and magic held me from start to finish!"
— Tamora Pierce, author of the Song of the Lionesss Quartet

"Wallace bucks the trend of retold fairy tales... and nicely balances romances with adventure. An...action-packed beginning."
— Kirkus

"This first installment of The Keepers' Chronicles is as engaging as fantasy gets, full of magic and romance, intrigue and espionage, epic battles and heartbreaking loss. The quicker the second book comes out, the better. This is definitely recommended for public and high school libraries."
— VOYA

"In this beautifully constructed first installment of a new fantasy series, Wallace creates a lush environment, interweaving unique characters. Recommended for fans of classic fantasy (J.R.R. Tolkien) as well as more modern fantasy adventures by Melina Marchetta, Kristin Cashore, and Sarah J. Maas."
— School Library Journal

"Political games meet magical intrigue in this Portuguese-flavored fantasy debut..."
— Publishers Weekly

"In a land where stories may be more than mere tales woven by artful Storyspinners, the search is on for the missing heiress to the kingdom... Readers will enjoy the quick pace of the tale."
— Booklist Online