Pachinko (National Book Award Finalist) (Compact Disc)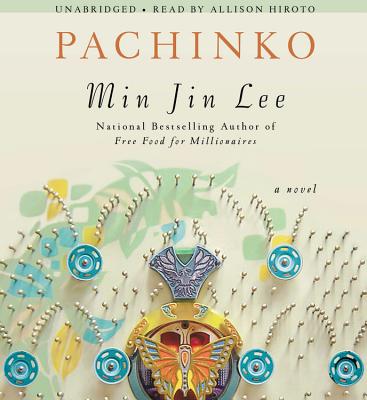 $35.00
Usually Ships in 1-5 Days
Staff Reviews
---
This 2017 National Book Award finalist is the multi-generation story of a Korean family. The immigrant experience has become a global issue in the past few decades, and this novel focuses on a particular time and place - Korea and Japan during most of the 20th century - to illustrate aspects of the immigrant experience that are also reflected in today's news. The primary focus of the novel is Sunja, whose parents run a boarding house on the Korean island of Yeongdo, where, under Japanese colonial rule, Koreans have become second class citizens. When Sunja is befriended and then seduced (and impregnated) by a wealthy Korean business man who lives in Japan, her honor is salvaged by a Christian pastor who is one of the family's boarders.They marry and immigrate to Japan where Sunja's husband becomes pastor of a Korean church. Times are tough for Koreans in Japan (remember the "garlic eaters" epithet in Shogun?), and Sunja's husband is thrown in jail for not worshipping the emperor. Years later, the wealthy Korean business man who fathered Sunja's first child, reappears in her life, revealing that he has been keeping an eye on her and their son since she came to Japan. He continues to take care of her family during the second world war and afterwards, care that is not always welcomed by the family members, who struggle on their own to find their way in a culture that demeans them. Pachinko is the game of pinball that is played for money in gambling parlors, usually run by Korean gangsters in Japan. Sunja's sons both get involved with Pachinko, which is something of a metaphor for the lives of Korean immigrants in Japan. The author focuses on significant events in the lives of the family, skipping over several years at a time, and combining spare prose with vivid descriptions of minute details with the effect that the novel doesn't have the feel of a heavy epic. It would make for an excellent book club choice. Recommended.
— Valerie
February 2017 Indie Next List
---
"A father's gentle nature, a mother's sacrifice, a daughter's trust, and a son's determination are the cornerstones of this grand, multilayered saga. Pachinko follows one family through an ever-changing cultural landscape, from 1910 Korea to 1989 Japan. As the bonds of family are put to the test in the harsh realities of their world, Sunja and those she holds dear manage to carve themselves a place to call home with hard work, self sacrifice, and a little kimchi. Through it all is a message about love, faith, and the deep-rooted bonds of family. Min Jin Lee gives us a phenomenal story about one family's struggle that resonates with us today. It will take hold of you and not let go!"
— Jennifer Steele (E), Boswell Book Company, Milwaukee, WI
Top Ten
---
"Min Jin Lee has given us a treasure. Pachinko is one of those rare novels that changes your perception of history. The characters are complex and fascinating, and the setting is so beautifully drawn that I felt I was right there with them in Korea, Japan, and the U.S. Lee illuminates the history of Koreans during and after World War II, but, more than that, she brings us a haunting yet beautiful story of family, devotion, lies, politics, and, of course, the game of pachinko."
— Elaine Petrocelli, Book Passage, Corte Madera, CA
Description
---
NATIONAL BOOK AWARD FINALIST * A NEW YORK TIMES BOOK REVIEW TOP TEN OF THE YEAR * NEW YORK TIMES NOTABLE BOOK OF 2017 *A USA TODAY TOP TEN OF 2017
Roxane Gay's Favorite Book of 2017, Washington Post
NEW YORK TIMES BESTSELLER * #1 BOSTON GLOBE BESTSELLER * USA TODAY BESTSELLER
In this gorgeous, page-turning saga, four generations of a poor Korean immigrant family fight to control their destiny in 20th-century Japan, exiled from a home they never knew. "There could only be a few winners, and a lot of losers. And yet we played on, because we had hope that we might be the lucky ones." In the early 1900s, teenaged Sunja, the adored daughter of a crippled fisherman, falls for a wealthy stranger at the seashore near her home in Korea. He promises her the world, but when she discovers she is pregnant--and that her lover is married--she refuses to be bought. Instead, she accepts an offer of marriage from a gentle, sickly minister passing through on his way to Japan. But her decision to abandon her home, and to reject her son's powerful father, sets off a dramatic saga that will echo down through the generations. Richly told and profoundly moving, Pachinko is a story of love, sacrifice, ambition, and loyalty. From bustling street markets to the halls of Japan's finest universities to the pachinko parlors of the criminal underworld, Lee's complex and passionate characters--strong, stubborn women, devoted sisters and sons, fathers shaken by moral crisis--survive and thrive against the indifferent arc of history.

About the Author
---
Min Jin Lee's debut novel, Free Food for Millionaires, was one of the "Top 10 Novels of the Year" for The Times (London), NPR's Fresh Air, and USA Today. Her short fiction has been featured on NPR's Selected Shorts. Her writings have appeared in Condé Nast Traveler, The Times (London), Vogue, Travel+Leisure, Wall Street Journal, New York Times Magazine, and Food & Wine. Her essays and literary criticism have been anthologized widely. She served as a columnist for the Chosun Ilbo, the leading paper of South Korea. She lives in New York with her family.