This Tender Land: A Novel (Hardcover)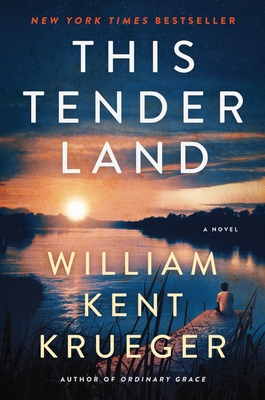 $27.00
Usually Ships in 1-5 Days
Staff Reviews
---
This Tender Land is an ode to the beauty of our amazing American landscape and a wonderful engaging adventure story narrated by Odie, a 12 year old boy living in Minnesota in the early 1930's. When the adventure opens Odie and his older brother, Albert are orphans and are living at the wretched Lincoln School just outside of Lincoln, MN. The school is run by a woman who really is evil incarnate, "The Black Witch". Needless to say, bad bad bad things happen at the Lincoln School which kick start Odie's escape and his great adventure down the Gilead river in a canoe with a sack full of cash, a revolver and some secret letters. Fortunately for Odie, he's not alone. He is accompanied by three other runaways who all bring their own frailties and strengths to their brave journey. Along the way the reader is treated to the author's consistently beautiful writing and we meet some original characters. One eyed Jack the unruly drunken pig scarer and sweet Sister Eve who can heal through the power of God but may also be running a bit of a con. The characters are very well developed and just as in life, no one is exactly as they first seem.
— Amanda
September 2019 Indie Next List
---
"The work of a master storyteller about the making of a young storyteller, This Tender Land is a coming-of-age novel for the ages. It begins in an isolated Dickensian boarding school in Minnesota during the early years of the Depression, then morphs into the story of four runaways in a canoe à la Huckleberry Finn. On the run from their school headmistress and the law, they encounter other wanderers and escapees from life as they canoe towards St. Louis to find their only known relative and a possible home. Odie, his brother Albert, their schoolmate Mose, and newly orphaned Emmy are unforgettable characters in an unforgiving era. Epic, thrilling, and beautifully written, this is storytelling at its very best."
— Renee Barker, The Bookstore of Glen Ellyn, Glen Ellyn, IL
Description
---
INSTANT NEW YORK TIMES BESTSELLER!

"If you liked Where the Crawdads Sing, you'll love This Tender Land...This story is as big-hearted as they come." —Parade

A magnificent novel about four orphans on a life-changing odyssey during the Great Depression, from the bestselling author of Ordinary Grace.

1932, Minnesota—the Lincoln School is a pitiless place where hundreds of Native American children, forcibly separated from their parents, are sent to be educated. It is also home to an orphan named Odie O'Banion, a lively boy whose exploits earn him the superintendent's wrath. Forced to flee, he and his brother Albert, their best friend Mose, and a brokenhearted little girl named Emmy steal away in a canoe, heading for the mighty Mississippi and a place to call their own.

Over the course of one unforgettable summer, these four orphans will journey into the unknown and cross paths with others who are adrift, from struggling farmers and traveling faith healers to displaced families and lost souls of all kinds. With the feel of a modern classic, This Tender Land is an en­thralling, big-hearted epic that shows how the magnificent American landscape connects us all, haunts our dreams, and makes us whole.
About the Author
---
William Kent Krueger is the New York Times bestselling author of This Tender Land, Ordinary Grace (winner of the Edgar Award for best novel), as well as eighteen acclaimed books in the Cork O'Connor mystery series, including Desolation Mountain and Sulfur Springs. He lives in the Twin Cities with his family. Learn more at WilliamKentKrueger.com.
Praise For…
---
Praise for This Tender Land

"If you liked Where the Crawdads Sing, you'll love This Tender Land by best-selling author William Kent Krueger. This story is as big-hearted as they come." —Parade Magazine

"A picaresque tale of adventure during the Great Depression. Part Grapes of Wrath, part Huckleberry Finn, Krueger's novel is a journey over inner and outer terrain toward wisdom and freedom." —Minneapolis Star Tribune

"Crafted in exquisitely beautiful prose, this is a story to be treasured – outstanding and unforgettable." —Historical Novel Review

"If you're among the millions who raced through Where the Crawdads Sing this year and are looking for another expansive, atmospheric American saga, look to the latest from Krueger." —Entertainment Weekly

"Long, sprawling, and utterly captivating, readers will eat up every delicious word of it." —New York Journal of Books

"Absorbing and wonderfully-paced, this fictional narrative set against historical truths mesmerizes the reader with its evocations of compassion, courage, and self-discovery. . . THIS TENDER LAND is a gripping, poignant tale swathed in both mythical and mystical overtones." —Bob Drury, New York Times bestselling author of The Heart of Everything That Is

"More than a simple journey; it is a deeply satisfying odyssey, a quest in search of self and home. Richly imagined and exceptionally well plotted and written, the novel is, most of all, a compelling, often haunting story that will captivate both adult and young adult readers." —Booklist

"Rich with graceful writing and endearing characters...this is a book for the ages." —Denver Post

Praise for Ordinary Grace, winner of the 2014 Edgar Award for Best Novel

"Pitch-perfect...I loved this book." —Dennis Lehane, New York Times bestselling author of Live by Night and The Given Day



"Krueger's elegy for innocence is a deeply memorable tale." —Washington Post

"Krueger aims higher and hits harder with a standalone novel that shares much with his other work....A novel that transforms narrator and reader alike." —Kirkus Reviews (starred)

"Once in a blue moon a book drops down on your desk that demands to be read. You pick it up and read the first page, and then the second, and you are hooked. Such a book is Ordinary Grace…This is a book that makes the reader feel better just by having been exposed to the delights of the story. It will stay with you for quite some time and you will always remember it with a smile." —Huffington Post

"The tone is much like To Kill a Mockingbird, with its combination of dread and nostalgia."—Detroit News