Perfect Little World Lib/E (Compact Disc)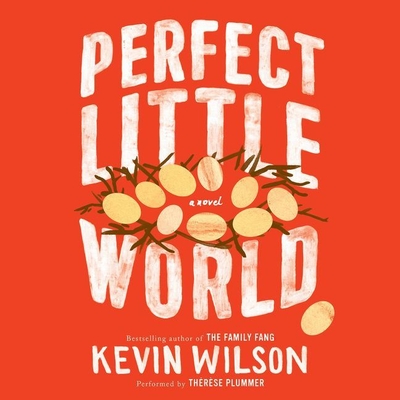 Staff Reviews
---
Recent high school graduate Izzy Poole is pregnant with her art teacher's baby, but when their relationship ends, Izzy turns to the Infinite Family Project—a 10-year research venture—for the opportunity to give her child the best life she can. This is an achingly genuine, strange story of misfits who come together to build a family. Wilson's work is intimately odd, oddly intimate. He writes in a minor key, but no note is without warmth. He'll carve a space in your heart so uniquely shaped, nothing else could ever quite fit.
— Mary Cate
February 2017 Indie Next List
---
"Izzy Poole is 18, pregnant with her erratic art teacher's baby, and without any family or money to help her raise her child. Dr. Preston Grind is tragically widowered and estranged from his parents, who raised him using unconventional and unhealthy methods in the name of science. Dr. Grind invites Izzy and nine other couples also expecting their first child to join the Infinite Family Project, an experiment in communal parenting and an attempt to rebuild Dr. Grind's broken family. This is a fascinating and touching exploration of what makes or breaks a family."
— Marisa Langlois (E), Northshire Bookstore, Manchester Center, VT
Description
---
When Isabelle Poole meets Dr. Preston Grind, she's just about out of options. She recently graduated from high school and is pregnant with her art teacher's baby. Her mother is dead and her father is a drunk. The art teacher is too much of a head-case to help raise the child. Izzy knows she can be a good mother but without any money or prospects, she's left searching.
So when Dr. Grind offers her a space in The Infinite Family Project, she accepts. Housed in a spacious compound in Tennessee, she joins nine other couples, all with children the same age as her newborn son, to raise their children as one extended family. Grind's theory is that the more parental love a child receives, the better off they are.
This attempt at a utopian ideal-funded by an eccentric billionaire-starts off promising: Izzy enjoys the kids, reading to them and teaching them to cook. She even forms a bond with her son more meaningful than she ever expected. But soon the gentle equilibrium among the families is upset and it all starts to disintegrate: unspoken resentments between the couples begin to fester; the project's funding becomes tenuous; and Izzy's feelings for Dr. Grind, who is looking to expunge his own painful childhood, make her question her participation in this strange experiment in the first place.
Written with the same compassionate voice, disarming sense of humor, and quirky charm that made The Family Fang such a success, PERFECT LITTLE WORLD is a poignant look at how the best families are the ones we make for ourselves.