This Dark Road to Mercy (Pre-Recorded Audio Player)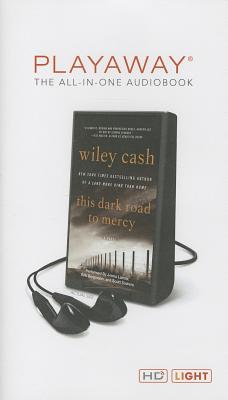 Staff Reviews
---
Twelve year old Easter and her six year old sister Ruby are in foster care after their mother has died. Rumor has it their grandparents in Alaska are very eager to adopt them. Wade, their father, an ex minor league baseball player, has only wanted two things in life -- to play ball and to be a good Dad. Now he may have a second chance at one of these things. Only one problem: he signed away his legal rights to the girls. In order to spend more time with them (and for another big reason), he resorts to kidnapping them. The girls' court appointed guardian, Brady Weller, is an ex-cop who wants to right the wrongs of his past by trying to do some good in the world. He stands by the sisters after they are kidnapped from their foster home. Finally, we have Pruitt, our "BAD" guy - really dark and mean. Pruitt and Wade have a past, and we soon see how this past has shadowed Pruitt for a very long time and now it is the only thing driving him. The story is centered around the 1998 contest between Sammy Sosa and Mark McGwire as they duel to break Roger Maris's home run record. A quick read I could not put down.
— Julia
February 2014 Indie Next List
---
"While the nation is consumed by the competition between home-run hitters Sammy Sosa and Mark McGwire, two young motherless girls in North Carolina are approached by their estranged and unpredictable ex-baseball-player father. Their court-appointed guardian becomes alarmed as a sinister man with an axe to grind reveals himself. Told in alternating voices, this spellbinding novel is reminiscent of the dark, spare work of Cormac McCarthy. At once gritty and evocative, This Dark Road to Mercy is riveting and not to be missed!"
— Tova Beiser, Brown University Bookstore, Providence, RI
Description
---
This Dark Road to Mercy by Wiley Cash has descriptive copy which is not yet available from the Publisher.