How to Be a Coder: Learn to Think like a Coder with Fun Activities, then Code in Scratch 3.0 Online (Careers for Kids) (Hardcover)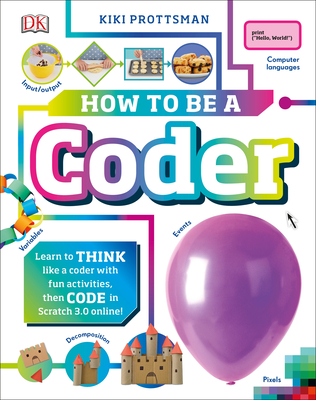 $19.99

Usually Ships in 4-7 Days
Description
---
Learn to think like a coder without a computer!

Each of the fun craft activities included in this book will teach you about a key concept of computer programming and can be done completely offline. Then you can put your skills into practice by trying out the simple programs provided in the online, child-friendly computer language Scratch.

This crafty coding book breaks down the principles of coding into bite-sized chunks that will get you thinking like a computer scientist in no time. Learn about loops by making a friendship bracelet, find out about programming by planning a scavenger hunt, and discover how functions work with paper fortune tellers. Children can then use their new knowledge to code for real by following the clear instructions to build programs in Scratch 3.0.

Perfect for kids aged 7-9, the various STEAM activities will help teach children the crucial skills of logical thinking that will give them a head-start for when they begin programming on a computer. Famous scientist pages teach children about coding pioneers, such as Alan Turing and Katherine Johnson, and topic pages, such as the Internet, give kids a wider understanding of the subject.

Written by computer science expert Kiki Prottsman, How to be a Coder is so much fun kids won't realize they're learning!
About the Author
---
Kiki Prottsman is an educator and vibrant YouTube personality. She wrote My First Coding Book for DK. Curriculum Development Manager at Code.org and a former computer science instructor at the University of Oregon, she is a Member of Mensa, and a past Chair of Women in Computer Science. Kiki also writes for the Huffington Post, and has graced the cover of Open For Business magazine. As a champion for responsible computing and equality in both CS employment and education, Kiki works with many organizations to improve the experience of girls and women in STEM. Her landmark work with the hands-on Traveling Circuits computer science curriculum helped Thinkersmith receive the 2013 Google RISE Award for excellence in Science and Engineering. She currently sits on the Advisory Board for Wonder Workshop Robotics, while also playing an advisory role in many STEM grant projects.