Rare Birds (Hardcover)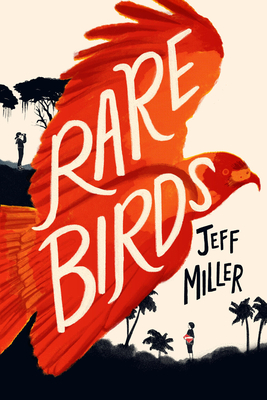 $16.99

Usually Ships in 4-7 Days
Staff Reviews
---
Graham Dodds is an 11-year old whose mother has been awaiting a heart transplant as long as Graham can remember. They have moved back to Florida where she's at the top of the list at a local hospital, where Graham spends a lot of time in waiting rooms. He meets Lou, a girl his own age, who tells him her father is also waiting for a transplant. The two become friends and decide to enter a contest to find a Snail Kite, a rare bird of the area, that Graham's mother has been researching for some time. The search is not without adventure and possible danger for two 11-year olds in a canoe in the Florida swamps, which adds some excitement to the narrative, a lot of which takes place in Graham's head. When Graham's mother gets the go-ahead for her operation, Graham discovers a secret that Lou has been hiding from him, one that leads to a sad ending to this story that otherwise is a warmhearted story of friendship and living-happily-ever-after.
— Alice
January/February 2023 Kids Indie Next List
---
"A coming-of-age story where a young man sees there are things bigger than himself. How better to learn the value of life than a new friend and a rare bird? A nice middle grade with the right amount of wonder, turmoil, adventure, and self-love."
— Tina Greene-Bevington, Bay Books (MI), Suttons Bay, MI
Description
---
Jeff Miller's heartbreaking, coming-of-age middle-grade novel--inspired by his personal experience living through his own parent's heart transplant--invites readers into the world of a twelve-year-old birdwatcher looking for a place to call home and a way to save his mother, even if it means venturing deep into Florida swampland. Twelve-year-old Graham Dodds is no stranger to hospital waiting rooms. Sometimes, he feels like his entire life is one big waiting room. Waiting for the next doctor to tell them what's wrong with his mom. Waiting to find out what city they're moving to next. Waiting to see if they will finally get their miracle--a heart transplant to save his mom's life. When Graham gets stuck in Florida for the summer, he meets a girl named Lou at the hospital, and he finds a friend who needs a distraction as much as he does. She tells him about a contest to find the endangered Snail Kite, which resides in the local gator-filled swamps. Together they embark on an adventure, searching for the rare bird . . . and along the way, Graham might just find something else--himself. Jeff Miller crafts a heartfelt story about what it means to live in this unforgettable middle-grade novel. Rare Birds is a rare find that will resonate with fans of the Carl Hiassen's Hoot and Melissa Savage's Lemon. For readers looking for novels with literary appeal and classic themes of family, friendship, and the meaning of life, Rare Birds is a perfect pick. Hardcover with dust jacket; 288 pages; 5.5 x 8.3 in.
About the Author
---
Jeff Miller is a middle-grade author and former camp counselor originally from Kent, Ohio. He loves snow, coffee, and visiting schools to connect with young readers. His mom, a 2018 heart transplant recipient, has always inspired him to face life with humor and heart. He is the author of The Nerdy Dozen series, middle-grade books about video games, friendship, top-secret aircraft, positivity, and ostriches. His latest middle-grade novel, Rare Birds, is authentically inspired by his personal experience of living through his own parent's heart transplant. Miller currently lives in Chicago, where he keeps asking his cats for writing advice.