Her Right Foot (American History Books for Kids, American History for Kids) (Hardcover)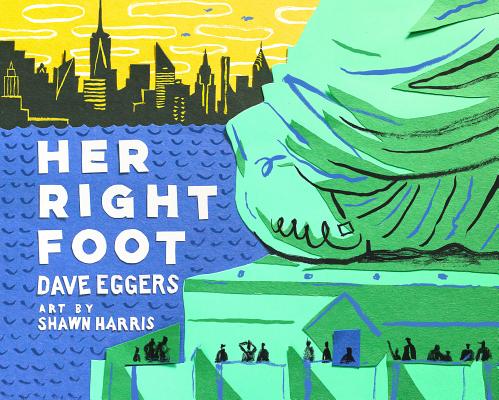 $19.99

Usually Ships in 4-7 Days
Staff Reviews
---
In this long form picture book, Dave Eggers explores the history of the Statue of Liberty. Using a conversational tone, he details the iconic statue's history, observes that her right foot is on the move, and wonders why. With a light touch of humor, he reminds readers that protecting liberty and freedom requires our nation to continually move forward. A gentle, elegant celebration of Lady Liberty.
— Cathy
Description
---
"A friendly reminder of how America can be at its best." – Entertainment Weekly

If you had to name a statue, any statue, odds are good you'd mention the Statue of Liberty.

Have you seen her?

She's in New York.
She's holding a torch.
And she's in mid-stride, moving forward.
But why?

In this fascinating and fun take on nonfiction for kids, Dave Eggers and Shawn Harris investigate a seemingly small trait of America's most emblematic statue. What they find is about more than history, more than art. What they find in the Statue of Liberty's right foot is the powerful message of acceptance that is essential of an entire country's creation.

An ideal patriotic gift for kids, this book as received accolades from a number of reputable publications:

A Publishers Weekly Best Children's Book of the Year
A School Library Journal Best Picture Book of the Year
A 2018 Orbis Pictus Award Honor Book
A Junior Library Guild selection

Seven Starred Reviews

"In a time when immigration is a hot-button issue, it's good to be reminded that Lady Liberty continues to lift her lamp beside the golden door." – Booklist, starred review

"Thought-provoking." – Bulletin for the Center for Children's Books, starred review

"A timely immigrant's tale." – Shelf Awareness, starred review

"Crucial." – Publishers Weekly, starred review

"Heartfelt throughout and indisputable timely." – Kirkus Reviews, starred review

"Unique and important." – School Library Journal, starred review

"Vital." – School Library Connection, starred review

"As enlightening as it is charming." – The New York Times

"Witty, moving." – The Wall Street Journal
About the Author
---
Dave Eggers is the author of many books, including This Bridge Will Not Be Gray, The Circle, and A Hologram for the King. He is the cofounder of: Voice of Witness, an oral-history series focused on human-rights crises; 826 National, a network of writing and tutoring centers; and ScholarMatch, which connects donors and under-resourced students to make college possible.

Shawn Harris is an artist and musician who lives and works in Morongo Valley, California. This is his first book.
Praise For…
---
"This book makes me happy as a person and jealous as an illustrator." -Jon Klassen, Caldecott Medal Winner

"This book makes me happy as a person and jealous as an illustrator." -Jon Klassen, Caldecott Medal Winner

"I want to hold this book in one hand and a torch in the other and stand on an island someplace so everyone can see." -Lemony Snicket

"I want to hold this book in one hand and a torch in the other and stand on an island someplace so everyone can see." -Lemony Snicket

"With immigration a political hot topic, this heartfelt book couldn't have come at a better time."--Bookends: A Booklist Blog

"With immigration a political hot topic, this heartfelt book couldn't have come at a better time."--Bookends: A Booklist Blog

"Beautiful, powerful, funny, moving. Eggers and Harris are in perfect thoughtful harmony."-Inaugural National Ambassador for Young People's Literature, Jon Scieszka

"Beautiful, powerful, funny, moving. Eggers and Harris are in perfect thoughtful harmony."-Inaugural National Ambassador for Young People's Literature, Jon Scieszka

"This upbeat, funny, artistically stunning book about the Statue of Liberty couldn't be more timely."--Common Sense Media

"This upbeat, funny, artistically stunning book about the Statue of Liberty couldn't be more timely."--Common Sense Media

"Witty, moving."-Wall Street Journal

"Witty, moving."-Wall Street Journal

A Mighty Girl Books of the Year

A Mighty Girl Books of the Year

'ILA Teachers Choices 2018 Reading List

'ILA Teachers Choices 2018 Reading List

"A fascinating, engrossing tale."--Entertainment Weekly, The Must List

"A fascinating, engrossing tale."--Entertainment Weekly, The Must List

"One part stand-up routine, one part ode to the values that we as a nation have long held dear. Funny, smart, timely, and true."--Leonard S. Marcus, - historian, critic, and author of Randolph Caldecott: The Man Who Could Not Stop Drawing

"One part stand-up routine, one part ode to the values that we as a nation have long held dear. Funny, smart, timely, and true."--Leonard S. Marcus, - historian, critic, and author of Randolph Caldecott: The Man Who Could Not Stop Drawing

"Fresh and compelling, and its ending is everything you could possibly want it to be."-Chicago Tribune

"Fresh and compelling, and its ending is everything you could possibly want it to be."-Chicago Tribune

"In Her Right Foot, novelist Dave Eggers and illustrator Shawn Harris spin a fascinating, engrossing tale out of a seemingly innocuous detail - and in the process, reaffirm a prescient message of inclusion. It's a friendly reminder of how America can be at its best."--Entertainment Weekly

"In Her Right Foot, novelist Dave Eggers and illustrator Shawn Harris spin a fascinating, engrossing tale out of a seemingly innocuous detail - and in the process, reaffirm a prescient message of inclusion. It's a friendly reminder of how America can be at its best."--Entertainment Weekly

"In Eggers's telling, Liberty is ready not only to greet travelers coming home and those seeking refuge, but to stride forth to welcome them."--The Washington Post

"In Eggers's telling, Liberty is ready not only to greet travelers coming home and those seeking refuge, but to stride forth to welcome them."--The Washington Post

"The careful layering and pacing of this book is chilling. It demands re-reading and sharing with others."--Charlotte News and Observer

"The careful layering and pacing of this book is chilling. It demands re-reading and sharing with others."--Charlotte News and Observer

A Boston Globe Best Children's Book of the Year

A Boston Globe Best Children's Book of the Year

BookPage Best Children's Books of the Year

BookPage Best Children's Books of the Year

"Dave Eggers and Shawn Harris investigate a seemingly small trait of America's most emblematic statue... What they find in the Statue of Liberty's right foot is the powerful message of acceptance that is essential of an entire country's creation." --Book Riot

"Dave Eggers and Shawn Harris investigate a seemingly small trait of America's most emblematic statue... What they find in the Statue of Liberty's right foot is the powerful message of acceptance that is essential of an entire country's creation." --Book Riot

"A timely message and a reminder of what the monument represents."--St. Louis Post-Dispatch

"A timely message and a reminder of what the monument represents."--St. Louis Post-Dispatch

Honor Book

Honor Book

"Sure to be beloved by adults and children alike."--Bookish

"Sure to be beloved by adults and children alike."--Bookish

"A must-read for every man, woman and child in the land."--The San Francisco Chronicle

"A must-read for every man, woman and child in the land."--The San Francisco Chronicle

"Eggers's crucial and timely re-examination makes Liberty an active participant in a debate that is more contentious than ever."-Publishers Weekly, starred review

"Eggers's crucial and timely re-examination makes Liberty an active participant in a debate that is more contentious than ever."-Publishers Weekly, starred review

"Cool facts about the Statue of Liberty plus a heart-tugging ending."--Parents Magazine

"Cool facts about the Statue of Liberty plus a heart-tugging ending."--Parents Magazine

"Her Right Foot stands far above other Statue of Liberty books, conveying something particularly important and necessary to the times in which we live."--Betsy Bird, A Fuse#8 Production, a School Library Journal blog

"Her Right Foot stands far above other Statue of Liberty books, conveying something particularly important and necessary to the times in which we live."--Betsy Bird, A Fuse#8 Production, a School Library Journal blog

"Readers needn't be versed in the day's headlines to leave Her Right Foot with an arm in the air, raising not a torch but a fist."--Shelf Awareness, starred review

"Readers needn't be versed in the day's headlines to leave Her Right Foot with an arm in the air, raising not a torch but a fist."--Shelf Awareness, starred review

"Both thought-provoking and a readaloud delight."-Bulletin of the Center for Children's Books, starred review

"Both thought-provoking and a readaloud delight."-Bulletin of the Center for Children's Books, starred review

"An unusual and entertaining way to learn about the Statue of Liberty, and a powerful message of what the statue symbolizes. This is a picture book for all ages."--Grace Lin, author of National Book Award Finalist When the Sea Turned to Silver

"An unusual and entertaining way to learn about the Statue of Liberty, and a powerful message of what the statue symbolizes. This is a picture book for all ages."--Grace Lin, author of National Book Award Finalist When the Sea Turned to Silver

Read On Wisconsin! State Reading List 2018-2019

Read On Wisconsin! State Reading List 2018-2019

Volunteer State Book Award 2019-20 Nominee

Volunteer State Book Award 2019-20 Nominee

"Perfect family share." --Charlotte News and Observer

"Perfect family share." --Charlotte News and Observer

"Speaking directly to the reader, Eggers starts out with playful humor that leads to the heartfelt understanding that that stature stands for what we should always aspire to: action, humanity and openness." —Teaching Tolerance

"Speaking directly to the reader, Eggers starts out with playful humor that leads to the heartfelt understanding that that stature stands for what we should always aspire to: action, humanity and openness." —Teaching Tolerance

Chicago Tribune Best Children's Books of the Year

Chicago Tribune Best Children's Books of the Year

"Her Right Foot appeared at just the right time, serving as a palate cleanser to increasingly caustic headlines around immigration."-NPR Best Books of the Year

"Her Right Foot appeared at just the right time, serving as a palate cleanser to increasingly caustic headlines around immigration."-NPR Best Books of the Year

"Their powerful and timely book shows that Lady Liberty is not just welcoming immigrants and others coming to America, but leading their path." --Real Simple

"Their powerful and timely book shows that Lady Liberty is not just welcoming immigrants and others coming to America, but leading their path." --Real Simple

"You may know that Dave Eggers is a successful writer for adults. And you may know that he has a way with words. But you may not know that he has written a book about the Statue of Liberty and what's more you may be completely unaware that the book is timely and poignant and deeply meaningful and patriotic in the best sense of the word. It is absolutely the best thing I've seen in a long time."--Betsy Bird, School Library Journal's Fuse #8 blog and co-author of Wild Things: Acts of Mischief in Children's Literature

"You may know that Dave Eggers is a successful writer for adults. And you may know that he has a way with words. But you may not know that he has written a book about the Statue of Liberty and what's more you may be completely unaware that the book is timely and poignant and deeply meaningful and patriotic in the best sense of the word. It is absolutely the best thing I've seen in a long time."--Betsy Bird, School Library Journal's Fuse #8 blog and co-author of Wild Things: Acts of Mischief in Children's Literature

"Not only shares the history of one of our most famous statues but also reminds us of the need for diversity and inclusion."--Kid Lit Frenzy

"Not only shares the history of one of our most famous statues but also reminds us of the need for diversity and inclusion."--Kid Lit Frenzy

"Heartfelt throughout and indisputably timely."-Kirkus Reviews, starred review

"Heartfelt throughout and indisputably timely."-Kirkus Reviews, starred review

"As enlightening as it is charming."-The New York Times

"As enlightening as it is charming."-The New York Times

"In a time when immigration is a hot-button issue, it's good to be reminded that Lady Liberty continues to lift her lamp beside the golden door."-Booklist, starred review

"In a time when immigration is a hot-button issue, it's good to be reminded that Lady Liberty continues to lift her lamp beside the golden door."-Booklist, starred review

"This amazing book builds to a poignant and timely message about the meaning of the Statue of Liberty."--Imagination Soup

"This amazing book builds to a poignant and timely message about the meaning of the Statue of Liberty."--Imagination Soup

"Unique and important."-School Library Journal, starred review

"Unique and important."-School Library Journal, starred review

"The perfect picture book for our times."--Cool Mom Picks

"The perfect picture book for our times."--Cool Mom Picks

"Eggers and Harris achieve something truly remarkable."--BookPage

"Eggers and Harris achieve something truly remarkable."--BookPage