Caraval (Large Print / Hardcover)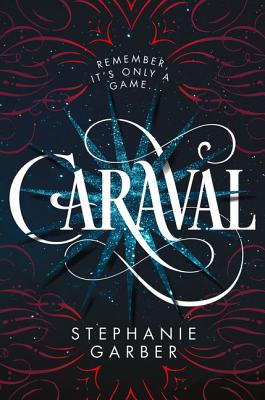 Staff Reviews
---
Welcome to Caraval, once a year performance to which invitations are highly prized. Scarlett and her sister Tella have dreamed of attending Caraval for years, but their sadistic father won't let them leave their island, let alone attend something as fantastic as this. On the eve of Scarlett's arranged marriage, she and Tella receive their cherished invitations to the game and sneak off the island to attend Caraval. Upon their arrival, Tella is kidnapped by Legend, the Mastermind of Caraval, and it's up to Scarlett to save her. Is it real? Is it a game? You'll have to read this spectacular novel to find out for yourself. For grades 8 and up.
— Cathy
Scarlett Dragna, desperate to free herself and her younger sister Donatella from their abuse father, even if their way out requires her to marry someone she's never met. Her wedding is only a week away when Scarlett receives invitations to Caraval, a magical game that many whisper about but few get to play. She is ready to throw away the tickets and her magical dreams in order to go through with her wedding, but Tella is determined to experience an adventure. Scarlett must find a way to save her sister from the deceptive, twisted game, and return in time for the wedding. But nothing in Caraval is as it appears, and as the game progresses, Scarlett's entire life comes into question.
— Madeline
Description
---
Instant New York Times bestseller
#1 IndieNext Pick
Entertainment Weekly Must List (Grade: A-)

Whatever you've heard about Caraval, it doesn't compare to the reality. It's more than just a game or a performance. It's the closest you'll ever find to magic in this world . . .
Scarlett has never left the tiny island where she and her beloved sister, Tella, live with their powerful, and cruel, father. Now Scarlett's father has arranged a marriage for her, and Scarlett thinks her dreams of seeing Caraval, the far-away, once-a-year performance where the audience participates in the show, are over.
But this year, Scarlett's long-dreamt of invitation finally arrives. With the help of a mysterious sailor, Tella whisks Scarlett away to the show. Only, as soon as they arrive, Tella is kidnapped by Caraval's mastermind organizer, Legend. It turns out that this season's Caraval revolves around Tella, and whoever finds her first is the winner.
Scarlett has been told that everything that happens during Caraval is only an elaborate performance. But she nevertheless becomes enmeshed in a game of love, heartbreak, and magic with the other players in the game. And whether Caraval is real or not, she must find Tella before the five nights of the game are over, a dangerous domino effect of consequences is set off, and her sister disappears forever.
Welcome, welcome to Caraval . . . beware of getting swept too far away.
-The Hunger Games meets The Night Circus. Grade: A-.- --Entertainment Weekly
-Impressive, original, wondrous.- --USA Today
-Spellbinding.- --US Weekly
-Magnificent.- --Publishers Weekly, starred review
-I lost myself in this world.- --Sabaa Tahir, author of An Ember in the Ashes
-Beautifully written.- --Renee Ahdieh, author of The Wrath and the Dawn
-Shimmers with magic.- --Marie Rutkoski, author of The Winner's Curse
-Darkly enchanting.- --Kiersten White, author of And I Darken
-Decadent.- --Roshani Chokshi, author of The Star-Touched Queen
-Like stepping into a living dream.- --Stacey Lee, author of Outrun the Moon
-Destined to capture imaginations.- --Kirkus Reviews
-Ideal for fans of The Night Circus, Stardust, and The Hunger Games.- --School Library Journal

About the Author
---
Stephanie Garber loves Disneyland because it s the one place on earth where she feels as if the fantastical stories she loves to write about could actually come to life. When she's not writing young adult fantasy, she teaches creative writing at a private college in northern California, where she s known for turning assignments into games and taking students on field trips that involve book signings. Caraval is her first novel for young adults. She would love to hear from you on social media."