A Well-Behaved Woman: A Novel of the Vanderbilts (CD-Audio)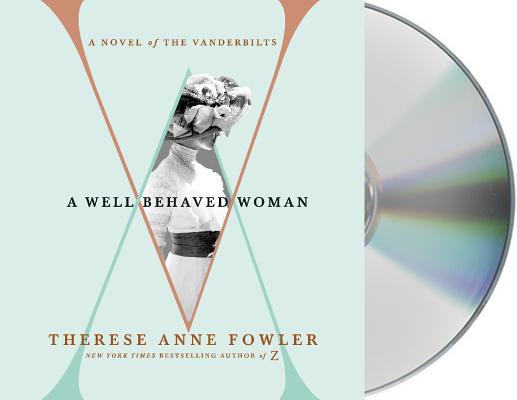 Staff Reviews
---
Therese Anne Fowler, author of Z: A Novel of Zelda Fitzgerald, once again writes an empowering tale of a famous, yet often forgotten, woman in history. A Well-Behaved Woman follows the fascinating life of Alva Smith, a woman who rises from post-Civil War poverty and marries into the newly wealthy Vanderbilt family. As "new money" families all across America continue to get rich quick, Alva expertly navigates the intricate and exclusive New York City society, laying the foundation for the Vanderbilt legacy we still know of today. Through successes and turmoil, Fowler gives the reader insight into what life was like for the outrageously wealthy in the late 19th century, and shows that money will almost certainly not lead to happiness.
— Caroline
December 2018 Indie Next List
---
"In her lifetime, Alva Smith Vanderbilt goes from being a Have to a Have-Not to a Have-It-All. Not content to just build spectacular mansions and host fabulous high-society balls, she uses her status and immense wealth to help the poverty-stricken, promote racial equality, and advocate for women's rights in the courts and voting booths. As she did in Z, Therese Anne Fowler digs beyond the sensational and scandalous newspaper headlines and brings depth to her protagonist to show us a life well-lived."
— Nancy Baenen, Arcadia Books, Spring Green, WI
Description
---
The New York Times and USA Today bestseller
"More than a rewriting of history, this is history reimagined from a fresh angle, delivered here with energy, sensitivity, and flair." — AudioFile Magazine
This program includes a bonus interview with the author.
A Well-Behaved Woman is the riveting audiobook about iron-willed Alva Vanderbilt and her illustrious family as they rule Gilded Age New York, from the New York Times bestselling author of Z: A Novel of Zelda Fitzgerald.
Alva Smith, her southern family destitute after the Civil War, married into one of America's great Gilded Age dynasties: the newly wealthy but socially shunned Vanderbilts. Ignored by New York's old-money circles and determined to win respect, she designed and built 9 mansions, hosted grand balls, and arranged for her daughter to marry a duke. But Alva also defied convention for women of her time, asserting power within her marriage and becoming a leader in the women's suffrage movement.
In A Well-Behaved Woman, Therese Anne Fowler paints a glittering world of enormous wealth contrasted against desperate poverty, of social ambition and social scorn, of friendship and betrayal, and an unforgettable story of a remarkable woman.
Meet Alva Smith Vanderbilt Belmont, living proof that history is made by those who know the rules—and how to break them.
Praise for A Well-Behaved Woman:
"A Well-Behaved Woman is an extraordinary portrait of a strong, fascinating woman who rose above societal convention and even her own expectations to become so much more than anyone might have predicted." -- Christina Baker Kline, New York Times Bestselling author of A Piece of the World and Orphan Train

"Oh how I loved every instant I spent in the world Fowler has recreated here. The story of Alva Vanderbilt is elegantly and emphatically told. Prepare to be enthralled!" —Elin Hilderbrand, New York Times bestselling author of The Perfect Couple
"To step into Therese Anne Fowler's stunning novel is to step into Alva Vanderbilt's rarefied world of sprawling homes, delicious society intrigue, and incomparable Gilded Age luxury." — Allison Pataki, New York Times Bestselling author of The Accidental Empress
About the Author
---
THERESE ANNE FOWLER is the author of the New York Times bestselling novel Z: A Novel of Zelda Fitzgerald. Raised in the Midwest, she migrated to North Carolina in 1995. She holds a B.A. in sociology/cultural anthropology and an MFA in creative writing from North Carolina State University.