Dinosaur vs. Mommy (A Dinosaur vs. Book #6) (Board book)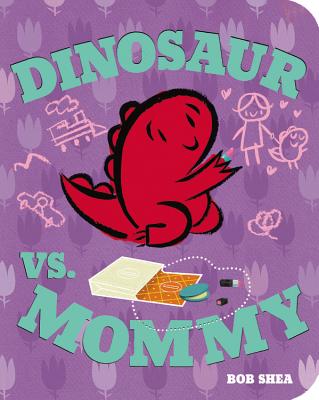 Other Books in Series
This is book number 6 in the A Dinosaur vs. Book series.
Description
---
Dinosaur is spending the day with Mommy. ROAR! He helps her wake up, go shopping, sort laundry, and more--his way, that is. By bedtime, it looks like Mommy is down for the count. Is one little red dinosaur just too much for her, or will Mommy win? Chock full of the bold graphics and exuberance that has made the Dinosaur vs. series so popular, this book will tickle toddlers and mommies on Mother's Day and every day thereafter.
Praise for Dinosaur vs. Mommy
*"Shea's buoyant, emotive artwork and sharp comic timing make Dinosaur's [sixth] story feel as fresh and funny as his first one." -Publishers Weekly (starred review)
"The emphatic text and bold illustrations reflect Dinosaur's exuberance; with its lively colors and expressive lines, the art also makes the most of the humorous situations. . .This take on the mother/toddler dynamic will have both sides of the battle roaring with laughter." -Horn Book
Praise for Dinosaur vs. Bedtime

*"Kids will be only too happy to capitulate to this irresistible package." -Publishers Weekly (starred review)

Praise for Dinosaur vs. the Potty

*"Shea's bold collages are as in-your-face charming as his energetic hero, whose exuberance and stubborn avoidance of the potty will elicit both empathy and laughter." -Publishers Weekly (starred review)

Praise for Dinosuar vs. the Library

"Story time may have conquered Dinosaur, but with boisterous noise and boundless energy, Shea's Dinosaur titles will never fail to be read-aloud hits." -Kirkus Reviews

Praise for Dinosaur vs. Santa

"Dinosaur's unbridled energy is as infectious as ever." -Publishers Weekly

Praise for Dinosaur vs. School

*"Shea's illustrations are as unruly and imaginative as ever in this pitch-perfect, egocentric take on living (school) life to the max." -Publishers Weekly (starred review)

Praise for Unicorn Thinks He's Pretty Great

"Shea's cleverly written tale makes this a standout, but there's substance here, too. The grass may always seem greener, but the message comes across that everybody has special strengths, and togetherness can often maximize them. This tale of discovered friendship will delight unicorn fans and perhaps create new fans for goats."
-Booklist (starred review)

"Shea examines a universal struggle that readers of all ages face: The grass is always greener on the other side of the fence. Unicorn may seem like he has it all...but that doesn't mean he's content. Even unicorns want to eat something besides glitter now and then. Brilliant in execution and hysterical in dialogue; Shea's pretty great, too."
-Kirkus Reviews (starred review)
About the Author
---
Bob Shea (www.bobshea.com) is the author-illustrator of several books on the Disney-Hyperion list, such as BALLET CAT, UNICORN THINKS HE'S PRETTY GREAT, BUDDY AND THE BUNNIES IN: DON'T PLAY WITH YOUR FOOD, and six books in the DINOSAUR VS. series. He also created animations, graphics, and logos that have been seen on Comedy Central, PBS, Nick Jr., and Noggin. He and his wife, Colleen, run their own graphic design company called Perfectly Nice, and their son Ryan inspired the character Dinosaur. When Bob isn't out on the road promoting his books, he lives and works in Madison, Connecticut.
Praise For…
---
PRAISE FOR DINOSAUR VS. MOMMY

*"Shea's buoyant, emotive artwork and sharp comic timing make Dinosaur's fifth story feel as fresh and funny as his first one." (starred review)—Publishers Weekly

PRAISE FOR DINOSAUR VS. MOMMY

"The energy of this fast-paced tale matches that of any amped-up toddler, with lots of exclamation points, bright colors, and thick, black lines that swiftly define the plentiful action. Treat a pack of preschoolers (and their mommies) to this title and eagerly await Dinosaur's next adventure."—Kirkus Reviews

PRAISE FOR DINOSAUR VS. MOMMY

"The emphatic text and bold illustrations reflect Dinosaur's exuberance; with its lively colors and expressive lines, the art also makes the most of the humorous situations. . .This take on the mother/toddler dynamic will have both sides of the battle roaring with laughter."—Horn Book