Unicorn Thinks He's Pretty Great (Hardcover)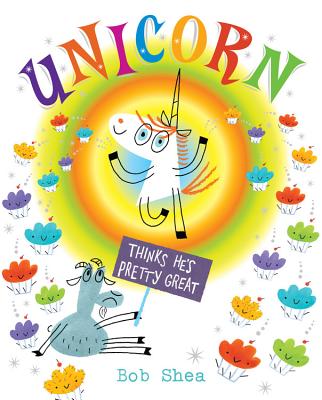 $15.99
Usually Ships in 1-5 Days
Staff Reviews
---
Goat thinks he's pretty awesome…until Unicorn shows up, that is. Unicorn can make it rain cupcakes and turn stuff into gold! How can anyone compete with that? Then Goat actually talks to Unicorn and finds out rainbows and sprinkles aren't all they're cracked up to be. A fun story about valuing the traits that make each of us special. Ages 4 and up.
— Paige
Description
---
Ever since Unicorn moved into the neighborhood, Goat has been feeling out of sorts. Goat thought his bike was cool—until he saw that Unicorn could fly to school! Goat made marshmallow squares that almost came out right, but Unicorn made it rain cupcakes! Unicorn is such a show-off, how can Goat compete? When Goat and Unicorn share a piece of pizza, Goat learns that being a unicorn might not be all it's cracked up to be. And when Unicorn shows his admiration for Goat, it looks like the beginning of a beautiful friendship.

About the Author
---
Bob Shea (www.bobshea.com) is the author-illustrator of four Dinosaurvs books, and many other picture books, including I'm a Shark (Balzer and Bray). He also wrote Big Plans, illustrated by Lane Smith. Dinosaur was inspired by his son, Ryan. Bob is an eager and talented promoter of his books. He has his own graphic design company and lives in Connecticut.