Marya Khan and the Fabulous Jasmine Garden (Marya Khan #2) (Hardcover)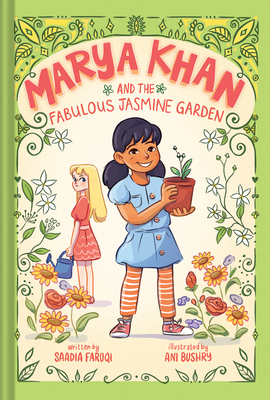 $14.99

Usually Ships in 4-7 Days
Description
---
Marya Khan and the Fabulous Jasmine Gardencontinues Saadia Faruqi and Ani Bushry's illustrated chapter book series about an ambitious Pakistani American third grader determined to prove herself—a perfect series for fans of Ivy & Bean and Dory Fantasmagory.

Marya is super excited that her school is creating a community garden to be cared for by the students. Not only will her third-grade class be the first to work on it but also Marya's mom will be teaching the students all about gardening. Most importantly, one student will be chosen to lead the charge. Marya REALLY wants to be the class leader . . . but so does Alexa, her worst enemy.

Cue Operation Be a Leader! Marya plans to work hard to prove she can be in charge, but nothing she does seems to make a difference. Birds keep destroying the plants, and none of Marya's classmates want to listen to her. Can Marya bring everyone together and make the most beautiful, fabulous garden the school has ever seen?
About the Author
---
Saadia Faruqi was born in Pakistan and moved to the United States when she was 22 years old. She writes the Yasmin series and popular middle-grade novels such as Yusuf Azeem Is Not a Hero. Besides writing books for kids, she also loves reading, binge-watching her favorite shows, and taking naps. She lives in Houston with her family.
Ani Bushry graduated from the University of West England with a background in graphic design and illustration. She grew up listening to stories her mom used to tell her and always wanted to tell her own stories. She is the illustrator of Queen Baby, Bhangra Baby, and the Marya Khan series. She lives in the Maldives with her husband and cat, Lilo, whom she loves to spoil.
Praise For…
---
**STARRED REVIEW**
"The characters are well-developed and feel like a well-integrated part of Marya's universe. The humor is genuine, and warmth exudes from the dialogue and prose. Faruqi continues to create relatable protagonists with age-relevant and real-kid struggles and triumphs while offering an authentic portrayal of a Muslim, Pakistani family. Authentic friendships, layered family dynamics, and the adventures of an intrepid heroine make this a must-have series that should be shelved next to Renée Watson's "Ryan Hart" books."—School Library Journal

"Lively and opinionated, Marya's first-person narrative is consistently entertaining, and the many attractive grayscale illustrations add another dimension to this transitional chapter book."—Booklist