What's Gaby Cooking: Everyday California Food (Hardcover)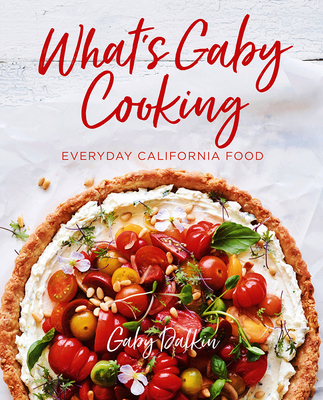 List Price: $35.00
Our Price: $29.99
(Save: $5.01 14%)
Description
---
What's Gaby Cooking: Everyday California Food is "a celebration of the way we eat here in Southern California, reflecting the region's diversity, the abundance of fresh, vibrant produce, and the fact that we're always tinkering with our diets" (Los Angeles Times).
Here is the go-to guide for bringing the West Coast vibe to your kitchen, with 125 fresh, market-driven recipes from everyone's favorite California food blogger, Gaby Dalkin.
In
What's Gaby Cooking: Everyday California Food
, Gaby shares her favorite simple and fresh recipes and offers a glimpse into what it's like to "go coastal." It's about always having something tasty to eat, thanks to handy and delicious pantry staples (avocado oil! quinoa! limes! dark chocolate!), as well as an arsenal of easy and healthy recipes, like:
Chimichurri Cauliflower Rice Bowl with Grilled Fish
Taco Skillet Bake
Street Corn Pizza
Black Rice and Roasted Mushroom Bowl
Chicken Larb Bowl with Coconut Rice
Caramelized Onion, Leek, and Red Pepper Crustless Quiche
Charred Octopus Tacos
Gaby's Famous Guacamole
Pulled Pork Pizza with Cabbage Slaw
Pesto Lasagna Bolognese
Bean, Cheese, and Chicken Tortas
And over 100 more!
The book covers all the staples—avocado toast, grain bowls, greens, carbs, healthy mains, cocktails, and more. For Gaby, California is not so much a place but a state of mind, and this cookbook proves that no matter where you live, you can still apply the same philosophy.
All it takes is finding the freshest produce you can, stocking up on some versatile pantry staples, and keeping flavors and techniques simple. After that, the only thing left to do is kick back, pour yourself a California Girl Margarita, and listen for those ocean waves.
Includes color photographs by Matt Armendariz
Also available:
What's Gaby Cooking: Eat What You WantWhat's Gaby Cooking: Take It Easy
About the Author
---
Gaby Dalkin is a cookbook author, private chef, entrepreneur, and food and lifestyle writer. Her website, What's Gaby Cooking, founded in 2009, has established her as the go-to girl for all things California. Dalkin and her site have been profiled in national outlets such as People, Wired, Glamour, The New Yorker, Better Homes and Gardens, Williams-Sonoma, the Los Angeles Times, and more. She currently lives in Los Angeles with her husband, Thomas.
Praise For…
---
"Simple, healthy recipes featuring fresh produce and a laid-back attitude in the kitchen."
— The New York Times

"'What's Gaby Cooking, Everyday California Food,' is a celebration of the way we eat here in Southern California, reflecting the region's diversity, the abundance of fresh, vibrant produce, and the fact that we're always tinkering with our diets. (Translation: Vegans, meat eaters, the no-carb and the all-carb crowds will all find something in its pages.)"
— The Los Angeles Times

"I'm not a girl and if I was odds are I wouldn't come close to qualifying as a 'California' girl. But gosh-darn it, now that Gaby's book is finally here I can eat like one. I've been a fan of her recipes for years, and this book delivers on what I love about Gaby's food: flavor, variety, nutrition, and a vibrancy that's 'totally awesome.' See what I did there?"
— Alton Brown

"I have a soft spot for California, having spent some of my younger years there. As if I needed more evidence of Gaby's genius in the kitchen, the recipes in this beautiful cookbook take me back to California in the most delicious way. She never fails to create gorgeous dishes that are perfect for a fun get-together with friends or a simple weeknight dinner. This book is full of inventive takes on classic favorites: Risotto with All the Variations. (I'm in.) Cobb Salads for All Seasons. (Brilliant!) Don't get me started on the pizzas and desserts. Your list of must-make recipes in this book will grow with every page you turn. Get your hands on it and enjoy every bite!"
— Ree Drummond

"Gaby has managed to capture Southern California's love affair with food and indoor-outdoor living in her new cookbook. The sunshine-drenched pages burst with recipes (and luscious photography) featuring fresh seasonal produce and funky fusions, and reflect our delicious obsession with saving calories here, so we can splurge on calories there. . . . Whether you're from California, love California, or just want to eat like a Californian, you'll love this cookbook."
— Rene Lynch

"For those of us who fantasize about living that carefree California lifestyle, Gaby combines fresh, delicious recipes with her signature laid-back approach so we can channel those sunny vibes wherever we are. The perfect balance of healthy weeknight meals (Southwestern Sweet Potato with Quinoa Chili) and fun treat-yo-self moments (Cinnamon-Roll Chocolate Chip Monkey Bread . . . I mean, come on!), Gaby's book is bursting with delicious, seasonal flavor. In other words, the way I really want to cook and eat every day."
— Camille Styles

"Before I met Gaby almost four years ago, I was one of thousands inspired by her California Girl lifestyle and recipes—and this book feels like the perfect culmination of what makes her so lovable, both on What's Gaby Cooking and in person. Her genuine passion for sharing recipes and entertaining tips (her cheese boards are legendary) come through in Champagne-toast–worthy avocado toasts and SoCal-inspired weeknight staples (hello, fish tacos), all captured in naturally lit, sun-drenched photos. It deserves a spot on any shelf—if you can keep it there. Also, I can get behind any cookbook that starts with oysters and ends with chocolate chip cookie squares."
— Emily Schuman

"Gaby's so creative in the kitchen and her photos are so gorgeous, I literally want to make every single recipe in this book! I love her easy, seasonal, California approach to cooking."
— Gina Homolka

"What's Gaby Cooking has me California dreamin' and I live here! Every page is a celebration of what we in California never take for granted—fresh, plentiful, and gorgeous produce, and dishes inspired from cuisines around the world. The entire book is drool-worthy."
— Elise Bauer

"Gaby makes California both a state of mind and a decadently fresh platter of eats!"
— Joy Wilson

"This beautiful, colorful book makes food approachable and delicious. You will never have to wonder what to cook for dinner again!"
— Padma Lakshmi