The Epic Crush of Genie Lo (Hardcover)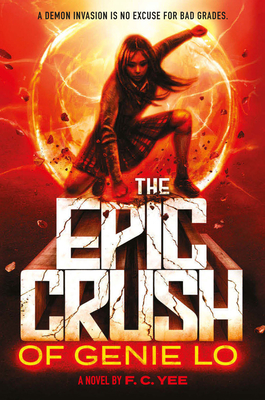 $18.99
Usually Ships in 1-5 Days
Staff Reviews
---
All high school student Genie Lo wants to do is to do well at school and discover the fast track to Harvard. When transfer student Quentin appears in her homeroom, it all starts to go wrong. Quentin speaks oddly and has no sense of how things work in high school. It turns out that he's the Monkey King of Chinese legend and she is his secret weapon against the demons who have escaped from Diyu, the Chinese hell. This hilarious story successfully combines Chinese folklore with the all too familiar stresses facing high school students. Here's hoping for a sequel! 
— Cathy
Description
---
She annihilates standardized tests and the bad guys.

Genie Lo is one among droves of Ivy-hopeful overachievers in her sleepy Bay Area suburb. You know, the type who wins. When she's not crushing it at volleyball or hitting the books, Genie is typically working on how to crack the elusive Harvard entry code.

But when her hometown comes under siege from Hellspawn straight out of Chinese folklore, her priorities are dramatically rearranged. Enter Quentin Sun, a mysterious new kid in class who becomes Genie's self-appointed guide to battling demons. While Genie knows Quentin only as an attractive transfer student with an oddly formal command of the English language, in another reality he is Sun Wukong, the mythological Monkey King incarnate—right down to the furry tail and penchant for peaches.

Suddenly, acing the SATs is the least of Genie's worries. The fates of her friends, family, and the entire Bay Area all depend on her summoning an inner power that Quentin assures her is strong enough to level the very gates of Heaven. But every second Genie spends tapping into the secret of her true nature is a second in which the lives of her loved ones hang in the balance.

About the Author
---
F. C. Yee grew up in New Jersey and now calls Denver, Colorado, home. He is also the author of the critically acclaimed The Epic Crush of Genie Lo and the forthcoming, Avatar, the Last Airbender: The Rise of Kyoshi.
Praise For…
---
**STARRED REVIEW**
"In this dazzlingly fun debut, Yee mixes humor, Chinese folklore, and action to deliver a rousing, irreverent adventure packed with sharp-edged banter."
— Publishers Weekly
**STARRED REVIEW**
"A tough, self-disciplined Chinese-American teen deals with the supernatural derailing of her college-prep activities in this speculative fiction novel that draws on the folklore of the Chinese Monkey King... An exciting, engaging, and humorous debut that will appeal widely, this wraps up neatly enough but leaves an opening for further installments—here's hoping."
— Kirkus
**STARRED REVIEW**
"Genie's perspective on the strange turn her life has taken will have readers laughing out loud...Hilarious and action-packed, this fantastically executed tale of the Monkey King in modern-day California introduces a great new character in Genie Lo."
— School Library Journal
**STARRED REVIEW**
"...Yee builds a world filled with characters that carry the page-turning plot... presented in a distinctive way, combined with Yee's vivid action scenes that take place in a familiar setting, will send readers searching for more tales about Sun Wukong."
— VOYA
"It's refreshing to see the Chinese pantheon steal some of the literary attention lavished on the Greek, Roman, and Nordic gods, and Yee handily gets Western readers up to speed on requisite backstories and proclivities."
— Bulletin of the Center for Children's Books
"Genie is a unique and uniquely funny heroine, a trove of biting cultural commentary, insight on life as an Asian-American teen, and compelling interpretations of ancient Eastern legends."
— Chicago Tribune
"Fast-paced action is offset with moments of introspection as Genie is forced to decide what matters most. Ultimately, Genie epitomizes the type of kick-ass heroine promised by the book's cover—one who uses her wits and brawn in her battles."
— International Literacy Association