Epic Crush of Genie Lo (Hardcover)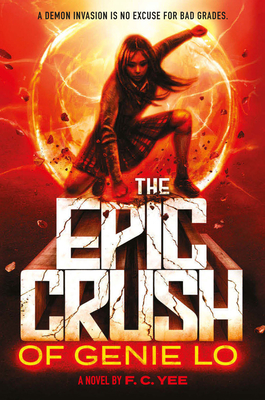 Staff Reviews
---
All high school student Genie Lo wants to do is to do well at school and discover the fast track to Harvard. When transfer student Quentin appears in her homeroom, it all starts to go wrong. Quentin speaks oddly and has no sense of how things work in high school. It turns out that he's the Monkey King of Chinese legend and she is his secret weapon against the demons who have escaped from Diyu, the Chinese hell. This hilarious story successfully combines Chinese folklore with the all too familiar stresses facing high school students. Here's hoping for a sequel! 
— Cathy
Description
---
The struggle to get into a top-tier college consumes sixteen-year-old Genie's every waking thought. But when she discovers she's a celestial spirit who's powerful enough to bash through the gates of heaven with her fists, her perfectionist existence is shattered. Enter Quentin, a transfer student from China whose tone-deaf assertiveness beguiles Genie to the brink of madness. Quentin nurtures Genie's outrageous transformation--sometimes gently, sometimes aggressively--as her sleepy suburb in the Bay Area comes under siege from hell-spawn. This epic YA debut draws from Chinese folklore, features a larger-than-life heroine, and perfectly balances the realities of Genie's grounded high school life with the absurd supernatural world she finds herself commanding.

About the Author
---
F. C. Yee grew up in New Jersey and studied economics at Brown University. For his debut novel, he drew inspiration from the best and wisest people in his life. Outside of writing, he practices capoeira, a Brazilian form of martial arts. He currently calls the San Francisco Bay Area home.