On the Edge of Gone (Hardcover)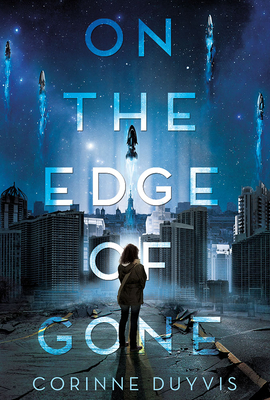 $17.95
Usually Ships in 1-5 Days
About the Author
---
Corinne Duyvis is a novelist and short story writer and an editor of the website Disability in Kidlit. She's a graduate of the Clarion West writer's workshop and lives in Amsterdam. Her first novel, Otherbound, received four starred reviews, and Horn Book called it "a humdinger of an adventure that contains the agony of loyalty, the allure of magic, and, most gratifyingly, the element of surprise." Visit her website at www.corinneduyvis.com and follow her on Twitter @corinneduyvis.
Praise For…
---
**STARRED REVIEW**
"...what makes this a winner is the nerve-racking adventure. Life-affirming science fiction with spaceships, optimism in the apocalypse, and a diverse cast that reflects the real world."
— Kirkus
"Denise's fear is palpable throughout, which helps to push this sci-fi novel into thriller territory... Duyvis' attention to detail and strong descriptions will recommend this to fans of the genre."
— Booklist
***STARRED REVIEW***
"Insightful, suspenseful, and unsettling in its plausibility, this novel is sure to stick with readers long after the last page has been turned. VERDICT A high level of believability and excellent writing make this diverse apocalyptic novel a recommended selection for any young adult collection."
— School Library Journal
"Readers are immersed in the tics and tactile aspects of Denise's condition as Duyvis (Otherbound) skillfully incorporates an exploration of complex mental conditions, addiction, and gender identity into her narrative. It's a riveting apocalyptic thriller with substantial depth."
— Publishers Weekly
**STARRED REVIEW**
"This novel offers an edge-of-your-seat survival plot and a compelling narrative. It subtly raises questions about the value of a human life without didacticism or easy answers, and the diverse cast, including a biracial heroine and characters of various races, religions, and sexualities, gives the novel real-world authenticity and impact. Duyvis deftly balances broader social elements with a powerful family story…A worthy readalike for North's Starglass, this near-future scifi will gain fans amongst those who want a story that is simultaneously heartbreaking and thought-provoking."
— BCCB
"There is a great level of diversity in this book, which raises questions of who is worth saving and what makes a person have value."
— School Library Connection