Lady of Quality (Large Print / Hardcover)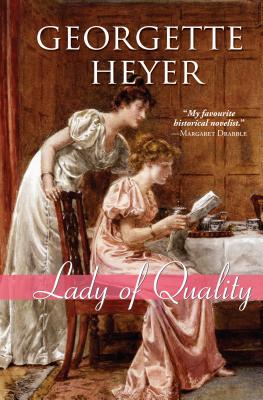 Description
---
A woman of independent means and spirit, stunning Annis Wynchwood has no yearning for wedlock, and has dashed the hopes of many lordly suitors. But never has she encountered such a rakish specimen as notorious Oliver Carleton. And when a femme comes face-to-face with a most incorrigible rogue, there ensues a tug-of-war that only love can overcome.
About the Author
---
The late Georgette Heyer was a very private woman. Her historical novels have charmed and delighted millions of readers for decades, though she rarely reached out to the public to discuss her works or private life. It is known that she was born in Wimbledon in August 1902, and her first novel, The Black Moth, was published in 1921.

Heyer published 56 books over the next 53 years, until her death from lung cancer in 1974. Heyer's large volume of works included Regency romances, mysteries and historical fiction. Known also as the Queen of Regency romance, Heyer was legendary for her research, historical accuracy and her extraordinary plots and characterizations. Her last book, My Lord John, was published posthumously in 1975. She was married to George Ronald Rougier, a mining engineer, and they had one son together, Richard.