Mera: Tidebreaker (Paperback)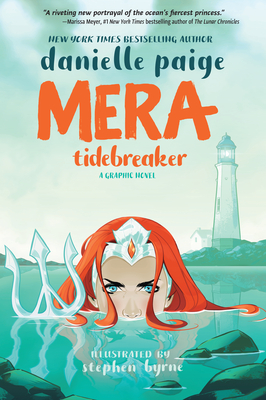 $16.99
Email or call for price
Description
---
Princess Mera is teenage royalty and heir to the throne of Xebel, a penal colony ruled by the other no-so-lost land under the sea, Atlantis. Her father, his court and the entire kingdom are expecting her to marry and introduce a new king. But Mera is destined to wear a different crown....

When the Xebellian military plots to overthrow Atlantis and break free of its oppressive regime, Mera seizes the opportunity to take control over her own destiny by assassinating Arthur Curry--the long-lost prince and heir to the kingdom of Atlantis. But her mission gets sidetracked when Mera and Arthur unexpectedly fall in love. Will Arthur Curry be the king at Mera's side, or will he die under her blade as she attempts to free her people from persecution?

An astonishing graphic novel that explores duty, love, heroism and freedom, all through the eyes of readers' favorite undersea royalty.

From New York Times best-selling author Danielle Paige (Dorothy Must Die) and artist Stephen Byrne comes a Mera and Aquaman origin story that explores Mera's first steps on land, and her first steps as a hero or villain, forcing her to choose to follow her heart or her mission to kill.
About the Author
---
Danielle Paige is the New York Times bestselling author of the Dorothy Must Die series, and the Stealing Snow series (Bloomsbury, 2016). In addition to writing young adult books, she works in the television industry, where she's received a Writers Guild of America Award and was nominated for several Daytime Emmys. She is a graduate of Columbia University and currently lives in New York City.

Stephen Byrne was born in Dublin, Ireland, where he studied animation at the Irish School of Animation. He has worked in Ireland and the United States in the fields of animation, TV advertising, satirical newspaper cartoons, and video games. He now lives in London, where he works on his true passion, comics.
Praise For…
---
"An exciting and romantic look at a lesser known superhero, for DC comics followers and newcomers alike." —School Library Journal

"Mera is a compelling, easy-to-admire character. She readily proves her worthiness as a warrior, and readers will see in her plenty of parallels to Wonder Woman. This graphic novel is sure to be a hit."  —Booklist

"Paige has rendered a sassy, take-no-prisoners heroine who may look like Disney's Ariel but who is imbued with grit and substance." —Kirkus Reviews
 
"Mera: Tidebreaker offers a riveting new portrayal of the ocean's fiercest princess. With her passion, strength, and willfulness, Mera is sure to capture the hearts of both longtime readers and those who are discovering Atlantis for the first time." —Marissa Meyer, #1 New York Times bestselling author of The Lunar Chronicles 

"Mera: Tidebreaker will pull readers through the waves and down into an immersive world full of intrigue, heroism, and romance. This royally enchanting origin story will captivate you until the very last page and leave you questioning what you'd do if you had to pick between love and duty. A must-read!" —Sasha Alsberg, New York Times bestselling author of Zenith

"Mera: Tidebreaker goes beyond Disney princess territory, depicting a future queen of Atlantis who's a fascinating and sympathetic role model for teens." —Foreword Reviews

"You don't need to be a fan of Aquaman or really know anything about him to enjoy this book; you only need to like stories with strong heroines and some political intrigue." —Manhattan Book Review