Gotham Academy Vol. 1: Welcome to Gotham Academy (The New 52) (Paperback)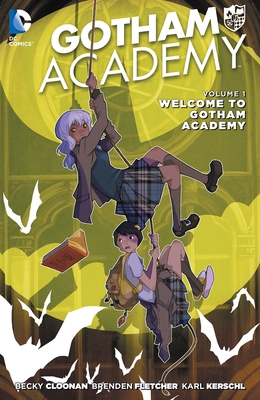 $14.99
Email or call for price
Description
---
Welcome to Gotham Academy, the most prestigious school in Gotham City. Only the best and brightest students may enter its halls, study in its classrooms, explore its secret passages, summon its terrifying spirits…

Okay, so Gotham Academy isn't like other schools. But Olive Silverlock isn't like other students. After a mysterious incident over summer break, she's back at school with a bad case of amnesia, an even worse attitude… and an unexplained fear of bats.

Olive's supposed to show new student Maps Mizoguchi the ropes. Problem: Maps is kid sister of Kyle, Olive's ex. Then there's the ghost haunting the campus…the secret society conducting bizarre rituals…and Bruce Wayne, the weirdo billionaire who funds the Academy - and may know the secret to Olive's big mystery.

Find out in GOTHAM ACADEMY VOL. 1, the acclaimed new series from co-writers Becky Cloonan (DEMO) and Brendan Fletcher (BATGIRL) and artist Karl Kerschl (TEEN TITANS: YEAR ONE)! Collects GOTHAM ACADEMY #1-6.
About the Author
---
Becky Cloonan is an American comic book writer and artist known for her manga-influenced artwork. Her first major comics work came when she teamed with writer Brian Wood to create Channel Zero: Jennie One.  However, she is best-known for her second collaboration with Wood, DEMO, a 12-issue limited series that was named "Indie of the Year" by Wizard Magazine in 2004 and nominated for two Eisner Awards including Best Limited Series. In 2009 Cloonan and Wood expanded DEMO and re-published it through DC Comics' Vertigo imprint. Cloonan's first solo graphic novel, East Coast Rising Volume 1, earned her a third Eisner Award nomination for Best New Series. Her other work for DC Comics includes AMERICAN VIRGIN, co-created with writer Steven T. Seagle, and NORTHLANDERS for Vertigo as well co-writing GOTHAM ACADEMY with Brenden Fletcher.
Praise For…
---
"A little bit CW television series and a little bit Harry Potter, with a wee touch of manga-inspired storytelling. While that might all sound like an awful mix to some, Gotham Academy actually turns out to be a really fun and charming book."—Nerdist.com

"As it turns out, it's spooky, weird and like nothing DC Comics has ever released before."-- MTV News

"Slick, charming, and, dare we say it, fun. Each turn of the page pulling you further into the book's beautifully imaginative world."—IGN

"The book is quirky and cute, a Scooby Doo mystery wrapped in an anime shell and served with teenage angst on the side."—Newsarama

 "This series is so fun and inventive that it's hard to not love it. Cloonan, Fletcher and Kerschl understand how to make good -- no, great comics."—Comic Book Resources