Rebel Rose (Queen's Council #1) (Hardcover)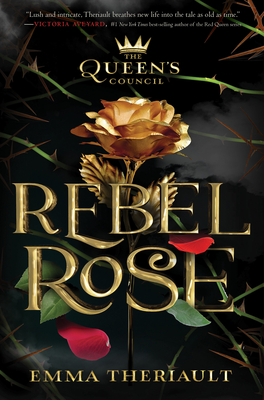 $17.99

Usually Ships in 4-7 Days
Staff Reviews
---
Fairy tales meet revolution in Emma Theriault's first book, Rebel Rose. Set against the backdrop of the French Revolution, Belle the princess we all know and love is faced with a new set of challenges. Crowned queen in an attempt to save Avignon from the same fate as their French neighbors, Belle is forced into a role and title that she never wanted. Using her newfound power, Belle must find a way to save Avignon and it's commoners in order to protect the people she holds closest.
A thrilling after story to the classic take of Beauty and the Beast, Rebel Rose is a refreshing and empowering take on the princess we all know by heart. The author molds Belle into a strong woman who is unafraid to voice her ideas and opinions. Theriault transforms this tale as old as time into a powerful lesson of history and shows that being a princess is so much more than tiaras and tea parties.
— Olivia
About the Author
---
Emma Theriault was born and raised in Ottawa, the capital city of Canada, and thus has a penchant for gothic revival architecture and a constant craving for Beavertails. She has been everything from an enthusiastic bookseller (who once sold a book to Prime Minister Trudeau) to a purveyor of whitewater rafting adventures in the Interior of British Columbia. When not writing books about curses and blood magic, she can be found eating burritos, hiking with her boyfriend or cuddling with her cats, Gatsby and Harriet. You can follow her on Twitter @eltheriault.
Praise For…
---
. . . Compelling and intriguing, showing the many facets of married life, as well as the different ways women can be strong without wielding a sword or an immense power. I would recommend this book to anyone who loves classic fairytales but with a more adult theme with a dash of history.
—The Nerd Daily<br><br>


Perfect for Disney fans and history buffs alike, Rebel Rose deftly combines real world heft and dreamy costume romance into a compelling read rich with historical detail and page-turning intrigue.
—Alexa Donne, author of <em>Brightly Burning</em> and <em>The Stars We Steal</em><br>

Rebel Rose breathes new life into a tale as old as time. With prose that invokes the delightful magic of Disney, Theriault weaves an enchanting future for Belle filled to the brim with familiar faces, historical depth, and new challenges. A sparkling debut.
—Rosiee Thor, author of <em>Tarnished Are the Stars</em><br>

Rebel Rose is a masterful blend of fairytale and history. The story and characters we all know and love interlock seamlessly with the real life drama of the French Revolution thanks to Emma Theriault's deftly confident writing, which will leave you constantly guessing what's after "Happily Ever After" for our beloved Beauty and her Beast.
—Alwyn Hamilton, <em>New York Times</em> bestselling author of the Rebel of the Sands trilogy<br>

Accolades:
-Canadian Children's Book Centre starred selection for Best Books for Kids and Teens Fall 2021

Fairy-tale fans will enjoy the care and depth given to Belle's character and the touches of magic...A promising start to a new series of fairy-tale continuations grounded in historical events.—Kirkus

I was delighted by a look into Belle's not so happy ever after against the curtain of the French Revolution. Lush and intricate, Theriault breathes new life into the tale as old as time. This was a rousing call to revolution - and finding the strength to become who you are.
—Victoria Aveyard, #1 <em>New York Times </em>bestselling author of the <em>Red Queen </em>series<br>

If you have ever wondered how Belle and the Beast make it through the French Revolution, Rebel Rose is a necessity. Filled with intrigue, growth, and of course, compassion, Theriault reopens and reimagines a world you will be delighted to be a guest in.
—Rachel Strolle, Glenside Public Library District (Teen Services Coordinator)<br>

Readers will be swept away by this next chapter of Beauty and the Beast, rich in intrigue, rebellion, and romance. Theriault seamlessly weaves history with Disney magic into a tale that will not be easily forgotten.
—Elizabeth Lim, author of <em>Reflection: A Twisted Tale </em>and <em>So This Is Love: A Twisted Tale

Theriault's writing is perfectly paced and the cast of characters developed with historical realism; fans of the movies will be satisfied by this evolution of a favorite Disney princess...The personal and national stakes of this novel root it in history but also within its backstory as a Disney classic...The French Revolution with a Disney twist, Theriault's debut is rich in historical detail while answering the long-asked question, "What happens after happily ever after?—School Library Journal<br>

This empowering fable touches on resonant themes of balancing loyalty, duty, love, and sacrifice while navigating through the murky fog of sinister political intrigue.
—SYFY