Little White Lies (Debutantes, Book One) (Hardcover)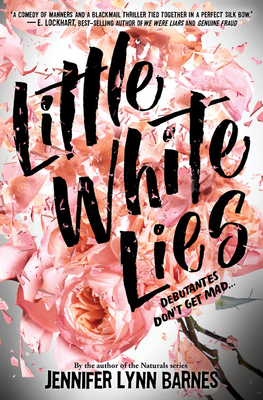 Staff Reviews
---
Mechanic Sawyer Brown is doing just fine, thank you very much, taking care of herself and her mom and trying to make ends meet. One day, her grandmother, Lillian Taft, appears with a contract for $500,000 and a chance to determine who her father really is. The catch? She has to participate in the upcoming debutante season in her mother's hometown. What follows is a society mystery, full of suspicions and some very dark secrets. Barnes again delivers a clever mystery full of devious, likable characters and whip smart dialogue. A great read for grades 9 and up!
— Cathy
Description
---
"I'm not saying this is Sawyer's fault," the prim and proper one said delicately. "But."
Eighteen-year-old auto mechanic Sawyer Taft did not expect her estranged grandmother to show up at her apartment door and offer her a six-figure contract to participate in debutante season. And she definitely never imagined she would accept. But when she realizes that immersing herself in her grandmother's "society" might mean discovering the answer to the biggest mystery of her life-her father's identity-she signs on the dotted line and braces herself for a year of makeovers, big dresses, bigger egos, and a whole lot of bless your heart. The one thing she doesn't expect to find is friendship, but as she's drawn into a group of debutantes with scandalous, dangerous secrets of their own, Sawyer quickly discovers that her family isn't the only mainstay of high society with skeletons in their closet. There are people in her grandmother's glittering world who are not what they appear, and no one wants Sawyer poking her nose into the past. As she navigates the twisted relationships between her new friends and their powerful parents, Sawyer's search for the truth about her own origins is just the beginning.
Set in the world of debutante balls, grand estates and rolling green hills, Little White Lies combines a charming setting, a classic fish-out-of-water story, and the sort of layered mystery only author Jennifer Lynn Barnes can pull off.
About the Author
---
Jennifer Lynn Barnes has written more than a dozen acclaimed young adult novels, including The Naturals series: The Naturals, Killer Instinct, All In, Bad Blood and the e-novella, Twelve. A former debutante herself, Jen is also a Fulbright Scholar with advanced degrees in psychology, psychiatry, and cognitive science. Jen received her Ph.D. from Yale University in 2012 and is currently a professor of psychology and professional writing at the University of Oklahoma. You can find her online at www.jenniferlynnbarnes.com or follow her on Twitter @jenlynnbarnes.
Praise For…
---
"With page-turning tension, witty humor, and a mystery that will keep you guessing,
Little White Lies
is Barnes at her best."—
Jennifer L. Armentrout, #1 New York Times best-selling author
"Full of gossiping, conniving, and back-stabbing, this breezy read is... heavy on made-for-film debutante antics."—
Publishers WeeklyAccolades
Winter 2018 Kids' Indie Next List
Brightly: 16 Must-Read YA Books of Fall 2018 (selection)
Hypable: Fall 2018 movies, TV, and book release dates that need to be on your calendar (selection)
BookRiot: 125+ Upcoming YA Books You'll Want on Your October to December Radar, selection (2018)
BNTeen: 21 of November's Best New Young Adult Books, selection (2018)
Bustle: 'Archenemies' By Marissa Meye & 9 Other YA Books to Know This November, selection (2018)
Hypable: Our most-anticipated November 2018 YA book releases, selection
Girl's Life: Chloe's Book Club pick (November 2018)
BNTeen: New Releases: Factory Girls, Supervillains, and Undercover Debutantes, selection (2018)
YAYBOOKS!: November 2018 Roundup, selection (2018)
"A witty romp of a mystery with a heroine to root for.
Little White Lies
brings the intrigue and fun of
Gossip Girl
to the world of debutante balls (bless their hearts!)."—
Brittany Cavallaro, author of A Study in Charlotte
"A delightfully twisty blend of scheming debutantes, clever dialogue, and high-society secrets that will keep you guessing until the very last page."—
Katie McGee, New York Times best-selling author of The Thousandth Floor
"
Little White Lies
is a comedy of manners and a blackmail thriller tied together in a perfect silk bow. A plot twist every twenty pages and characters as devious as they are southern-belle glamorous--Barnes is at her page-turning best."—
E. Lockhart, author of We Were Liars and Genuine Fraud
"Barnes'... immersive world of Southern debs hides a darkness beneath the white-gloved veneer of civility. Sawyer's smart narrative, along with plenty of biting social commentary, will keep readers turning the pages."—
Kirkus Reviews
"The literary equivalent of an all-out brawl at a debutante ball. Initially surprising, often hilarious, always entertaining... Packed with tantalizing mysteries... Just enough romance to keep things interesting."—
Hypable.com
"Fans of the nonstop intrigue of the Pretty Little Liars series will devour this glamorous, family-focused mystery that's led by a whip-smart, tough-as-nails heroine."—
Booklist
"Leave it to Jennifer Lynn Barnes to write a book that features two of my favorite things: Big Dresses, and even Bigger Secrets. Funny, twisty, and sharp,
Little White Lies
is a ball from start to finish."—
Rachel Hawkins, New York Times best-selling author of Royals
"The fast-paced narrative will have readers wanting to keep reading until the end. Anyone who loves a mystery with characters they can relate to facing whatever challenging situations may arise will enjoy this book."—
School Library Connection