Blitzkrieg (Paperback)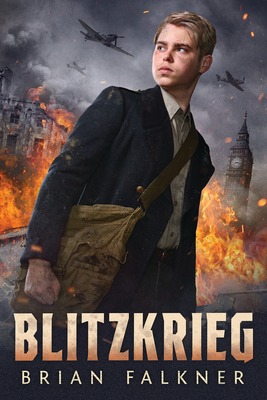 Description
---
An intriguing and thought-provoking WWII novel inspired by real events from the international award-winning author Brian Falkner!
In Nazi-ruled Germany, Joe St. George is forced to watch as the country is divided around him by fear and hate. Joe thinks he and his family are safe, but when his father disappears one night, everything changes. Suddenly Joe and his mother are suspects of the state, but for what, Joe has no idea. They plan their escape from Germany, even though it means leaving Joe's father behind. However, Joe and his mom are separated before they make it out, and he is forced to go on without her.
Eventually Joe arrives in London but quickly realizes he's not free of the Nazis. Since Joe's escape, Hitler has been marching west, and London is under constant attack from the skies. Desperate to find his parents, Joe begins to dig into what happened back home. But the truth is a lot more complicated and dangerous than Joe ever imagined, and soon he is recruited by MI5 and given a deadly mission that will put him in the very center of Hitler's ruthless reign. From vital convoys across the frozen North Atlantic, to the terror of the Blitz, to the shadowy world of the French Resistance, just how far will Joe have to go to save his family ... and himself?
About the Author
---
Brian Falkner is the author a number international bestselling books, including Blitzkrieg. He began college intending to study computers, but along the way he decided to shift his focus to something more creative. After gaining a diploma of journalism, he worked as a reporter and advertising copywriter. Other jobs helped pay the bills and also expand the first-hand experiences that would enrich his fiction, among them stints as a motorcycle courier, radio announcer, graphic designer, and an internet developer. Brian currently lives on the Gold Coast of Australia with his wife and two daughters. Find out more about him at brianfalkner.co.nz.