City of Speed (Battle Dragons #2) (Hardcover)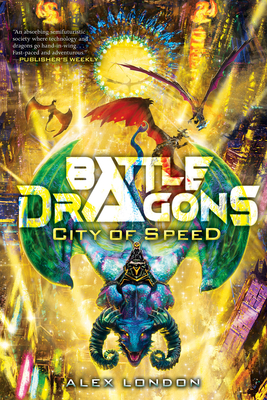 Description
---
In a modern mega-city built around dragons, one boy gets caught up in the world of underground dragon battles and a high-stakes gang war that could tear his family apart.
In the city of Drakopolis, dragons and humans have co-existed for centuries. Dragons burn the city's garbage, taxi its busy citizens from place to place, and even compete in vicious underground battles for ganglike kins.
But the dragons also compete in legal sports, like the spectacular aerial races that draw in cheering crowds by the tens of thousands.
Abel is at just such a race when he witnesses the unthinkable. A long-shot competitor pulls off an impossible win -- then flies into a destructive rage! Someone in the city is experimenting on dragons: hacking their DNA, rebuilding their bodies, and breaking their minds. Who could be driving the dragons berserk?
Abel must find out who's behind the experiments and put a stop to them, and to do so he'll infiltrate the kins' underground street races on a long-shot dragon of his own. But with his sister working for a kin, his brother serving the city's secret police, and a bully at school racing for Abel's worst enemies, will Abel find any safety past the finish line?
About the Author
---
Alex London is the author of over 25 books for children, teens, and adults with over 2 million copies sold. He's the author of the middle grade Dog Tags, Tides of War, Wild Ones, and Accidental Adventures series, as well as two titles in The 39 Clues. For young adults, he's the author of the acclaimed cyberpunk duology Proxy, and the epic fantasy trilogy, The Skybound Saga. A former journalist covering refugee camps and conflict zones, he can now be found somewhere in Philadelphia, where he lives with his husband and daughter or online at www.calexanderlondon.com.
Praise For…
---
Praise for City of Thieves:
"Alex London has envisioned a world as enthralling as it is dangerous—a society much like our own if it was built on the backs of giant fire-breathing dragons. Readers are sure to burn through the pages as they follow Abel through the shadowy underbelly of Drakopolis, dodging dragon-rider street gangs and a ruthless secret police to save his family. Abel is an endearing and relatable hero struggling under expectations as the youngest of three siblings, and his journey in building self-confidence is sure to ring true with young readers. Above all, cutting through the action is a moving tale of friendship and family, which is at the heart of this thrilling fantasy."
— Soman Chainani, author of The School for Good and Evil series
"A rip-roaring loop-de-loop of action and adventure, Battle Dragons will keep readers at the edge of their seat as they cheer on Abel and his friends."
— Kwame Mbalia, author of the Tristan Strong series