Hummingbird (Hardcover)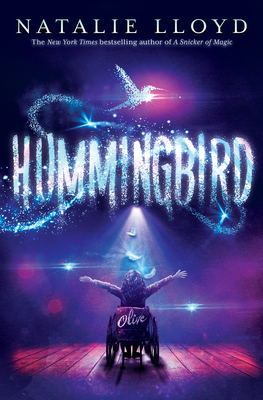 Staff Reviews
---
Change is in the air. When glittery white feather-flakes begin to fall, stories begin to circulate about a magical wish-granting hummingbird that hasn't been seen in the town of Wildwood for many years. 12-year-old Olive Martin is determined to find it. Homeschooled through elementary school, her dearest wish is to attend Macklemore Middle School this year and finally find her BFF. She doesn't mind explaining her wheelchair, but she really minds everyone thinking of her only as "fragile." Olive has osteogenesis imperfecta, also known as OI or "brittle bone disease." Yes, her body can be very fragile, but her spirit sparkles and her heart roars with a strength of a lion. Quirky yet loveable, kind and supportive family, new friends, incredible resiliency, and inner strength…this story is a hug, even with its challenges.
— Jennifer K.
Description
---
A Schneider Family Book Award Honor Book
From the bestselling author of A Snicker of Magic comes a heartfelt story about a girl who -- armed with her trusty, snazzy wheelchair -- refuses to let her brittle bone disease stand in the way of adventure
Twelve-year-old homeschooled Olive is tired of being seen as "fragile" just because she has osteogenesis imperfecta (otherwise known as brittle bone disease) so she's thrilled when she finally convinces her parents to let her attend Macklemore Elementary. Olive can't wait to go to a traditional school and make the friends she's always longed for, until a disastrous first day dashes her hopes of ever fitting in.
Then Olive hears whispers about a magical, wish-granting hummingbird that supposedly lives near Macklemore. It'll be the solution to all her problems! If she can find the bird and prove herself worthy, the creature will make her most desperate, secret wish come true.
When it becomes clear that she can't solve the mystery on her own, Olive teams up with some unlikely allies who help her learn the truth about the bird. And on the way, she just might learn that our fragile places lead us to the most wonderful magic of all . . .
About the Author
---
Natalie Lloyd lives in Chattanooga, Tennessee. She collects old books, listens to bluegrass music, and loves exploring quirky mountain towns with her dog, Biscuit. She is the author of A Snicker of Magic and The Key to Extraordinary.
Praise For…
---
Praise for Hummingbird:
A Schneider Family Book Award Honor Book
* "With eccentric family members, a distinctive setting, and a supernatural element that is strangely believable within this otherwise realistic story, there's a lot to love here." -- Booklist, starred review
* "A must-have for any elementary school or middle school library, this magical and heartening novel will keep readers engaged until the end. A perfect fit for fans of realistic fiction and fantasy alike." -- School Library Journal, starred review
* "Olive's sparkly personality roars to life through assured first-person narration, metaphors rooted in the natural world, and simple yet piercing free verse that distills her self-revelations." -- Publisher's Weekly, starred review
"The energetic first-person narration, interspersed with Olive's thoughts in free verse, is full of bold personality... Her grappling with fears and bold dreams offers a rare depiction of physical disability that is allowed to be both complicated and empowering." -- Kirkus Reviews
Praise for Over the Moon:
* "Strong themes of friendship and loyalty drive Lloyd's story, which soars under Mallie's heroic lead. Her fiery and bighearted nature pierce the Dust and deceit covering Coal Top, and her physical disability never holds her back. Rather, she bravely proves that questions have power and one's story can be reshaped." -- Booklist, starred review
Praise for A Snicker of Magic:
* "This tale offers all [the] earmarks of fine storytelling, including colorful, eccentric characters, an original, highly likable narrator and a mighty 'spindiddly' plot." -- Kirkus Reviews, starred review
* "From every angle, Lloyd's first novel sparkles and radiates warmth . . . Working in the folksy vein of Ingrid Law's Savvy, Lloyd offers a reassuring, homespun story about self-expression and the magic that resides in one's mind and heart." -- Publishers Weekly, starred review
* "A delightful and inspiring debut... Mibs Beaumont and her magically gifted clan from Ingrid Law's SAVVY would feel right at home here. As Felicity loves to say, 'Yes...yes...yes!'" -- School Library Journal, starred review