Four Eyes: A Graphic Novel (Four Eyes #1) (Paperback)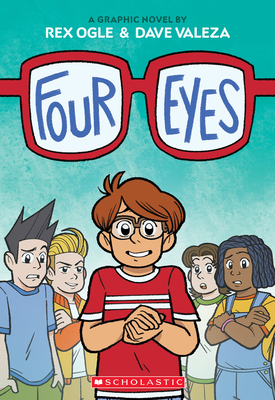 Staff Reviews
---
Rex is headed to middle school and he's pretty nervous. He hasn't had his growth spurt, his family doesn't have much money, and he needs glasses. All three of those things make him stand out from the crowd, which is not a good thing in middle school. This graphic novel beautifully tells the story of his sixth grade year: the bullying, the new friends, and the new perspectives that shape his life.
— Cathy
Description
---
A humorous and heartwarming middle-grade graphic memoir about fitting in, facing bullies, and finding the right pair of glasses.
Sixth grade isn't as great as Rex thought it would be. He's the only kid who hasn't had a growth spurt, and the bullies won't let him forget it. His closest friend is unreliable, at best. And there's a cute girl in his class, who may or may not like hiim back. With so much going on, everything is a blur -- including Rex's vision! So when he discovers that he needs glasses, and his family can only afford the ugliestpair in the store, any hope Rex had of fitting in goes completely out of focus.
In this true coming-of-age story, Rex has his sights set on surviving sixth grade, but now he's got to find a way to do it with glasses, no friends, and a family that just doesn't get it!
About the Author
---
Rex Ogle is the author of
Free Lunch
, recipient of the YALSA Award for Excellence in Nonfiction for Young Adults. His original graphic novel series, Four Eyes, is based on the highs and lows of his middle-school years growing up in Texas. Under the pen name Rey Terciero, he authored
Meg, Jo, Beth, and Amy
as well as
Swan Lake: Quest for the Kingdoms
. Before becoming a full-time writer, Rex worked as an editor in New York for many years and championed a number of licensed titles, including the
New York Times
bestsellers
Star Wars: Jedi Academy
,
Secret Hero Society: Study Hall of Justice
, and Neil Patrick Harris's
The Magic Misfits
. Rex now writes full time from his home in California. When he's not busy writing, Rex can be found hiking with his dog, playing
Mario Kart
with his friends, or reading a new favorite book. Learn more about Rex at rexogle.com.
Dave Valeza grew up in Covina, California, after emigrating with his family from Manila, Philippines. Pursuing his love of drawing, Dave earned a bachelor's degree in illustration and a master's degree in sequential art. He's a passionate visual storyteller, and he especially loves drawing people, fashion, and technology. In his spare time, Dave enjoys biking and doodling around Savannah, Georgia, where he lives with his husband, cat, and dog. Find out more about Dave and his work at davevaleza.com.
Praise For…
---
★ "Ogle powerfully depicts middle-school bullying, the pressures of living in a low-income family, and the struggle to find a place to fit in and to stand up for one's self, all with multifaceted characters. Valeza and Szymanik's well-paced, wonderfully crafted, and expressive artwork does an excellent job of capturing the emotional turns of this captivating, honest story about adolescence. Hand to fans of Raina Telgemeier, Dan Santat, Jerry Craft, and Shannon Hale." -- Booklist, starred review
★ "Valeza's captivating visual spreads seamlessly complement the plot and tone of the book. The dynamic and purposeful page layouts enable readers to concentrate on the flow and significance of the text... A great addition to graphic novel sections of libraries and classrooms in middle schools." -- School Library Journal, starred review
"Valeza's classic-feeling character designs, reminiscent of Raina Telgemeier's work, effectively capture the 1990s aesthetic, and visual jokes, like an optometrist called Eye Caramba, add levity to a thoughtfully rendered read that tackles themes of loneliness, connection, and change." -- Publishers Weekly
"Readers will deeply care for Rex's journey toward self-acceptance, his familial relationships, and his navigation of a new school environment. The bright, clean art emphasizes the emotional highs and lows... A realistic, funny, and heartfelt framing of the hardships of middle school and fitting in." -- Kirkus Reviews