One Little Bag: An Amazing Journey (Hardcover)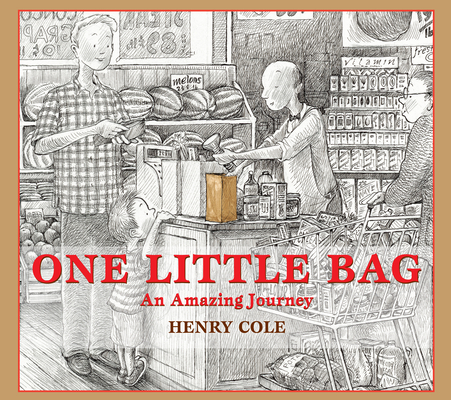 Staff Reviews
---
Without words, we can use our imagination to examine what one brown paper bag can mean in the life of a child. Inspired by Cole's first Earth Day experience in grade school, we follow the life of a lunch bag that is used over and over again. It's a lovely story of saving our earth one bag at a time.
— Valerie
Description
---
An evocative wordless picture book that is a loving tribute to mindful living on our precious planet.* "Beautifully effective." -- Kirkus Reviews, starred review

* "Deeply profound... compelling... emotionally resonant." -- School Library Journal, starred review

* "Elevating the life of an ephemeral object to the time scale of love across generations." -- Publishers Weekly, starred review
From a tall tree growing in the forest--
to the checkout counter at the grocery store--
one little bag finds its way into the hands of a young boy on the eve of his first day of school.
And so begins an incredible journey of one little bag that is used
and reused
and reused again.
In a three-generation family, the bag is transporter of objects and keeper of memories. And when Grandfather comes to the end of his life, the family finds a meaningful new way for the battered, but much-loved little bag to continue its journey in the circle of life.
About the Author
---
Henry Cole was born on a dairy farm near Purcellville, Virginia, and was an adored elementary-school science teacher for 16 years. He has since created over 80 popular picture books, including his wordless, award-winning masterpiece Unspoken, Try a Little Kindness, and the Moose series by Margie Palatini. Mr. Cole has always loved art and science, which has made him a keen observer of details in nature. He now lives in both Florida and Virginia.
Praise For…
---
Praise forOne Little Bag: An Amazing Journey:

* "The skilled black-ink drawings lend a look of pleasant harmony to all the characters that populate the pages, from woodland creatures to humans of various ages and gender and racial presentations. Meticulous attention to composition, textures, and period detail-starting around the 1960s-makes each page a delight... Because there are no words, children are left to draw their own conclusions... Beautifully effective as both nostalgia trip and lesson in conservation." -- Kirkus Reviews, starred review

* "[The story's] message is deeply profound.... Nostalgia and love abound .... bringing tears to the eyes of readers of all ages with each detailed image.... [A] compelling and emotionally resonant addition to Earth Day curricula, especially as an inspiration for reusing items as long as possible." -- School Library Journal, starred review

* "By elevating the life of an ephemeral object to the time scale of love across generations, Cole nudges readers to take a second look at the things they throw away. An author's note describes how Earth Day prodded Cole to reuse the same paper lunch bag for years." -- Publishers Weekly, starred review