Fearless: A Graphic Novel (Paperback)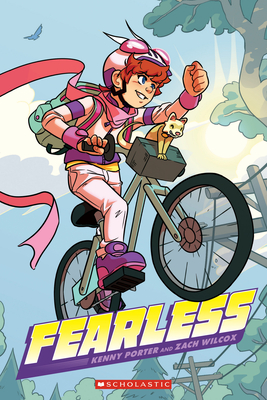 Description
---
Fearless is a touching graphic novel about growing up, accepting change, and finding a way to be happy when you miss your best friend.Kara hoped to spend the summer re-enacting episodes of her favorite TV show, Shinpi Rider, with her best friend Alice. But when Alice moves to a new home two towns over, everything changes. Alice mysteriously stops answering Kara's phone calls and letters.In order to reignite their friendship, Kara hatches a brave plan to bike over to Alice's new school all on her own. After all, "A rider never leaves a friend behind!" Kara's bravery on the journey proves how strong she is but when Kara finally finds Alice, her bravado fades: Alice has found new friends and has left Kara behind. Can Kara be fearless when she feels so alone?
About the Author
---
Kenny is a comic book writer living in Grand Rapids, Michigan. He's written for DC Comics, SEGA, Image/Top Cow, and more. He graduated with a BA in Writing from Grand Valley State University. You can find him at portercomics.com.
Zachary Wilcox is a Philadelphia-based artist. He has a master's degree in fine arts for sequential art from Savannah College of Art and Design and a BS in Digital Media from Drexel University. He specializes in comics, illustration, and concept art.