Our Castle by the Sea (Hardcover)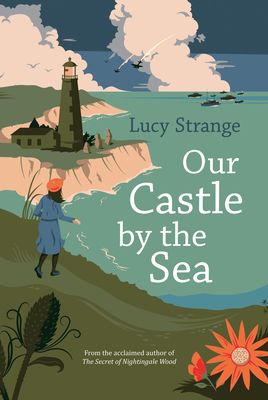 $17.99
Usually Ships in 1-5 Days
Staff Reviews
---
The Smith family's picture-perfect life takes a turn when World War II encroaches on their lighthouse home overlooking the English Channel. Acts of sabotage are occurring  both in the village and countryside; everyone in Pet's family seems to be keeping secrets; her German-born mother is sent to an internment camp; her father is about to be arrested; and her sister disappears more and more often. It is up to twelve-year-old Pet to unravel these and other mysteries in this spellbinding and atmospheric thriller highly recommended for fourth graders and above.
— Jennifer
Description
---
In this haunting and compelling follow-up to the instant classic The Secret of Nightingale Wood. Lucy Strange takes a seafaring myth and grounds it in the stark reality of World War II.
* "A plot summary can only hint at the satisfaction of reading this tightly interwoven story with its haunting setting and memorable characters." -Booklist (starred review)

Growing up in a lighthouse, 11-year-old Pet's world has been one of storms, secret tunnels, and stories about sea monsters. But now the country is at war and the clifftops are a terrifying battleground. Pet will need to muster all her bravery to uncover why her family is being torn apart.

This is the story of a girl who is afraid and unnoticed. A girl who freezes with fear at the enemy planes ripping through the skies overheard. A girl who is somehow destined to become part of the strange, ancient legend of the Daughters of Stone.
About the Author
---
Lucy Strange worked as an actor, singer, and storyteller before becoming a secondary school English teacher. She lives in Kent, England. The Secret of Nightingale Wood is her first novel.
Praise For…
---
Praise for Our Castle by the Sea


* "A plot summary can only hint at the satisfaction of reading this tightly interwoven story with its haunting setting and memorable characters." -- Booklist (starred review)

* "Strange seamlessly blends a local legend of four girls turned into ancient standing stones on the lighthouse's clifftop into a larger story...A standout historical novel with a memorable protagonist, strongly sketched setting, and a compelling, twisty plot." -- Publisher's Weekly (starred review)

* "Lucy Strange's second middle-grade work features elegant prose and an enchanting protagonist. Pet is earnest and unwavering, and the "small, mousy, and unimportant" girl at the beginning of the story is quite different from the strong young woman who emerges by the end... This haunting, historical novel is sure to touch young readers' hearts." -- Shelf Awareness (starred review)

"The slow dismantling of Petra's faith in her loved ones adds a delicious instability to the growing unease of this WWII thriller. -- Kirkus

"[Lucy Strange] gives us a real sense of how war and other people's suspicions can be contagious and fracture the strongest family unit." -- The Times (UK)


Praise for The Secret of Nightingale Wood:

A Shelf Awareness Best Children's Book of the Year
A BookPage Best Children's Book of the Year
An Amazon Top 20 Best Children's Book of the Year
A Kirkus Best Book of the Year
A Telegraph Top 50 Book of the Year
A Bank Street College of Education Best Children's Book of the Year

* "In an imaginative, compelling first-person narration, Henry wraps her story in fairy tales, exposing her guilt, grief, isolation, and fear as she unravels the stunning secrets of Nightingale Wood. An evocative, beautifully written, mesmerizing debut tale with lush fairy-tale themes and a poignant exploration of mental illness-enthralling." - Kirkus Reviews, starred review

* "Compelling...Strange effectively weaves in fairy tales, poetry, and themes common to classic children's literature, reflecting Hen's love of books. A brave heroine propels this strong and richly layered novel, a memorable portrait of grief, resilience, and rebirth." - Publishers Weekly, starred review

* "Strange tells a lovely, extraordinarily enchanting coming-of-age tale." - Shelf Awareness, starred review

"From the first page, I was entirely smitten and compelled to read on until I finished this mysterious and poignant story." - Pam Muñoz Ryan, author of Echo and Esperanza Rising

"This is a haunting gothic tale of love, courage, healing, and family." - School Library Journal