Twins: A Graphic Novel (Twins #1) (Paperback)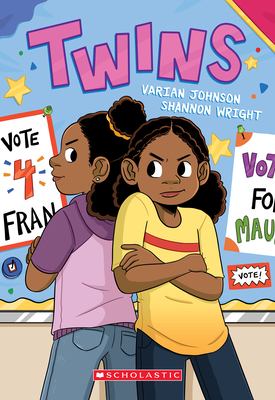 Staff Reviews
---
Twins Maureen and Francine have always done everything together, but when they enter sixth grade, everything changes. They're not in the same classes any more, they have different activities and they both decide to run for class president. Johnson and Wright collaborate beautifully on this pitch perfect graphic novel about growing up and growing into who you are meant to be.
— Ann
Description
---
Coretta Scott King Honor author Varian Johnson teams up with rising cartoonist Shannon Wright for a delightful middle-grade graphic novel!Maureen and Francine Carter are twins and best friends. They participate in the same clubs, enjoy the same foods, and are partners on all their school projects. But just before the girls start sixth grade, Francine becomes Fran -- a girl who wants to join the chorus, run for class president, and dress in fashionable outfits that set her apart from Maureen. A girl who seems happy to share only two classes with her sister!Maureen and Francine are growing apart and there's nothing Maureen can do to stop it. Are sisters really forever? Or will middle school change things for good?
About the Author
---
Shannon Wright is an illustrator and cartoonist based in Richmond, Virginia. She is the co-creator, with Varian Johnson, of Twins, and she illustrated two picture books, My Mommy Medicine by Edwidge Danticat and I'm Gonna Push Through! by Jasmyn Wright. Shannon graduated with a BFA from Virginia Commonwealth University, where she co-teaches a comics course during the summer. To learn more, visit her online at shannon-wright.com.
Varian Johnson is the author of several novels for children and young adults, including The Parker Inheritance, which won both Coretta Scott King Author Honor and Boston Globe/Horn Book Honor awards, The Great Greene Heist, an ALA Notable Children's book, a Kirkus Reviews Best Book, and a Texas Library Association Lone Star List selection, and the graphic novel Twins co-created with Shannon Wright, an NPR Best Book. He lives with his family near Austin, Texas. You can visit him on the web at varianjohnson.com and @varianjohnson.
Praise For…
---
Praise for Twins:
National Indie Bestseller
Junior Library Guild Selection
NPR Best Book
Washington Post Best Children's Book
Kirkus Reviews Best Book
Horn Book Best Book
School Library Journal Best Book
Booklist Best Book for Youth
Barnes & Noble Best Book
Today.com Best Book for Kids, Tweens, and Teens
Nerdist Best Comic
Chicago Public Library Best Book
University of Pennsylvania Graduate School of Education Best Book for Young Readers
Cooperative Children's Center Best Book
Bank Street College of Education Best Children's Book
Mike Wieringo Comic Book Industry Award Winner
American Library Association Top 10 Best Graphic Novel for Children
YALSA Great Graphic Novels Selection
Recipient of five starred reviews
★ "Wright's artwork, crisp and colorful, does a masterful job of tracking the twins's emotional arcs through expressive composition, and Johnson's impeccable pacing keeps things moving while still making room for rich development. A beautiful reflection on sisterhood and coming of age that belongs in every collection." -- Booklist, starred review
★ "The sibling bond is palpable and precious as each conflict and triumph pushes them apart or pulls them together.... A touching, relatable story of identity, sisterhood, and friendship." -- Kirkus Reviews, starred review
★ "A must-read for middle grade comics lovers. Expect high demand from fans of comics like those by Svetlana Chmakova, Jerry Craft, and Raina Telgemeier." -- School Library Journal, starred review
★ "Johnson and Wright have expertly teamed up to create a relatable story for all middle schoolers." -- The Horn Book, starred review
★ "An engaging read that speaks to worries of burgeoning self-identity and tween change." -- Publishers Weekly, starred review
"There is so much happening in the world. Many of our young people are feeling uncertain and anxious. Young readers need a friend, a special buddy, to help them navigate this new norm. This book is a comforting companion." -- The New York Times Book Review
"Has all the hallmarks of the kind of books that become timeless classics. If there's any justice in the world, kids will be reading Twins for decades." -- Nerdist
"Its story about learning how to maintain a healthy relationship with siblings as you grow older and pursue different interests should be relevant to anyone who has experienced that." -- Entertainment Weekly
Praise for the Twins Audiobook:
AudioFile Earphones Award Winner
American Library Association Notable Children's Recording
"A full cast brings this middle-grade graphic novel to life... The story is told from Maureen's point of view, and Ahnya O'Riordan's youthful voice captures her anxieties about change and her frustration with her sister--which manifest in her decision to also run for class president. Sound effects and upbeat music add to scenes in bustling school hallways, at the mall, and at the dinner table with the girls' supportive family." -- AudioFile
Praise for Twins:
National Indie Bestseller
Junior Library Guild Selection
NPR Best Book of 2020
Washington Post Best Children's Book of 2020
Kirkus Reviews Best Book of 2020
Horn Book Best Book of 2020
School Library Journal Best Book of 2020
Booklist Best Book for Youth
Barnes & Noble Best Book of 2020
Today.com Best Book for Kids, Tweens, and Teens in 2020
Nerdist Best Comic of 2020
Chicago Public Library Best Book of 2020
University of Pennsylvania Graduate School of Education Best Book for Young Readers
Recipient of five starred reviews
* "Wright's artwork, crisp and colorful, does a masterful job of tracking the twins's emotional arcs through expressive composition, and Johnson's impeccable pacing keeps things moving while still making room for rich development. A beautiful reflection on sisterhood and coming of age that belongs in every collection." -- Booklist, starred review
* "The sibling bond is palpable and precious as each conflict and triumph pushes them apart or pulls them together.... A touching, relatable story of identity, sisterhood, and friendship." -- Kirkus Reviews, starred review
* "A must-read for middle grade comics lovers. Expect high demand from fans of comics like those by Svetlana Chmakova, Jerry Craft, and Raina Telgemeier." -- School Library Journal, starred review
* "Johnson and Wright have expertly teamed up to create a relatable story for all middle schoolers." -- The Horn Book, starred review
* "An engaging read that speaks to worries of burgeoning self-identity and tween change." -- Publishers Weekly, starred review
"There is so much happening in the world. Many of our young people are feeling uncertain and anxious. Young readers need a friend, a special buddy, to help them navigate this new norm. This book is a comforting companion." -- The New York Times Book Review
"Has all the hallmarks of the kind of books that become timeless classics. If there's any justice in the world, kids will be reading Twins for decades." -- Nerdist
Praise for The Parker Inheritance:
* "A must-purchase." -- School Library Journal, starred review
* "Johnson's Westing-game inspired tale is a tangled historical mystery, a satisfying multigenerational family story, and an exploration of twentieth-century (and contemporary) race and racism." -- The Horn Book, starred review
* "A compelling mystery and a powerful commentary on identity, passing, and sacrifice." -- Bulletin of the Center for Children's Books, starred review
Praise for The Great Greene Heist series:
"[A] smartly crafted but breezy adventure that might just have students secretly cooking up schemes of their own." -- Children's Book Council
* "The elaborate bait and switch of this fast-paced, funny caper novel will surprise its readers as much as the victims. They'll want to reread immediately." -- Kirkus Reviews, starred review
"Sheer fun." -- The Horn Book