The Great Glorious Goddamn of It All (Hardcover)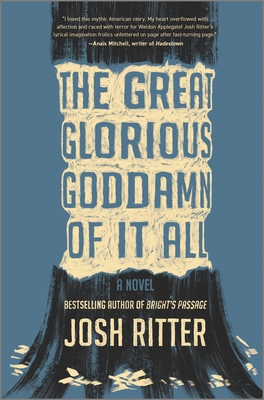 $27.99

Usually Ships in 4-7 Days
Staff Reviews
---
Weldon, a cantankerous 99 year old resident of smalltown Cordelia, Idaho, reflects about his rough and tumble life. Set during the early part of the twentieth century, this spectacular tale begins with Weldon explaining about his lifelong mortal enemy, Joe Mouggreau, and continues to tell about his experiences growing up. Dealings with Linden Laughlin, a despicable lumber boss, plus the kindness from the saloon owner, bootleggers, and others, shape the young Weldon. Early on, when his father dies under abrupt and suspicious circumstances, Weldon's first instinct is to cower and run. Instead he faces his many fears and with the help of memorable characters, dives headlong into the world of lumberjacks. Cruelness and harshness that the characters face is softened by Josh Ritter's spectacular writing and in the way his exaggerated tone gives a legendary humor with doses of campfire-like warmth. Fortune telling, curses, and wicked superstitions of these lawless towns and far away camps entwine with the staggering glory of the landscape. Highly recommend.
— Liz
Description
---
NATIONAL BESTSELLER

From singer-songwriter Josh Ritter, a lyrical, sweeping novel about a young boy's coming-of-age during the last days of the lumberjacks.

In the tiny timber town of Cordelia, Idaho, ninety-nine year old Weldon Applegate recounts his life in all its glory, filled with tall tales writ large with murder, mayhem, avalanches and bootlegging. It's the story of dark pine forests brewing with ancient magic, and Weldon's struggle as a boy to keep his father's inherited timber claim, the Lost Lot, from the ravenous clutches of Linden Laughlin.

Ever since young Weldon stepped foot in the deep Cordelia woods as a child, he dreamed of joining the rowdy ranks of his ancestors in their epic axe-swinging adventures. Local legend says their family line boasts some of the greatest lumberjacks to ever roam the American West, but at the beginning of the twentieth century, the jacks are dying out, and it's up to Weldon to defend his family legacy.

Braided with haunting saloon tunes and just the right dose of magic, The Great Glorious Goddamn of It All is a novel bursting with heart, humor and an utterly transporting adventure that is sure to sweep you away into the beauty of the tall snowy mountain timber.