The Vanderbeekers of 141st Street (Paperback)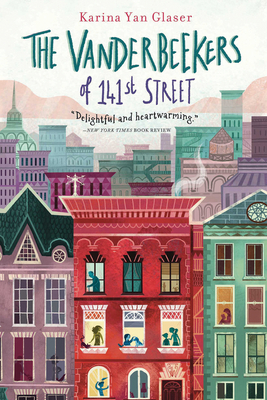 Staff Reviews
---
The Vanderbeeker family—two parents, five kids, a dog, a cat, and a bunny—lives on the ground and first floors of a brownstone on 141st Street in Harlem, New York. They freely admit that their home is never calm, tidy, boring, or predictable, but they dearly love the only home and neighborhood they've ever known. Their Scrooge-like landlord Mr. Beiderman, whom the kids avoid at all costs, lives on the top floor and has decided not to renew the Vanderbeekers' lease. When the kids find out five days before Christmas, they immediately implement Operation Beiderman to change his mind with comic and disastrous results. Readers in 3rd grade and up will want to move into the Vanderbeekers' neighborhood. Sure to become an instant classic!
— Jennifer
Description
---
From New York Times best-selling author Karina Yan Glaser comes one of Times'  Notable Children's Books of 2017: "In this delightful and heartwarming throwback to the big-family novels of yesteryear, a large biracial family might lose their beloved brownstone home, but win it back with an all-out charm offensive."

The Vanderbeekers have always lived in the brownstone on 141st Street. It's practically another member of the family. So when their reclusive, curmudgeonly landlord decides not to renew their lease, the five siblings have eleven days to do whatever it takes to stay in their beloved home and convince the dreaded Beiderman just how wonderful they are. And all is fair in love and war when it comes to keeping their home. 
About the Author
---
Karina Glaser
is the author of
 The Vanderbeekers of 141st Street
 and
The Vanderbeekers and the Hidden Garden
. A former teacher and a contributor to Book Riot, Karina lives in Harlem, New York City with her husband, two daughters, and assortment of rescued animals. One of her proudest achievements is raising two kids who can't go anywhere without a book.
www.karinaglaser.com
Twitter: @KarinaYanGlaser
Instagram: @KarinaIsReadingAndWriting
Praise For…
---
★ "Glaser's love for the Vanderbeekers shines through in her prose and stick drawings. Readers will look forward to future adventures. A highly recommended purchase for all middle grade collections." —School Library Journal, starred review

★  "Few [families] in children's literature are as engaging or amusing as the Vanderbeekers." —Booklist, starred review

"...[Karina Yan Glaser's] contemporary family narrative preserves the winsome tone and innocence of the aforementioned classics while updating them with a rich, modern diversity of characters, settings and problems....Glaser's warmhearted story highlights a cold truth: What is often missing in the busy lives of today's plugged-in, checked-out families is a sense of community. In the vast village of New York City, she suggests, what it takes to raise a child can still be found on one square block." —The New York Times Book Review

"A heartwarming story about family and community that will appeal to readers who also enjoy an old-fashioned feel." —Kirkus

"With rich dialogue and detailed descriptions of the neighborhood, the text provides a humorous and heartwarming story about siblings uniting to save their home. Through the Vanderbeekers, Glaser provides a portrait of the splendors of Harlem and the sense of community that can be built among neighbors of all backgrounds. . . This will draw fans of rollicking family stories, and while it's centered on Christmas, it would be enjoyable any time of the year." —Bulletin

". . . Uplifting. . . Readers who enjoy a cheery story that's simultaneously old-fashioned and of the moment in its sensibility will enjoy this introduction to the Vanderbeekers and look forward to their future adventures." —Publishers Weekly

"Glaser's third-person narration weaves individual characters' plot threads and a palpable sense of place through the larger family story in the tradition of Jeanne Birdsall, Sydney Taylor, Elizabeth Enright, and Hilary McKay." —Horn Book

"The Vanderbeekers join the Melendys, the Cassons, and the 'All of a Kind' Family on my list of favorite book-families. I'm in love with every single Vanderbeeker! Their story is utterly enchanting: I did not want it to end. More, please?"
—Linda Sue Park, Newbery medalist