Seven Games: A Human History (Hardcover)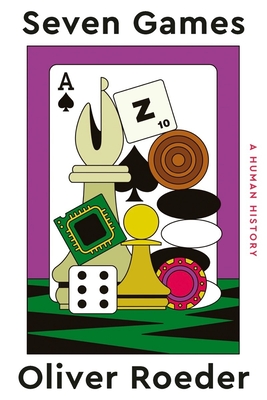 Staff Reviews
---
Some games have been around for thousands of years. A version of checkers was found in Egyptian tombs. This fascinating book about the development of games and AI brings in math, computers, and people who devote their lives to figuring out how to play games better. The games are (in order): Checkers, Chess, Go, Backgammon, Poker, Scrabble, and Bridge. Interestingly, bridge is the only one (because of the way duplicate is played) that AI has not developed more than humans. Roeder takes you deep inside tournaments and interviews many masters of their individual games.
— Valerie
Description
---
A group biography of seven enduring and beloved games, and the story of why—and how—we play them.
Checkers, backgammon, chess, and Go. Poker, Scrabble, and bridge. These seven games, ancient and modern, fascinate millions of people worldwide. In Seven Games, Oliver Roeder charts their origins and historical importance, the delightful arcana of their rules, and the ways their design makes them pleasurable.
Roeder introduces thrilling competitors, such as evangelical minister Marion Tinsley, who across forty years lost only three games of checkers; Shusai, the Master, the last Go champion of imperial Japan, defending tradition against "modern rationalism"; and an IBM engineer who created a backgammon program so capable at self-learning that NASA used it on the space shuttle. He delves into the history and lore of each game: backgammon boards in ancient Egypt, the Indian origins of chess, how certain shells from a particular beach in Japan make the finest white Go stones.
Beyond the cultural and personal stories, Roeder explores why games, seemingly trivial pastimes, speak so deeply to the human soul. He introduces an early philosopher of games, the aptly named Bernard Suits, and visits an Oxford cosmologist who has perfected a computer that can effectively play bridge, a game as complicated as human language itself.
Throughout, Roeder tells the compelling story of how humans, pursuing scientific glory and competitive advantage, have invented AI programs better than any human player, and what that means for the games—and for us. Funny, fascinating, and profound, Seven Games is a story of obsession, psychology, history, and how play makes us human.
About the Author
---
Oliver Roeder has been a senior writer at FiveThirtyEight and editor of The Riddler. He studied artificial intelligence as a Nieman Fellow at Harvard University and holds a PhD in economics focused on game theory. He lives in Brooklyn, New York.
Praise For…
---
Illuminating...offers powerful insights into why we play games and what we can learn from them...accessible, enjoyable...raises provocative and sometimes unsettling questions about the nature of intelligence and the unintended consequences when machines play better than we do....If you are intrigued by this rare opportunity to pull back the curtain on how humans and computers learn, then you will be richly rewarded.
— Lucinda Robb - Washington Post

The focus of Seven Games is, instead, on more recent history and the application of so-called 'artificial intelligence' to games, as well as its influence on their competitive cultures. Here is where the book's rich human interest—and comedy—really lie.... In pleasingly gonzo style, the author enters the North American Scrabble Championship as well as the World Series of Poker, drawing delightful pen-portraits of his adversaries while entertainingly evoking his own emotional roller-coaster.

— Steven Poole - Wall Street Journal

Seven Games is exciting and personal – you can sense Roeder's emotional investment. The book is also built on richly fleshy characters profiled by Roeder – both the human game champions and the AI designers who beat them.

— James Mcconnachie - Times Literary Supplement

Roeder's appealing biography of seven games — draughts (checkers), backgammon, chess, Go, poker, Scrabble and bridge — explores why play is both fascinating and necessary.
— Nature

A journalist and gaming geek, Roeder's book is part memoir and part meditation on the way in which overwhelming machine superiority is changing both games and those who play them. His account is perceptive in particular on the oddities of gaming subcultures.
— James Crabtree - Financial Times

An eclectic cast of brilliant, and obsessive, characters makes Seven Games an absolute page-turner. Through their stories, Oliver Roeder shows that games are incomparable canvases for human creativity and agency.

— David Epstein, author of The Sports Gene and Range

A beautifully written exploration of what games can tell us about philosophy, art, and human nature. Oliver Roeder is a commanding thinker and storyteller. His enthralling narrative delves into subjects ranging from art appreciation to artificial intelligence, cognitive science, world history, archeology, and, of course, game theory. Everyone should read this fabulous book!
— Christie Aschwanden, author of Good to Go

A beguiling, mesmerizing, and utterly charming history of the world's most beloved games and the centuries-long quest to 'solve' them. In prose as elegant as the classics he profiles, Oliver Roeder shows that, contrary to what you might have heard, the battle between human and machine was a battle between human and human after all.
— Stefan Fatsis, author of Word Freak

The games that have preoccupied and fascinated us over millennia tell a story not just about human history but, crucially, about the nature of the human mind. Oliver Roeder's Seven Games offers a sweeping and provocative tour of the labyrinths into which we so eagerly lose—and so revealingly find—ourselves.

— Brian Christian, author of Most Human Human and The Alignment Problem

Oliver Roeder masterfully reveals the way games teach us about play, risk, intelligence, technology and our inner selves—and introduces us to some unforgettable characters along the way. Like the very best games, this book is deep, enthralling, and tremendous fun.
— Tim Harford, author of The Data Detective

In Roeder's hands, games have real consequence—not only as art but as tools for technological advancement—yet the story remains fun, even amid deceit, heartbreak, tragedy, and mystery. Seven Games is an adventure, adeptly written, thoroughly original and profound—a literary example of what in chess we call a brilliancy.

— David Hill, author of The Vapors: A Southern Family, the New York Mob, and the Rise and Fall of Hot Springs, America's Forgotten Capital of Vice

[A] splashy narrative that successfully argues that games … help individuals develop strategies for navigating daily life … This humanistic look at some of the most popular games in history will have readers hooked.
— Publishers Weekly

A lively, deeply fascinating examination of why we play.
— David Pitt - Booklist

An entertaining storyteller, the author provides numerous profiles of those who were especially proficient at these games as he explores the appeal, strategies, and intricacies of each.... A smartly informative book that should inspire readers to try a new game.
— Kirkus Reviews