Act Like a Lady, Think Like a Lord: A Mystery (Lady Petra Inquires) (Hardcover)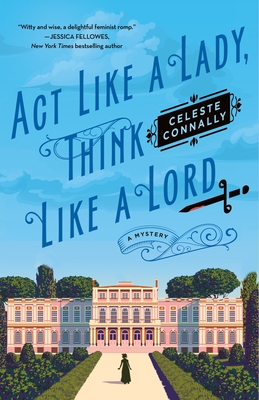 $27.00

Usually Ships in 4-7 Days
Staff Reviews
---
A fun and refreshing mystery, full of twists that kept the plot going at a quick pace. The story follows Lady Petra Forsyth, who has announced that she will never marry after her fiancé's untimely death. She soon uncovers shocking truths among England's upperclass, including those who disagree with her decision to remain unmarried. This Regency-era story balances romance, mystery, and more; it will keep you guessing until the very end!
— Lucy
Description
---
Bridgerton meets Agatha Christie in Act Like a Lady, Think Like a Lord, a dazzling first entry in a captivating new Regency-era mystery series with a feminist spin from Celeste Connally.

London, 1815. Lady Petra Forsyth, daughter of the Earl of Holbrook, has made a shocking proclamation. After losing her beloved fiancé in an accident three years earlier, she announces in front of London's loosest lips that she will never marry. A woman of independent means—and rather independent ways—Petra sees no reason to cede her wealth and freedom to any man now that the love of her life is gone. Instead, she plans to continue enjoying the best of society without any expectations.

But when ballroom gossip suggests that a longtime friend has died of a fit due to her "melancholia" while in the care of a questionable physician, Petra vows to use her status to dig deeper—uncovering a private asylum where men pay to have their wives and daughters locked away, or worse. Just as Petra has reason to believe her friend is alive, a shocking murder proves more danger is afoot than she thought. And the more determined Lady Petra becomes in uncovering the truth, the more her own headstrong actions and desire for independence are used against her, putting her own freedom—and possibly her life—in jeopardy.
About the Author
---
CELESTE CONNALLY is an Agatha Award nominee, and a former freelance writer and editor. A lifelong devotee of historical novels and adaptations fueled by her passion for history—plus weekly doses of PBS Masterpiece—Celeste loves reading and writing about women from the past who didn't always do as they were told.
Praise For…
---
"Fast-paced, witty....For fans of headstrong women sleuths and readers of Deanna Raybourn and Kerry Greenwood." —Library Journal (starred review)

"Effervescent...A delightful period adventure with pitch-perfect banter." —Kirkus Reviews

"Delightful...Petra is marvelously drawn—an easy-to-love, instantly memorable heroine—and Connally equips her with a brisk, page-turning adventure. This is catnip for historical suspense fans." —Publishers Weekly

"Refreshing for the complexity of its lead characters and will be popular with Bridgerton fans." —Booklist

"Witty and wise, a delightful feminist romp. Connally's series serves as a reminder to never settle, that what's right and what's easy are rarely the same." —Jessica Fellowes, New York Times bestselling author

"A smart, engaging historical mystery with a feminist twist and a simmering romance that I couldn't get enough of. I couldn't turn the pages fast enough, and fell in love with its unconventional, intrepid heroine. I can't wait to read Lady Petra's next adventure!" —Martha Waters, author of To Have and To Hoax

"Captivating...a sensational blend of mystery, suspense, and romance." —Ashley Weaver, author of A Peculiar Combination

"Regency England comes alive in Celeste Connally's Act Like a Lady, Think Like a Lord. It's rollicking good fun with Lady Petra who is remarkably capable of getting herself into and out of compromising and danger situations. You'll love this one!" —Marty Wingate, USA Today bestselling author

"With its atmospheric storytelling, thought-provoking plot and plucky heroine, this novel whisked me away to Regency England and held me there until the very last page." —Jessica Ellicott, author of Death In a Blackout