The Crane Husband (Hardcover)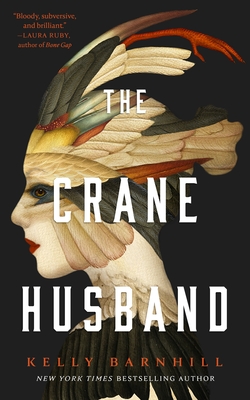 Staff Reviews
---
A girl (who is never named) takes on the management of her household and the bringing up of her young brother, Michael, as her Mother weaves and makes cheese. One day Mother welcomes a crane into the house and asks that they call him Father. Mother stops making cheese, selling her work, even eating, and disappears into her studio with the crane. As the family falls apart and the girl is visited by social services for truancy, she plans revenge against the crane. A dream-like retelling of a Japanese fairytale. I loved it.
— Caroline
March 2023 Indie Next List
---
"A gorgeous and imaginative retelling of The Crane Wife, Barnhill's novella lives on the cusp of reality and fantasy like the fairytale it's based on."
— Abby Bennsky, Old Town Books, Alexandria, VA
Description
---
"If I had to nominate a worthy successor to Angela Carter, I would nominate Kelly Barnhill. "—Laura Ruby, two-time National Book Award finalist and author of Bone Gap

"A slim little novella that packs a narrative punch more intense than that of many books ten times its length."—NPR

Award-winning author Kelly Barnhill brings her singular talents to The Crane Husband, a raw, powerful story of love, sacrifice, and family.

"Mothers fly away like migrating birds. This is why farmers have daughters."

A fifteen-year-old teenager is the backbone of her small Midwestern family, budgeting the household finances and raising her younger brother while her mom, a talented artist, weaves beautiful tapestries. For six years, it's been just the three of them—her mom has brought home guests at times, but none have ever stayed.

Yet when her mom brings home a six-foot tall crane with a menacing air, the girl is powerless to prevent her mom letting the intruder into her heart, and her children's lives. Utterly enchanted and numb to his sharp edges, her mom abandons the world around her to weave the masterpiece the crane demands.

In this stunning contemporary retelling of "The Crane Wife" by the Newbery Medal-winning author of The Girl Who Drank the Moon, one fiercely pragmatic teen forced to grow up faster than was fair will do whatever it takes to protect her family—and change the story.
About the Author
---
Kelly Barnhill is the author of the adult novel When Women Were Dragons and several middle grade novels, including the New York Times bestselling novels The Girl Who Drank the Moon, winner of the 2017 John Newbery Medal, and The Ogress and the Orphans. She is also the recipient of the World Fantasy Award, and has been a finalist for the SFWA Andre Norton Nebula Award and the PEN America Literary Award. She lives in Minneapolis with her family.
Praise For…
---
"The Crane Husband is a slim little novella that packs a narrative punch more intense than that of many books ten times its length. It takes well-trodden tropes and renders them specific and more sinister than they seemed in the old tales, woven through with vivid and grisly details."—NPR

"If I had to nominate a worthy successor to Angela Carter, I would nominate Kelly Barnhill. The Crane Husband is a bloody, subversive, and brilliant reimagining of a familiar fairy tale, rendered strange and haunting."—Laura Ruby, two-time National Book Award finalist and author of Bone Gap

"Few books have left me as haunted as Kelly Barnhill's mesmeric The Crane Husband."—Cassandra Khaw, USA Today bestselling author

"The incomparable Barnhill delivers this sly, confrontational retelling with masterful ease and crystalline prose, revealing, feather by feather, the very real generational threat that has always burned at the core of this ancient story."—Catherynne M. Valente, New York Times bestselling author

"Master storyteller Kelly Barnhill offers an evocative and darkly beautiful fairy tale for the modern age in The Crane Husband. . . . Barnhill's exceptional talent for threading together imaginative worlds and emotionally resonant characters is on full display in this updated twist on a Japanese folktale. Ultimately, it is the story's unresolved tensions--between pragmatism and passion, family legacy and freedom, art and commerce, old and new--that succeed in making readers' throats tighten."—Shelf Awareness, starred review

"A fast-moving, lush story that refuses to end neatly, a story of flighty mothers and the daughters who die a little keeping their families alive. Fans of fairy-tale retellings will eat this one up."—Booklist, starred review

"[A] grim, grown-up fairytale . . . fans of dark, surreal fantasy will be enthralled."—Publishers Weekly

Beyond retelling a folktale, Barnhill constructs nuanced characters with conflicting motivations and loyalties . . . [and] arrives at a thought-provoking conclusion."—Library Journal