Pieces of Blue (Hardcover)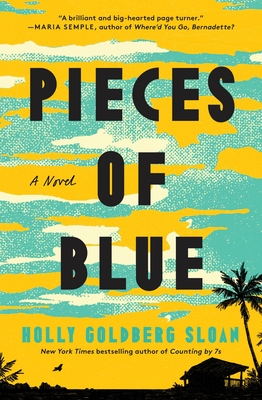 Staff Reviews
---
After the drowning death of her husband Paul and the collecting of the insurance policy, Lindsey moves her three children to Hawaii where she has purchased a run down motel sight unseen. The family must deal with grief, new schools, and how they are going to get the motel up and running. Lindsey meets a man who tells her that he is also widowed and that he and his wife used to come to the motel every year. His offer to help with renovations starts to turn Lindsey's life into a future she might be able to handle.
— Valerie
Description
---
"Bursting with humor, chaos, and raw tenderness." —Oprah Daily

"Pieces of Blue is a brilliant and bighearted page-turner." —Maria Semple, New York Times bestselling author of Where'd You Go, Bernadette

From New York Times bestselling author Holly Goldberg Sloan, a compelling and heartfelt novel for fans of Maria Semple and Emma Straub about a family trying to restore a ramshackle beachside motel—and their own lives

What good was thinking the future only held cloudy skies? Wasn't the reality that pieces of blue were always there, waiting to break through?

When Paul Hill drowns in a surfing accident, his broken-hearted wife, Lindsey, and their three children are left in huge financial trouble. Once Paul's life insurance finally comes through, Lindsey impulsively uses the money to buy a charmingly ramshackle motel in Hawai'i, hoping for a fresh start. Teenage Olivia quickly develops a crush on a handsome but monosyllabic skateboarder. Twelve-year-old Carlos reinvents himself as a popular kid named Carl. And Sena, the youngest, will do whatever it takes to protect her beloved motel chickens.

But while the kids adjust, Lindsey is flailing, trying to pretend she knows how to bring a motel—and herself—back to life. Then a handsome stranger rolls into the motel parking lot, and she's surprised to feel a long-dormant part of herself stirring. She accepts his offer to help, unaware that he may have secrets of his own. And all the while, out in the Pacific, the trade winds are fiercely blowing.

Funny and tender, full of twists and turns and heart, Pieces of Blue is a portrait of an irresistible family learning to start over.
About the Author
---
Holly Goldberg Sloan is the author of seven books for young readers, which have been translated into twenty-seven languages. Her novel Counting By 7s was an E.B. White Honor book and has sold over a million copies. Also a noted feature film writer, Holly wrote the Disney blockbuster Angels in the Outfield, and she was the first woman to direct a live action film for Disney when she wrote and directed The Big Green. The mother of two sons, Holly lives with her husband in Santa Monica, California. Pieces of Blue is her debut novel for adults.
Praise For…
---
Praise for Pieces of Blue

A Most Anticipated Book (Oprah Daily, LitHub, BookRiot, Library Journal, SheReads, BookReporter, BookShop)

"A book about grit and healing, Pieces of Blue is a celebration of the sharp turns families are often forced to make, and how the knots make you stronger."
—Washington Post

"Bursting with humor, chaos, and raw tenderness, Sloan's portrait of grief is as refreshing as it is unflinching."
—Oprah Daily

"A heartfelt page-turner… With a setting so perfectly crafted, these characters are able to live and breathe on the page, which makes for fast reading that never loses your attention… Pieces of Blue is every bit as big-hearted as her books for young readers, but with a keen, sharp sensitivity that gives the same amount of weight and attention to its adult characters."
—BookReporter

"Big-hearted…[A] warm and welcoming story of a family's emotional and often humorous recovery. Sloan skillfully balances the perspectives of Lindsey with each of her three children, imbuing the characters with the kind of personality details and gentle eccentricities that have made her family dramas shine. But undergirding these tender characters and their individual and collective turmoil is a winking sense of humor that reassures readers that things for the Hill family will work out—despite some unexpected (and they are unexpected) twists along the way."
—Shelf Awareness

"Empathetic yet flawed characters navigating deep, painful problems add authenticity to the resonant story, and the mystery of Paul's disappearance keeps things tense. Readers will devour this in one sitting."
—Publishers Weekly

"Sloan writes about the entire family with energy, insight, and humor."
—Kirkus

"Pieces of Blue is as propulsive as it is observant and atmospheric. Sloan understands her characters deeply, and makes us need to know what happens to them. In fact, a lot happens to them, and we want to know it all. This novel is a family story, a love story, and a mystery. I couldn't put it down."
—Meg Wolitzer, New York Times bestselling author of The Female Persuasion

"Pieces of Blue is a brilliant and bighearted page-turner."
—Maria Semple, New York Times bestselling author of Where'd You Go, Bernadette

"I loved this book! Pieces of Blue is a poetic, lush and poignant portrayal of a wounded family seeking healing, love and redemption."
—Gigi Levangie, New York Times bestselling author of The Starter Wife

"Struggling with grief, daring to hope, and working to make a wild, gorgeous, and mysterious place their home, each beautifully drawn character comes alive and finds a way into your heart. Pieces of Blue is a powerful, tender novel with a mystery at its heart. Don't miss it!"
—Lisa Unger, New York Times bestselling author of Secluded Cabin Sleeps Six